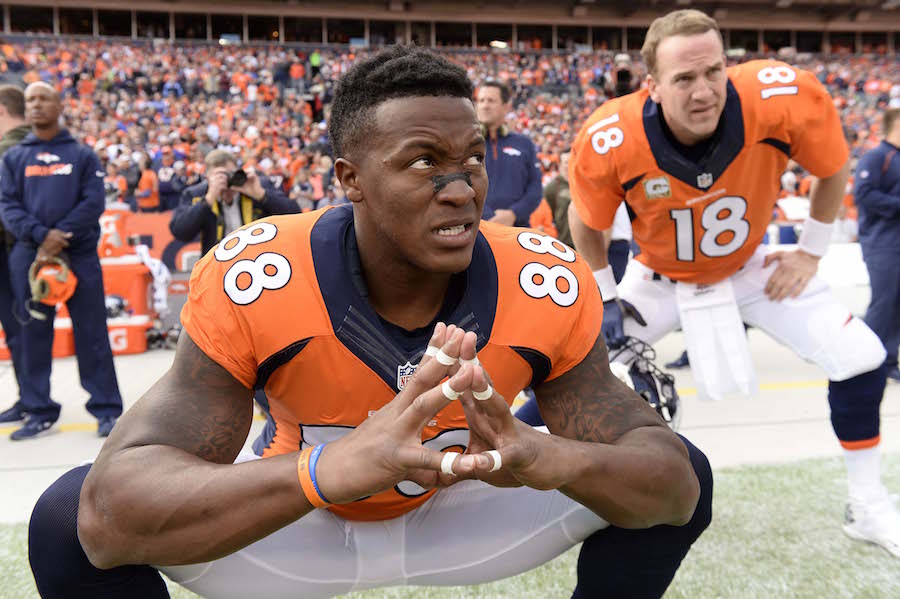 Wednesday marked the first day that NFL clubs could designate franchise or transition players on their roster. For the first time in three seasons, it doesn't look like the Denver Broncos will be identifying any of their current free agents to be a franchise player, and that isn't necessarily a bad thing. The Broncos have designated four different players in their history as franchise players.
It hasn't always worked out that well.
Coming off of his Super Bowl Most Valuable Player performance, the Broncos were certainly not going to let Miller go anywhere. He had posted one of the greatest seasons in club history in 2015, with 11 sacks and forced four fumbles in the regular season.
He became the third fastest player in NFL history to reach 50 sacks, doing it in just 58 games, and he saved his best for the postseason. He posted 11 tackles, made five sacks, and even had an interception.
Last March, the Broncos placed the franchise tag on Miller, and were eventually able to sign him to a six-year deal worth $114.5 million. It looks like a sound decision. Miller was phenomenal again in 2016, posting a career best 78 tackles. It looks like Von may prove to be the Broncos' best franchise tag yet.
The Broncos placed the franchise tag on the big wide receiver, a season after he posted the best statistical campaign of his career. Through his first four seasons in the NFL, DT had averaged 60 catches, and seven touchdowns per season.
In 2014, Thomas broke out in a big way, grabbing 111 receptions for over 1,600 yards and 11 touchdowns. The Broncos tagged Thomas, and eventually signed him to a $70 million contract over five years. It has been with mixed results.
Over the past two seasons Thomas has averaged 98 catches, but he has just 11 total touchdowns, and he has had a significant number of drops. Let's hope that the return of offensive coordinator Mike McCoy, under whom Thomas had his most productive seasons, will get him back on track.
When the Broncos selected the athletic offensive tackle out of Boise State with the 12th overall pick of the 2008 NFL Draft, it was widely thought that he would be a cornerstone for years to come. It certainly started that way.
Clady won the 2008 NFL Offensive Rookie of the Year, allowing just one sack all season. He injured his knee following the 2009 season, but still played well in 2010 and 2011. After the 2011 season, the Broncos tried to sign Clady to a five-year deal, but he turned down their offer.
Clady played well in 2012, and made the Pro Bowl for the third time. After the season, the Broncos tagged Clady, and signed him to a five year deal for $52.5 million. It hasn't gone well since.
Clady missed 14 games in 2013, returned in 2014 and made another Pro Bowl, and then missed all of 2015 with a torn ACL. Following the Broncos' Super Bowl 50 win last year, they traded Clady to the New York Jets for a fifth-round draft pick.
The Denver Broncos had thought they had found their kicker of the future when they signed Prater off of the Miami Dolphins practice squad back in 2007. Prater had bounced around with a number of teams, but he looked like a good fit to take over for Jason Elam, who had signed a free agent contract with the Atlanta Falcons.
Prater put together five excellent seasons, connecting on 116 of 144 field goals, and making a number of game-winning or game-tying kicks. Following the 2012 season, the Broncos gave Prater the franchise tag, and signed him to a four-year contract worth $13 million.
The kicker would start the 2013 season with a four-game suspension, having violated the NFL's substance abuse policy; and word came out that he had also gotten a DUI charge back in 2011.
When Prater struggled that preseason, and the Broncos made a trade with the New York Giants for a young kicker named Brandon McManus, the writing was on the wall. The Broncos would release their franchise player following his suspension and Prater would sign with the Detroit Lions.