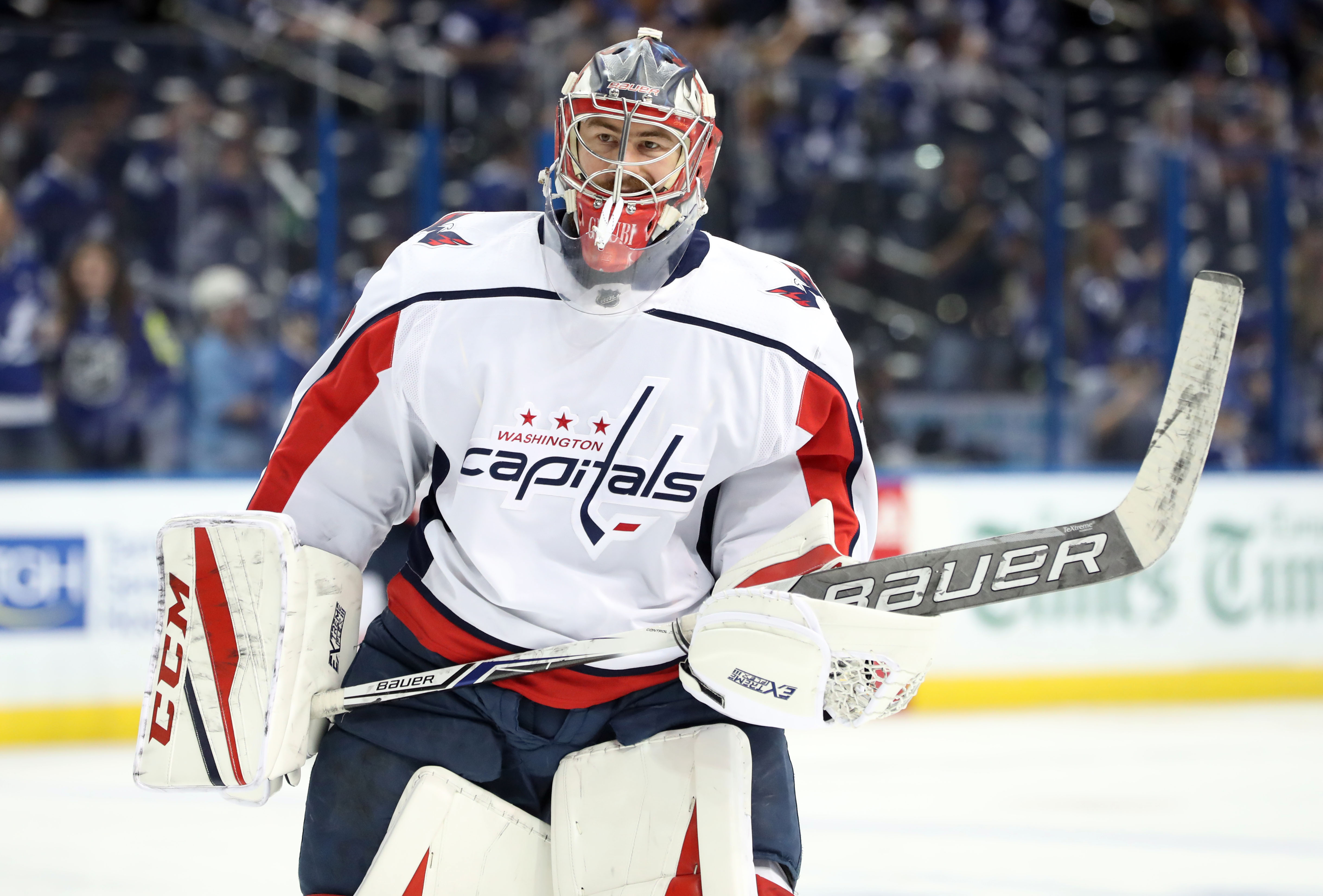 So the Avalanche has two No. 1 goalies? Semyon Varlamov plus the newly acquired and signed Philipp Grubauer, fresh from the celebration of a Stanley Cup championship with the Washington Capitals?
I get it. The Avalanche can't come out and say that it has had it up to here — up to, say, the mask level — with Varlamov's physical uncertainty and track record of unreliability.
In the wake of the deal, Joe Sakic at least has made references to history showing you need two quality goalies, not just one. Or even three, as when the Avalanche was down to Matt Duchene trade throw-in (as in, "You gotta take him") Andrew Hammond in the postseason following the injuries to both Varlamov and Jonathan Bernier.
But now that Varlamov has one year remaining on his long-term deal, at $5.5 million in salary with a $5.9 million cap hit, and with the Avalanche immediately making a three-year, a $10-million commitment to Grubauer, this has the feel of a chapter closing.
The Varlamov chapter.
The funny thing is, they're not that far apart in age.
Varlamov is 30, Grubauer 26.
The similarities are striking: The Avalanche acquired Varlamov in 2011 and then signed him to a new deal, showing more faith in him as a likely long-term No. 1 than George McPhee and the Capitals were willing to display. And one of the reasons McPhee — now the miracle worker with the Vegas Golden Knights — was reluctant was because he was wary of Varlamov's groin muscle issues.
Yes, even then.
Assessing the ups and downs of Varlamov's Colorado tenure should require the wearing of a roll-bar. When he has been good, he has been very, very good, deserving of the Vezina Trophy finalist nod in 2014 and also deserving of being considered one of the league's elite when … yes … healthy.
So no way has he been a "failure."
Injuries are inevitable, but the problem has been just how dogged they have been with Varlamov, and even how jaundiced his in-and-out status can leave his teammates.
I actually think the best stories for the Avalanche in 2018-19 would be Nathan MacKinnon proving his Hart Trophy-caliber season was a breakout and not a one-year fluke; the other young talent continuing to improve; and that Varlamov defying the doubters, not only coming back strong from the knee injury that sidelined him late in the season and kept him out of the playoffs, but also avoiding any recurrences of his infamous groin issues. The twin hip surgeries in early 2017 were supposed to have been the cure-all, and, hey, maybe it really and a bit belatedly can work out that way.
I'm not going to pass along any definitive judgments about Grubauer, but what seems to be forgotten was that he was the Capitals' No. 1 goalie as the playoffs opened last spring — and promptly failed to take advantage of the opportunity. After the twin Washington losses to Columbus to open the first round, Grubauer gave way to Braden Holtby and never got the job back.
When he has had the chance to play, he has played well enough to stamp himself as a bona fide, big league goalie. This was not a guy teetering on the brink, in danger of heading to the AHL.
But he hasn't shown himself to be a star, either.
So for the second time in seven years, the Capitals have passed along a goalie to the Avalanche. When they passed on making a long-term commitment to Varlamov and paying him as a likely long-term No. 1, they were looking around the organization and considering a young prospect named Holtby one of the alternatives.
Oh, the irony.
Also, Sakic was saying a lot of the same things a year ago after signing Bernier to a one-year deal. He also was billed as capable of stepping in and being a solid — or better — No. 1 if Varlamov wasn't available, or even was beaten out.
Bernier had only a modest one-year deal and he had had his moments when holding down the crease in previous stops, especially at Anaheim the previous season. There was the possibility, of course, that Bernier would do well enough in the Colorado net while playing for a contract that the Avalanche would oblige and re-sign him for something approaching No. 1 money. But that never seemed to become a major possibility. He had the one great run last season for the Avalanche, in January, but on balance didn't fill the Avalanche need at the position when Varlamov was out.
The three-year commitment to Grubauer, more than the dollars involved, spell out that Sakic believes the German goalie is a more likely answer than Varlamov as this team attempts to take another leap next season, perhaps from being thrilled to make the playoffs to threatening to become a bona fide Stanley Cup contender.
The Avalanche hasn't solved its goaltending issue.
But it at least has addressed it.
---
Terry Frei of the Greeley Tribune writes two commentaries a week for Mile High Sports. He has been named a state's sports writer of the year seven times, four times in Colorado and three times in Oregon. He's the author of seven books, including "Third Down and a War to Go" and "'77: Denver, the Broncos, and a Coming of Age." His web site is terryfrei.com. His Mile High Sports commentary archive and additional "On the Colorado Scene" commentaries are here. His major Greeley Tribune pieces can be accessed here.