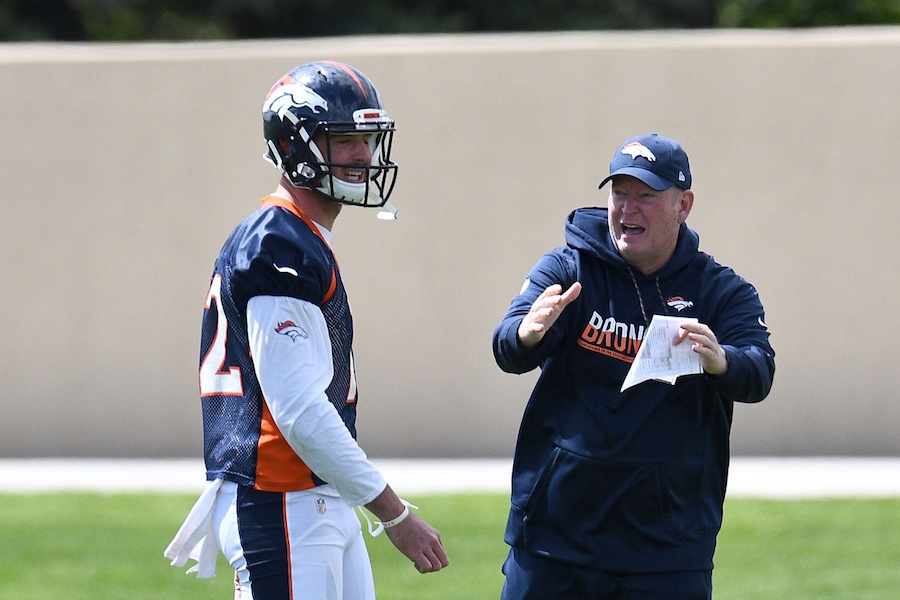 On Nov. 20, the Denver Broncos announced the firing of offensive coordinator Mike McCoy, with quarterbacks coach Bill Musgrave taking over the position for at least the rest of the season.
Musgrave is in his first stint with the Broncos as a coach. He was hired on Jan. 13, 2017 to be the quarterbacks coach after a successful run as the Oakland Raiders offensive coordinator from 2015-16. In those two years, he took the Raiders' offense from being ranked 32nd to 6th, and helped lead them to their first playoff berth in 14 years.
Musgrave has had a coaching career that has given him experience both at the college and pro levels. After a six-year stint playing in the NFL for various teams, including the Denver Broncos, he became the quarterbacks coach for the Raiders during the 1997 season under head coach Joe Bugel. When Bugel was fired, Musgrave moved to the Colts to try and be a player once more, but was cut and joined the Philadelphia Eagles, again as the quarterbacks coach.
He got his first chance at offensive coordinator and play-caller when the Eagles fired Dana Bible. When the team hired Andy Reid as their new head coach at the end of the season, however, Musgrave was not retained, and moved on to the Carolina Panthers for a couple of years before moving down into college, working at the University of Virginia.
At Virginia, Musgrave worked as offensive coordinator and quarterbacks and tight ends coach for two years, coaching quarterback Matt Schaub to various school records. Musgrave returned to the NFL as offensive coordinator for the Jacksonville Jaguars in 2003. After a two-year stint there, and one quick year with the Washington Redskins, he moved on to the Atlanta Falcons, where he held a position for the longest period of time in his coaching career.
He worked for the Falcons for five years, all five as the quarterbacks coach. He took then-rookie quarterback Matt Ryan to a playoff appearance, and was eventually named the assistant head coach before leaving the team after the 2010 season.
Musgrave had stints with the Minnesota Vikings, Eagles, and Raiders again before coming to Denver to be with the Broncos. During his time with the Vikings, he helped lead Adrian Peterson to a 2,000-yard season and an NFL Offensive Player of the Year award. He held both offensive coordinator and quarterbacks coach positions during these years, but has not had a stint as a head coach or assistant head coach outside of the 2010 season with the Falcons.
Now, after his promotion, Musgrave is in charge of reviving an anemic Denver offense that is only managing to score 18.3 points per game while averaging 216.9 passing yards and 112.9 rushing yards — both middling stats at best.
Musgrave will see his first action as the Broncos' offensive play-caller on Nov. 26 against the Oakland Raiders.