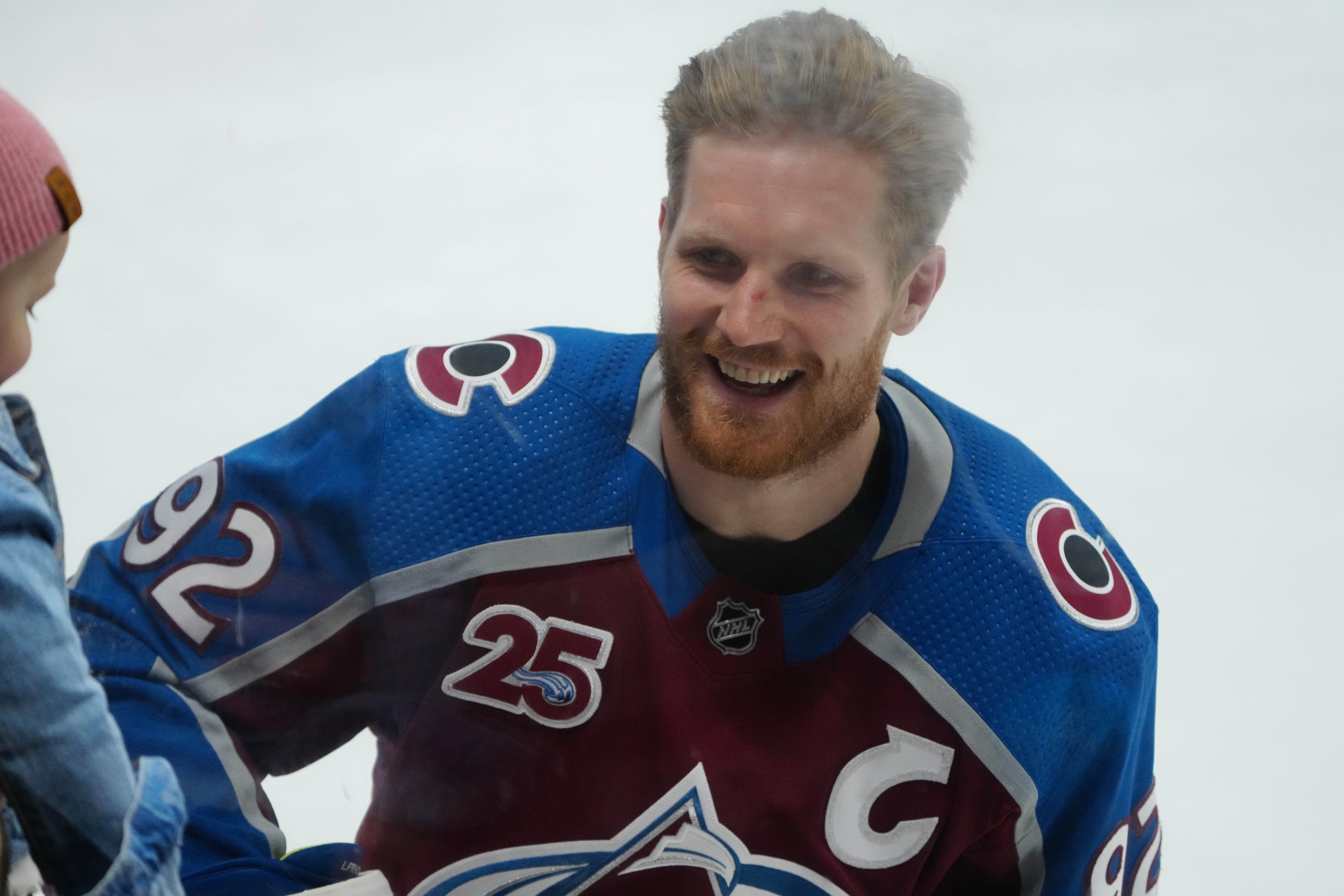 The 10-year marriage will continue. Even if it looked like it was headed toward a bitter breakup.
The Avalanche have re-signed captain and 10-year veteran Gabriel Landeskog to an eight-year, $56 million contract extension. The deal was announced just 23 minutes before the 10 p.m. MT deadline for Landeskog to sign for a maximum eight-year term with the Avs.
It will carry an average annual value of $7 million. Landeskog will have a full no-movement clause in the first four years and a modified no-trade clause in the final four years of the contract.
"We are thrilled to have our captain signed to a long-term deal," Avs general manager Joe Sakic said late Tuesday. "Gabe is the heart and soul of this team and an integral part of our organization both on the ice and in the community. He's the consummate leader, a great teammate."
Listen to "Darcy Kuemper Is the Man" on Spreaker.
Landeskog, 28, has been with the Avs for his entire NHL career and has captained the team for nine years. In 2021, he amassed 20 goals and 52 points in 54 games.
The negotiations between the two sides took a turn for the worst over the past couple of weeks after Landeskog publicly voiced his frustrations and displeasure with the organization on where negotiations were headed.
"The uncertainty is something I've never dealt with," Landeskog told The Athletic two weeks ago. "I've always known that come September, October, I'm going to pull on that Avs jersey. I can't help but to be honest with you that I'm a little bit disappointed that it's gotten this far and it's had to come to this point."
Rumors began to circulate that the two teams were at a standstill, with the Avalanche holding firm on both term and salary. Things became even more contentious when Colorado kept its captain unprotected from the Seattle Kraken expansion draft last week.
Landeskog had a quick conversation with Seattle that did not amount to much and the Kraken ended up selecting forward Joonas Donskoi from the Avs instead.
The St. Louis Blues, New York Islanders and Los Angeles Kings were among the teams interested in Landeskog's services had he made it to free agency.
Landeskog was drafted second overall in 2011 and has been a warrior for the Avs. When the team faltered and had a horrendous 48-point season in 2017, Landeskog made it clear that he wanted to see the rebuild through and be part of the solution. He wanted to stay when others wanted to leave.
Over the past four years, Landeskog has played left wing on one of the best lines in the NHL. He has been one-third of a formidable combination that includes superstar center Nathan MacKinnon and right winger Mikko Rantanen.
"Alongside MacKinnon and Rantanen, (Gabe) is part of what has been one of the NHL's best lines over the past four seasons," Sakic said. "We are excited to have Landy in an Avalanche sweater for many years to come."
Led by that line, the Avs have evolved into one of the more exciting teams in the league and are considered a Stanley Cup favorite for the foreseeable future.
Landeskog's production peaked in 2018-19 – the last full 82-game season the NHL has had – when he had 31 goals and 75 points in 73 games.
In 687 games with the Avalanche, Landeskog is among the best in a majority of scoring categories in franchise history (includes the Quebec Nordiques). He ranks eighth in points (512), sixth in goals (218) and 11th in assists (294). Landeskog's 61 power-play goals and 38 game-winning goals are also seventh-best in franchise history.
__
Aarif Deen is our Colorado Avalanche beat reporter. He covers Avs games live from Ball Arena and attends practices, media availabilities and other events pertaining to the Avs on the daily beat. He is also a co-host of Hockey Mountain High: Your go-to Avalanche podcast. Deen joined Mile High Sports upon completion of his bachelor's degree in journalism and master's in business administration from the University of Michigan – Dearborn. Before Mile High Sports, Deen worked for the Michigan Wolverines Athletics Department as the assistant sports information director.
Follow him on Twitter @runwriteAarif