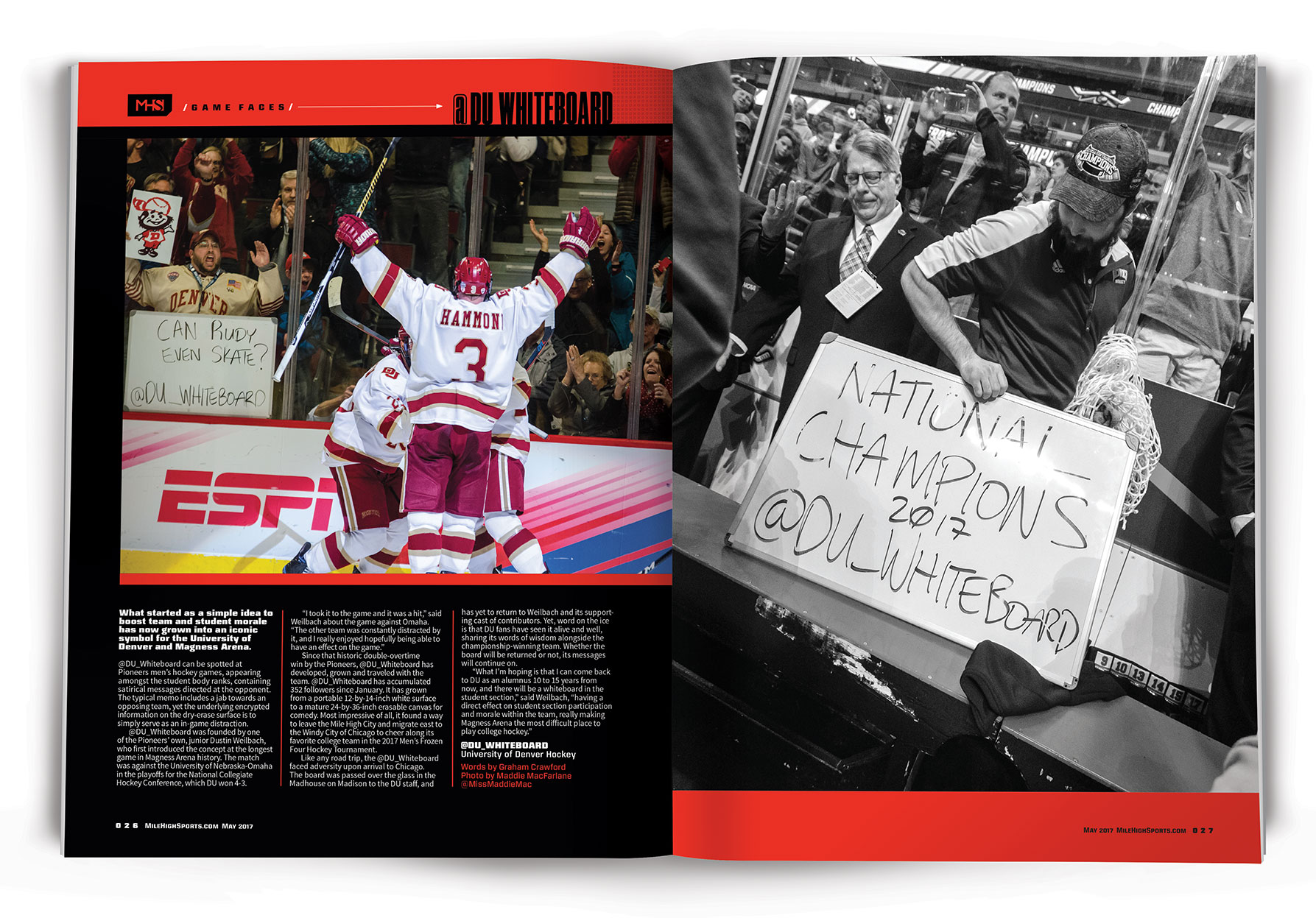 This story originally appeared in Mile High Sports Magazine. Read the full digital edition.
What started as a simple idea to boost team and student morale, has now grown into an iconic symbol for the University of Denver and Magness Arena.
@DU_Whiteboard can be spotted at Pioneers men's hockey games, appearing amongst the student body ranks, containing satirical messages directed at the opponent.
The typical memo includes a form jab towards an apposing team, yet the underlying encrypted information on the dry erasable surface is to simply serve as an in-game distraction.
@DU_Whiteboard was founded by one of the Pioneers' own, junior Dustin Weilbach, who first introduced the concept at the longest game in Magness Arena history. The match was against the University of Nebraska-Omaha in the playoffs for the National Collegiate Hockey Conference, which DU won 4-3.
"I took it to the game and it was a hit," said Weilbach about the game against Omaha. "The other team was constantly distracted by it, and I really enjoyed hopefully being able to have an effect on the game."
Since that historic double-overtime win by the Pioneers, @DU_Whiteboard has developed, grown and traveled with the team. @DU_Whiteboard has accumulated 386 followers. It has grown from a portable 12-by-14-inch white surface to a mature 24-by-36-inch erasable canvas for comedy. Most impressive of all, it found a way to leave the Mile High City, and migrate east to the Windy City of Chicago to cheer along its favorite college team in the 2017 Men's Frozen Four Hockey Tournament.
Like any road trip, the @DU_Whiteboard faced adversity upon arrival to Chicago. The board was passed over the glass in the Madhouse on Madison to the DU staff, and has yet to return to Weilbach and its supporting cast of contributors. Yet, word on the ice is that Pioneer fans have seen it alive and well, sharing its words of wisdom alongside the DU championship winning team. Whether the board will be returned or not, its messages will continue on.
"What I'm hoping is that I can come back to DU as an alumnus 10 to 15 years from now, and there will be a whiteboard in the student section," said Weilbach,"making a direct effect on student section participation and morale with in the team, really making Magness Arena the most difficult place to play college hockey."
Featured Image Credit: Maddie MacFarlane