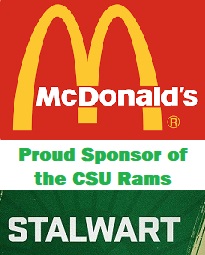 Can Colorado State finally get off the schneid today at Middle Tennessee State? That's the question all Rams fans want to know.
After back-to-back losses to Pac-12 teams Washington State (50-24) and the rival No. 19 Colorado Buffaloes (43-35, 2OT), CSU faces the Blue Raiders (1-2) of Conference USA.
Considering the amazing showing last week in (Coach) Prime time, Colorado State will certainly win today, right? Not so fast.
Middle Tennessee lost to No. 4 Alabama and then fellow SEC team Missouri in Weeks 1 and 2, before blowing out Murray State 35-14 last week. The Blue Raiders put up a stellar 508 total yards and won the turnover battle 3-1 to defeat the Racers.
So, how can Colorado State earn a tough road win today?
Battle of quarterbacks
Last week, Brayden Fowler-Nicolosi played a better than average game, although his three interceptions were far too many. We'll get back to turnovers in the next main point, but first, let's celebrate what he did well last week.
In Fowler-Nicolosi's first start of the year and second of his career, he went 34-47 (72.3%) for 367 yards with 3 touchdowns and 3 picks. For most of the game, Jay Norvell's air raid offense focused on the short, crossing passing game. And it worked like a charm.
Tory Horton accumulated 16 receptions—a new career-high—for 133 yards and one touchdown catch with another touchdown passing, too.
In fact, the Rams enjoyed three, 100-yard receivers for the first time in school history. Horton, Louis Brown, and tight end Dallin Holker all surpassed the century mark.
For the first time in program history…

3️⃣ x 💯#Stalwart x #RamGrit 🐏 pic.twitter.com/lieNymtT0G

— Colorado State Football (@CSUFootball) September 22, 2023
Meanwhile, Nicholas Vattiato has been solid this year, going 71-102 (69.6%) for 637 yards with 5 touchdowns and 2 interceptions in three games. He was extremely efficient (82.3%) last week for two scores and one pick.
Who can out-duel one another today? Their play will go a long way toward a win for either team.
Turnover differential
Simply, the most-important statistic is always turnover differential.
Colorado State turned the ball over four times and forced two last week against CU. That -2 turnover differential was enough to sink the Rams in Boulder.
Meanwhile, Middle Tennessee was a +2 last week and won with ease over Murray State. They forced three fumbles in the game and CSU's runners Avery Morrow and Kobe Johnson have to be prepared for the defense to try and punch the ball out.
Can Fowler-Nicolosi limit his turnovers to one or less today? Can Colorado State's strong secondary pick off Vattiato? Winning the turnover battle will go a long way toward winning the game.
Third down conversions
One area the Rams excelled in for most of the game against Colorado was converting on third down. The Rams went 10-20 on third downs, for a strong 50% conversion rate. In Week 1 against Washington State, CSU only converted 5-14 third downs (35.7%) and couldn't sustain drives to score enough points against the Cougars.
Meanwhile, the Blue Raiders have converted 43.4% of their third downs, which is decent, but not spectacular.
The team that can sustain drives and ultimately score more will win this one in Murfreesboro, TN today.
Colorado State – Middle Tennessee Odds
Middle Tennessee is favored by -3.5 and the over/under is set at 51.5 points. Considering how well Colorado State can score, shown last week, the over could be a solid play. Will CSU cover, and ultimately win?
Tune in at 5 p.m. MT on ESPN+ to see when CSU (0-2) faces Middle Tennessee State (1-2).