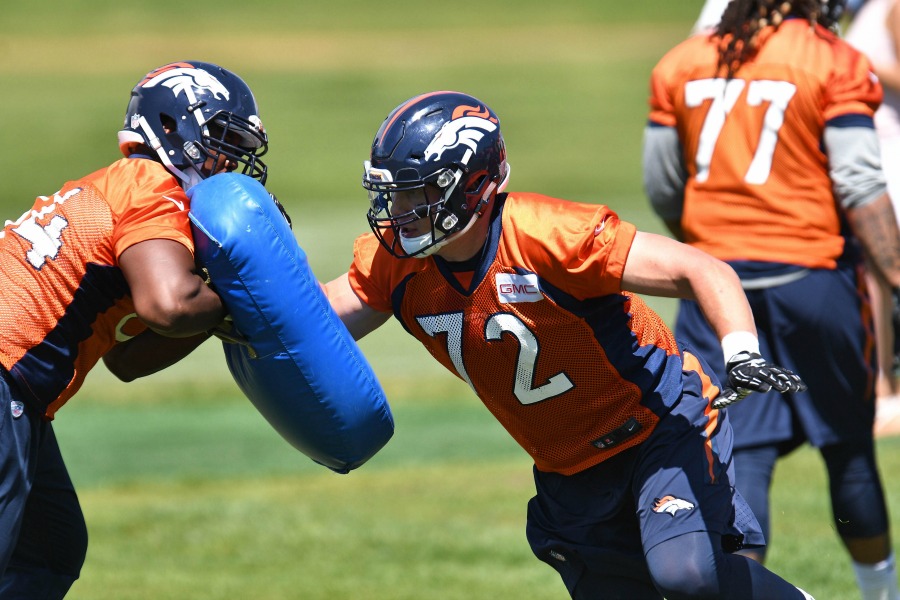 The meanest offensive line in the NFL hasn't lived in Denver for some time now. Rookie Garett Bolles wants to be a part of changing that this year.
Eric Goodman and Les Shapiro of Mile High Sports AM 1340 | FM 104.7 spoke to Bolles after Monday's OTA practice to get his thoughts on what he hopes to bring to the Broncos' front five this season.
The biggest thing Garett Bolles believes he can bring to Denver as a rookie is a little bit of bite. When asked about the change in mentality on the offensive line, the rookie spoke on the group's desire as a whole to be more assertive this season.
"We want to be nasty up front. That's how it is. All these guys up front, they wanna fight," Bolles explained. "We have guys from big programs, guys who want to run the ball and smash people in the mouth. That's what we want to bring. We're all tough, smart guys who want to work hard day-in and day-out and get better every single day."
This desire to be aggressive is nothing new for Bolles. Even though he is an offensive lineman, Bolles has drawn player comparisons to Derek Wolfe because of the aggressive attitude and effort the rookie brings on each snap. As a whole Bolles feels honored by the comparison.
"Well first off, Derek Wolfe is Derek Wolfe so I can't compare myself to him at all. He's a hell of a player and there's a reason he's the run stopper. He punches people in the throat and he has the attitude and effort that guys up front don't like to face," he said. "That's how I am … I bring that nasty edge up front. I finish my blocks and I go to the whistle. That's how we want to be this year, this Bronco team going into the season. We want to go to the whistle and make sure every team knows not to mess with us on Sunday."
The Broncos believe more intensity can be the difference going forward into 2017, and Garett Bolles is the right kind of player to bring that added bite.
Listen to the full interview with Bolles, including his thoughts on making the jump to the NFL, in the podcast below.
Catch Afternoon Drive with Goodman and Shapiro every weekday from 4p-6p on Mile High Sports AM 1340 | FM 104.7 or stream live any time for the best local coverage of Colorado sports from Denver's biggest sports talk lineup.