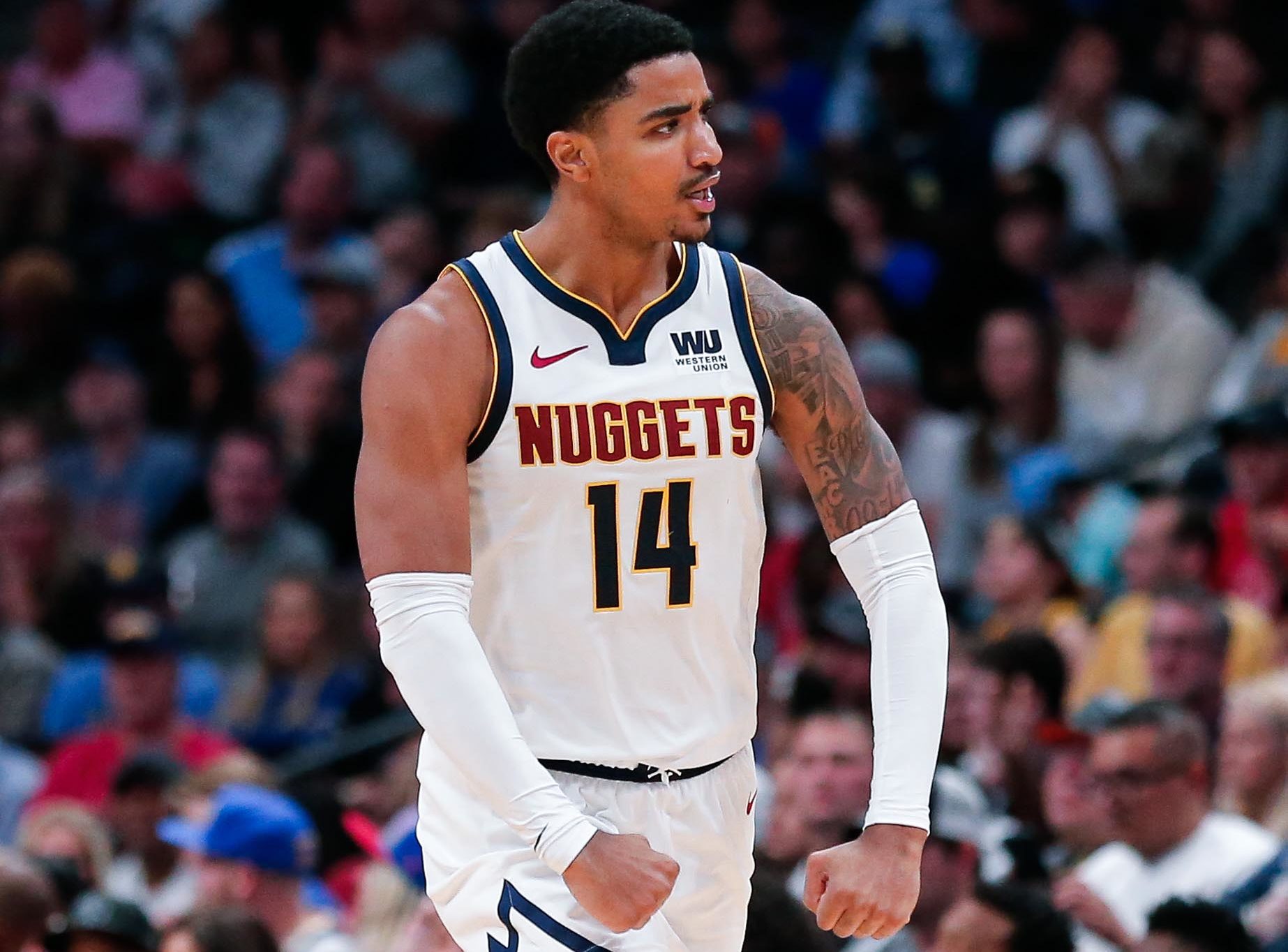 Gary Harris' progression as a player is a sight to behold.
Long ago, Harris averaged just 3.4 points per game and shot a horrendous 30.4 percent from the field and an ice-cold 20.4 percent from three-point distance in his rookie season. Now, after four years of significant improvement, it seems impossible that he struggled so badly, but when looking back with the benefit of hindsight, Harris struggles were exactly what he — and the Nuggets franchise — needed most.
You see, Harris' ascension perfectly encapsulates the rise of Nuggets basketball. In 2014-15, the Nuggets were in a bleak position. They won just 30 games and Harris had the toughest year of his basketball career. That offseason, the Nuggets and Harris made a decision — they were going to rebuild themselves from the ground up.
"Gary is a true pro," Nuggets head coach Michael Malone explained. "He works his butt off and he comes back a better player every year."
The Nuggets progression and Harris' progression are intertwined. Without his seemingly telepathic connection with Nikola Jokic, the Nuggets offense would not have juggernaut potential. Without Harris' tenacious on-ball defense, the Nuggets' defense would not have taken the leap that they seemingly have taken in the early portion of the 2018-19 season. While Jokic is undoubtedly the best player in Denver, Harris is who pushes the Nuggets ceiling to heights that are not yet quantifiable. His defensive versatility, plethora of offensive skills, and altruistic demeanor has helped shape the Nuggets identity.
"He is very consistent, he knocks down shots at a high rate, he gets to the bucket whenever he wants, he is solid defensively, and he is a all-around player," Harris' backcourt partner Jamal Murray said. "I don't know why people don't take more notice of his play. He is phenomenal and he means so much to this team."
Murray really hit the nail on the head when he said, "he means so much to this team."
To put it simply, Harris has become the embodiment of the Nuggets culture. He is a tireless worker with an team-first mentality, but now he is much more than a great teammate and culture-setter.
"He is an elite player," Mason Plumlee said after the Nuggets defeated the Sacramento Kings 126-112 in Denver to stay undefeated after four games.
Harris, after questioning if he was even an NBA-caliber player at the conclusion of his rookie season, is now one of the most underrated players in the entire NBA. He is an elite three-point shooter, one of the better finishers at the rim in the league, a terror of an off-ball offensive player, and now is showing that he can destroy defenses off the dribble as well. If he continues to improve at this incredible pace, he will soon find himself mentioned alongside some of the best players in the National Basketball Association.
"To me, I don't know what the league's view of him is, but he could be an All-Star this season and that is not really even a reach," Plumlee emphatically exclaimed.
The Nuggets needed Harris to evolve into this level of a complete player if they wanted to even sniff contention in the Western Conference. They desperately needed a second star who not only can play alongside their franchise center Nikola Jokic, but someone who can also take the ball into their hands and carry Denver to victories when they need it.
Harris has already become that second star for the Nuggets.
"He is playing at another level right now," Plumlee explained. "It's exciting."
It is Harris' consistency that the Nuggets needed the most. Now, whenever the Nuggets are in a funk or aren't executing at the level they should be, they can rely on Harris' steadiness to get them through. Take the Nuggets victory against the Kings on Tuesday night for example; Denver was coming off of an emotional late-game victory over the Golden State Warriors and were riding high. That kind of victory makes it incredibly easy to come out flat against the Kings two nights later. Instead of coming out flat against a team that Denver is clearly better than, Harris controlled the game on both ends of the floor seemingly on his own.
"Gary Harris, to start the game, was phenomenal," Malone said after Denver's victory over his former team.
Harris was hitting obnoxiously deep threes, getting to the rim at will, hitting mid-range jumpers, dunking on people, and was the focal point of Denver's offense and that was all only in the first quarter. While his scoring output is great to see, what was even better was that Harris' evolution was on full display. No longer is Harris just a finisher on offense. Now, he is learning how to get his teammates involved.
"For him to get five assists and only one turnover speaks to his playmaking," Malone explained. "We put the ball in his hands a lot. He's worked a lot on his handles to play in the pick and roll, the dribble handoff, and to be able to break his man down one on one."
Harris growth has changed everything for the Nuggets. Now, Denver has the talent and chemistry to compete with any team in the NBA. As long as the Nuggets stay true to themselves, they can beat any team on any given night and Harris knows it.
"We are worrying about ourselves each and every game," Harris said after putting up 18 points on 8-12 shooting to go with five assists against one turnover. "We don't care who we are playing. If we go out there and do what we are supposed to do, I like our chances."
One thing is for certain; Harris does not care about individual accolades. Even after his stellar performance against the Kings, he deflected credit to his teammates and only cared about one single thing.
"We were able to stay undefeated," Harris said.