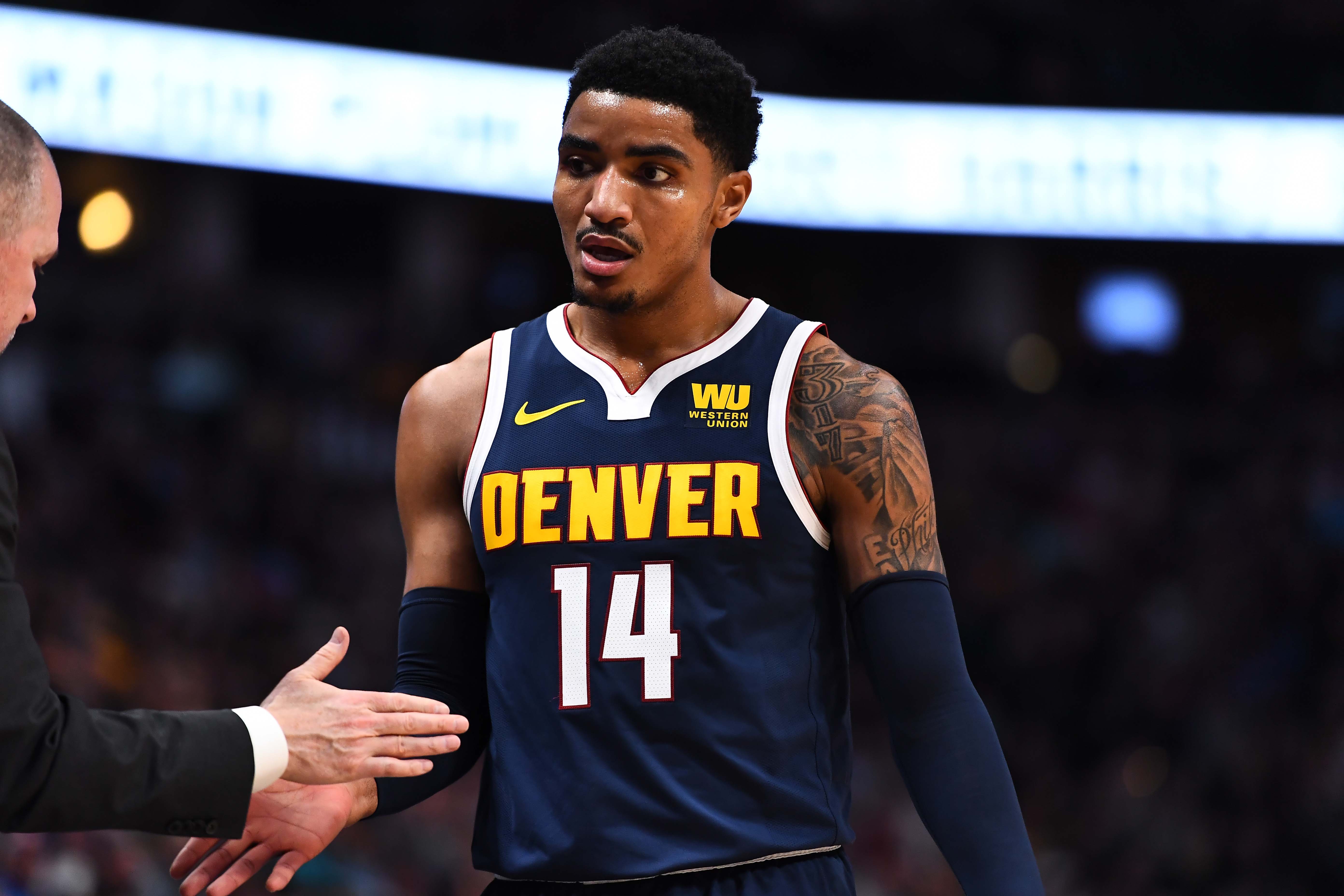 After missing 11 games with a right hip injury, Gary Harris has finally rejoined his teammates on the hardwood, but with a slight caveat — he has come off of the bench in order to get his rhythm back as head coach Michael Malone slowly reintegrates Harris back into the rotation.
Well, Harris now has three-consecutive games under his belt and he has come off the bench for each of them. In those three games, Harris is averaging 12.3 points, 3.7 rebounds, and 2.3 assists in 25.5 minutes per game and has improved with each minute on the floor.
In Denver's 123-110 win over Charlotte, Harris looked like his former self as he accumulated 17 points, six rebounds, and five assists including three made 3-pointers. He was Denver's second-best player all night and, during his 26 minutes of action, the Nuggets outscored the Hornets by 23 points.
After the game, Harris was asked if he was official back and before Harris could answer the question, he was interrupted by the man who has been starting in his place, Torrey Craig.
"I feel like it!" Craig yelled across the locker room emphatically.
It is nearly impossible not to agree with Craig. Harris was a monster against Charlotte and it has become crystal clear that Harris is ready for his reintegration into the starting lineup.
As a scorer, Harris checked off nearly every box in Denver's 10th-straight win at the Pepsi Center. He hit 3-of-8 3-point shots, got to the rim on multiple occasions, and put pressure on the Hornets' perimeter defense in all of his 26 minutes of floor time.
But, the most important takeaway from Harris' strong 17-point performance was that physically, there were absolutely no signs that he was dealing with any lingering pain in his hip and he did not look like he was mentally worried about playing full speed.
In the play above, Harris gets the ball, sizes up Miles Bridges — who gets caught up on Trey Lyles' screen — and blew past him on his way to the rim. Once he arrived in the painted area, Harris left his feet and exploded to the rim and scored through contact.
Harris continued to show off his confidence in his body as he attacked the glass in addition to scoring. Even more notable in this clip below than the prior clip is that Harris jumps off of his once-injured right leg when he skied for this strong offensive board.
That is not a play Harris would make if he was worried about his right hip injury. The fact that Harris feels he does not have to worry about that right hip is one of the most important reasons to finally reinsert Harris back into the starting lineup.
Against Charlotte, Harris looked just as productive and efficient as a scorer as he was before the injury.
The play above is the Nuggets bread and butter. It seems as if Denver has scored every single time a defender inexplicably goes under a dribble handoff set with Harris and Jokic. Against the Hornets, Bridges elected to go under Jokic's screen and Harris made him pay with a pull-up 3-pointer. That play looks just as brilliant as it did in November when Harris was fully healthy.
Harris also went back to his head-hunting ways against the Hornets. Just look at the obliterating slam Harris puts on Bridges' head.
Again, that Spartan on Spartan evisceration is proof of Harris readiness to return to the starting lineup.
Even more impressive about Harris' game against the Hornets was that he continued to show off his growth as a playmaker. He finished the night with five assists and all five were great reads.
In the play above, it is clear that Jokic and Harris are still very much so on the same page. Harris is reading Bismack Biyombo the entire way. The second that Biyombo drops back into the paint and takes a step to his right to keep Harris from getting to the rim, Harris is already dropping a pocket pass to Jokic that leads to an easy floater. The play looks simple, but it shows that Harris is fully equipped to deal with the speed of the NBA even though he has only played in three of the last 14 games.
Harris continued his egalitarian style of play all night and this fluid pocket pass to Mason Plumlee for the dunk is just another example of Harris' improved passing instincts.
Willy Hernangomez is the player that Harris is reading the entire way. As Harris turns the corner after using Plumlee's screen, he hesitates, takes a step to his right — away from Plumlee — and as soon as Harris gets Hernangomez leaning towards him, Harris drops a pin-point bounce pass to Plumlee who finishes the play with a dunk. That is running the pick and roll to perfection.
The pocket pass is not the only ready Harris makes out of the pick and roll either. The Hornets switched up their defensive coverage on Harris late in the game and decided to have their big — in this case it was the opposing Hernangomez brother once again — play further up the floor.
Unfortunately for Charlotte, Harris was still able to slice up their defense. In the play above, Harris knows that Bridges had to go over the screen which means he will be trailing on the play. Because of that, Hernangomez has to step up to slow Harris which leaves Plumlee rolling to the rim freely. That is when Harris lobs the pass up in the air for Plumlee to catch and throw down with authority.
Harris is no one-trick pony as a facilitator and he can hurt opponents in a plethora of ways. As Harris has grown as a creator, he has become more creative in his approach. Even against the Hornets, Harris was comfortable enough to whip out a behind the back bounce pass when he felt it were needed.
The second that Harris realized that he had two defenders on him, he found the quickest way to get the ball out of his hands and to the open man. Without Harris deciding to pass the ball behind his back, there may not have been enough time for Millsap to get off that big-time 3-pointer.
Harris continued his creative creation with this instinctual pass to Monte Morris for yet another massive 3-pointer.
The pass that Harris makes above is wild. Not only does he have to jump up in the air and catch the pass from Morris one-handed, but even during that split-second, Harris has the calmness of mind to see Morris relocating to the corner. Harris, in once fluid motion, catches the pass one-handed while in mid-air and rifles it back to Morris in the corner who nails the triple.
As a cherry on top, here is Harris doing what he does best; digging down on a opposing ball handler, grabbing a steal, pushing the break, and nailing a pull-up 3-point jumper in transition. That is vintage Gary Harris.
At this point, it seems disingenuous to say Harris is not ready to start. Maybe Malone feels differently and elects to let Harris play one more game off of the bench, but Harris has proven on multiple occasions that he is physically and mentally ready to reclaim his starting spot.