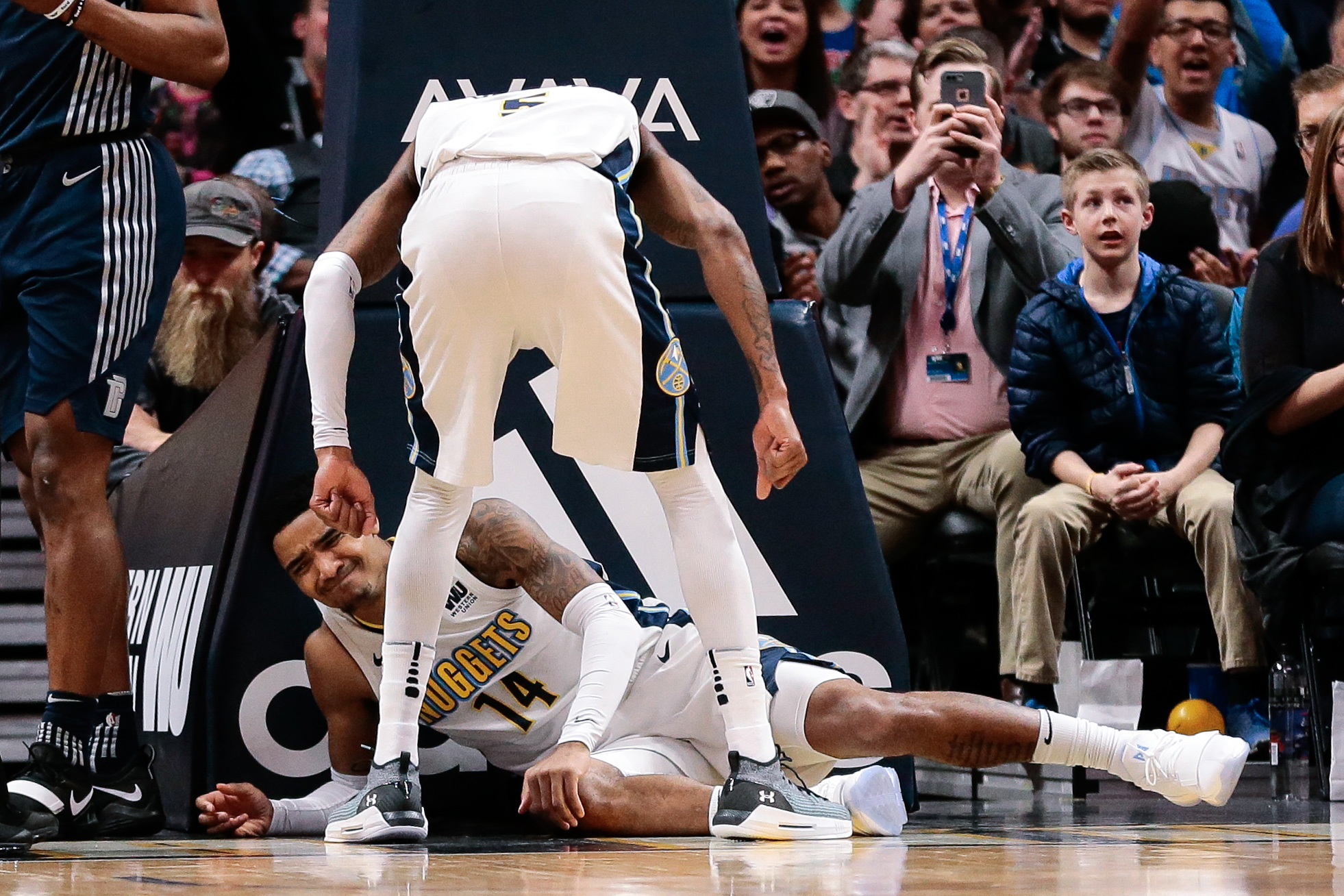 Denver Nuggets starting shooting guard Gary Harris is headed towards his second-straight missed preseason game due to a left hamstring strain that he sustained during training camp. While this may seem alarming to some, there seems to be a consensus opinion that Harris is being held out only for precautionary reasons.
"We are not going to put him in position to further irritate his hamstring," Nuggets head coach Michael Malone explained prior to taking on the Los Angeles Lakers in San Diego for the first preseason game of the season. "It is unfortunate because it happened on one of the last plays of our scrimmage the other day. We will be smart with it."
Harris went through portions of shootaround before the Nuggets took on the Lakers for the second time in three days — this time at Staples Center — and apparently looked very strong. He was also seen out on the floor prior to the Nuggets first preseason game versus the Lakers in San Diego. While he did not go through an intense workout, he did take time to get shots up and looked strong while doing so.
Gary Harris and Malik Beasley are getting shots up.

Gary looks strong out here. Doesn't seem like his hamstring is bothering him much at all. He's out tonight for precautionary reasons. pic.twitter.com/WYrDXScuZ0

— T.J. McBride (@TJMcBrideNBA) September 30, 2018
Malone confirmed at shootaround on Tuesday morning that Harris will indeed miss his second-straight game, but Malone also alluded to the fact that Harris could play as soon as Friday when the Nuggets take on the Perth Wildcats.
"He will be out," Malone said at shootaround. "Obviously, he is behind, but we have a couple days before he plays in our home game against Perth hopefully. He went through parts of shootaround today and looked really good, but to be precautionary we will keep him out of the game."
In Denver's first preseason game, it was Torrey Craig who filled in as the starting shooting guard. While Malone could elect to make the same decision on Tuesday night, he also has many other options. He could also start Malik Beasley, who has had a strong camp thus far, or reward Juancho Hernangomez, who was the Nuggets best player in the first game of the preseason. Odds are Malone sticks with Craig once again, but in preseason anything can happen.
While Harris' injury is something to keep an eye on, it seems as if it is also a minor inconvenience on what has been a strong training camp for the Nuggets.