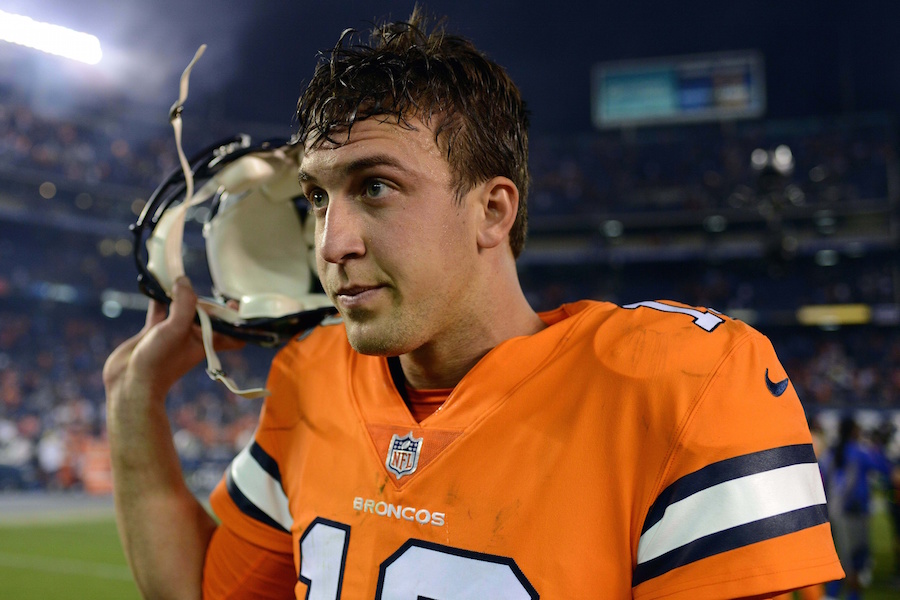 It feels like just yesterday Graham Ga-NO yanked it left.
A brilliant icing job by Gary Kubiak froze the Carolina Kicker, and the Broncos escaped with a 21-20 victory in Week 1 after Gano's potential game-winning field goal missed badly.
When you look at a calendar, it wasn't all that long ago – September 8, to be exact. But in terms of an NFL season, that game is ancient history.
Fast-forward a little more than two months and the Broncos are nearly two-thirds done with their season. Sitting at 7-3 heading into the bye, Denver is in good shape, with the AFC West crown and No. 1 seed in the conference both still realistic possibilities.
But, just like a year ago, pretending it's been a smooth ride to get to this point would be silly. The roller coaster has been intense, and it shows no sign of slowing down. If you're nauseous now, you might be green in the face ready to blow chunks come January.
The odds of repeating as champion aren't in Denver's favor, but the possibility of another parade does exist. It's improbable, yes, but then again winning Super Bowl 50 wasn't exactly likely.
And while Denver will only win another title on the back of its outstanding defense, head coach Gary Kubiak knows the offense is going to have to carry at least a little bit of weight. Just like it did last year during the playoff run, the group needs to pick some spots to come up big.
It all begins with quarterback Trevor Siemian, who's been pedestrian thus far, despite the team's excellent record.
Kubiak may have gone easy on the kid the first 10 games of the year, but now, it's go time. The kid gloves have to come off.
"I would rate him like a lot of guys: have to get better," Kubiak said Monday of Siemian's performance so far this season. "I want to see his play become more consistent. One thing that he had done early in this season, he protected the ball better and he hasn't protected it the last three weeks so that's a concern. He has to continue to play big for this team, not OK. We need him to play big."
Translation: This up-and-down, seesaw play from Siemian isn't going to cut it the rest of the way. For example, up 10-0 and driving before halftime, he can't throw a game-changing interception like he did in New Orleans last Sunday. That's just not going to work.
First, Denver's top pick from April's draft, Paxton Lynch, is waiting patiently in the wings. He got one start against Atlanta when Siemian was hurt, but received about as much protection as a young couple trying to get pregnant. Every time Siemian turns the ball over or misses an open target, the groans for Lynch will grow louder and eventually may be impossible to ignore.
Second, it's hard to project the Broncos defense being just as good down the stretch and in the playoffs this year as it was last. They'll be good, no doubt, but will they be historically good? Will they be sack-Ben Roethlisberger–Tom Brady–Cam Newton-a-combined-13 times good? That's tough to bank on. As mentioned, Peyton Manning picked his moments in the clutch last season, Siemian must do the same and then some.
Finally, Siemian might not only be fighting for his job in Denver, but also his NFL career. Remember, this kid went 250th overall in the 2015 NFL Draft and nearly took a "real world" college graduate job before John Elway and Kubiak decided to take a chance and change his life. That might sound like adding undue pressure, but it's reality.
"I think it's good. 'Kub' expects a lot out of me. I expect a lot out of myself, truthfully. I take it for what it is. I'd rather have that than the other way around," Siemian said Tuesday regarding Kubiak's blunt 'play big' comments the day before.
Siemian hasn't been good for a spectacular soundbite this season, but his ability to always stay even-keeled, even as expectations clearly rise, deserves praise. If anyone's got the right mindset to handle increased pressure from his coach, it's Siemian.
When Graham Gano's kick smashed into the field goal net in Week 1, wide left and no good, Trevor Siemian was a fun story with a 1-0 record.
Ten weeks later, with the Broncos at 7-3, he's been openly challenged by his head coach to play better.
The stretch run is officially here and Trevor Siemian is at the controls of a wild roller coaster; let's see if he can get the ride back to the station safely.