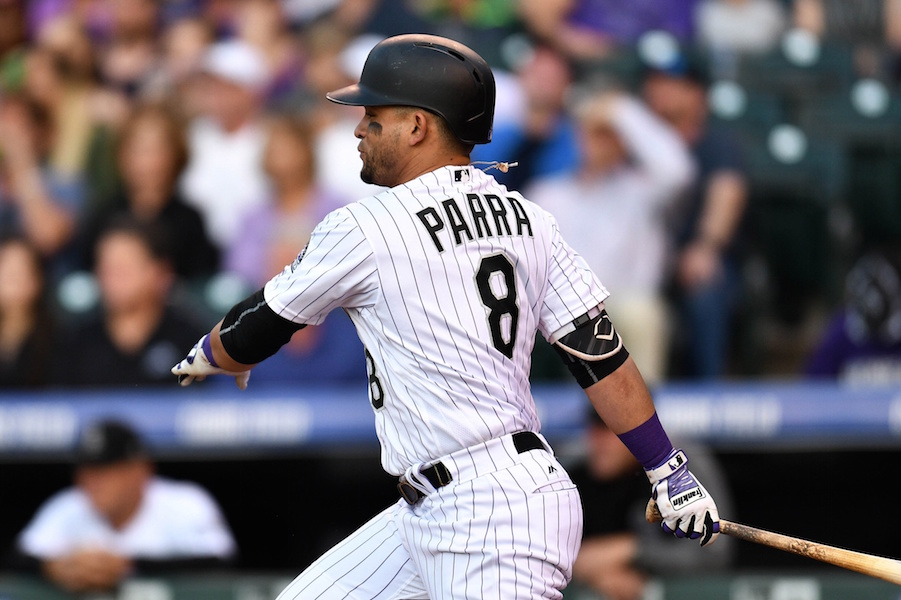 The Colorado Rockies have been a mess of late. Perhaps it's no surprise that during their recent rough patch they've been without Gerardo Parra, who returned to the lineup Friday night and sparked a big Rockies win.
Prior to Friday night's 12-4 victory over the White Sox, Colorado was 3-12 over their last 15 games. When the pitching has been on, the hitting has not, and vice versa. During their slide their record fell from 20 games above .500 to just 12. Granted, 12 games above .500 is certainly a comfortable spot for any ballclub, but for the Rockies, the dip was a source of panic.
Quickly, Rockies fans and analysts alike were under the "here we go again" mindset. Another midseason collapse was imminent, it seemed for a period.
The Rockies slipped to end the month of June, winning just two of their final 10 games in the month. July hasn't been kind to the Rockies, either, but Friday night, Colorado put themselves in a solid position to find their footing in the 2017 season.
Colorado bulldozed the Chicago White Sox Friday night. Starting pitcher German Marquez hurled seven sharp innings, and Colorado's offense kicked things into gear; however, one of the underlying sources of Colorado's revival stemmed from Parra, due not only  to his play on the field, but also to his impact behind the scenes.
Parra has always been regarded as a high-intensity player on the field; however, his biggest contribution to this Rockies team is his impact in the clubhouse.
When reporters walk into the clubhouse before and after games, Parra's presence is felt. He's loud, brimming with energy, and always putting smiles on his teammate's faces. It's Parra's ability to remain loose at just about any given moment that makes him so valuable to the Rockies club, especially with their recent stretch of play.
"I think it always helps," Balck said of Parra's clubhouse vibe. "There are certain guys with certain personalities that make up the mix of the 25 guys, and I think it takes all kinds. The good teams I've been on, it's been a different mix of different personalities. [Parra] brings a looseness. He brings an energy. I think he brings a component of looseness and having fun and professionalism at the same time. He knows what this is all about, but he does it in a way that can lift guys up."
During Colorado's losing streak it was evident an element was missing. Rockies players looked flat, lacking some spark. Nolan Arenado hit a little bit of a slump, DJ LeMahieu was injured, and Carlos Gonzalez continued to struggle mightily at the plate.
Friday, the Rockies activated Parra off the disabled list after missing 22 games with a right quad strain.
"Let's hope Gerardo can give us a lift," manager Bud Black said before Friday's game. "When he's right, he can do a lot of things: Hit the ball over the fence, find a gap, spray the ball all over the field, he likes hitting with guys on base, he has some energy and personality. It's great to have him back."
The result? Just what Black expected.
Parra was 3-for-4 in Friday's victory and delivered an explosiveness the Rockies had lacked on the field. He had an RBI, a double and a run scored.
Parra's ability to slow the game down and keep his teammates relaxed is arguably the biggest upside of having him on the team. It makes a world of a difference, and Friday night, he proved it.
"There's a lot of times where this game can be pressure-packed for a lot of players." Black said, "I think you play your best baseball, or all of us do our best work when we are loose, poised, and calm. I think Parra sort of has that ability just through his persona to do that naturally."
Friday's victory was certainly a collective team victory, but Parra's and ability was felt throughout the game and in the clubhouse following. He may not be the best player on the team, but he certainly helped jumpstart the Rockies Friday night.
Colorado got their mojo back Friday, and Gerardo Parra was a big reason why.