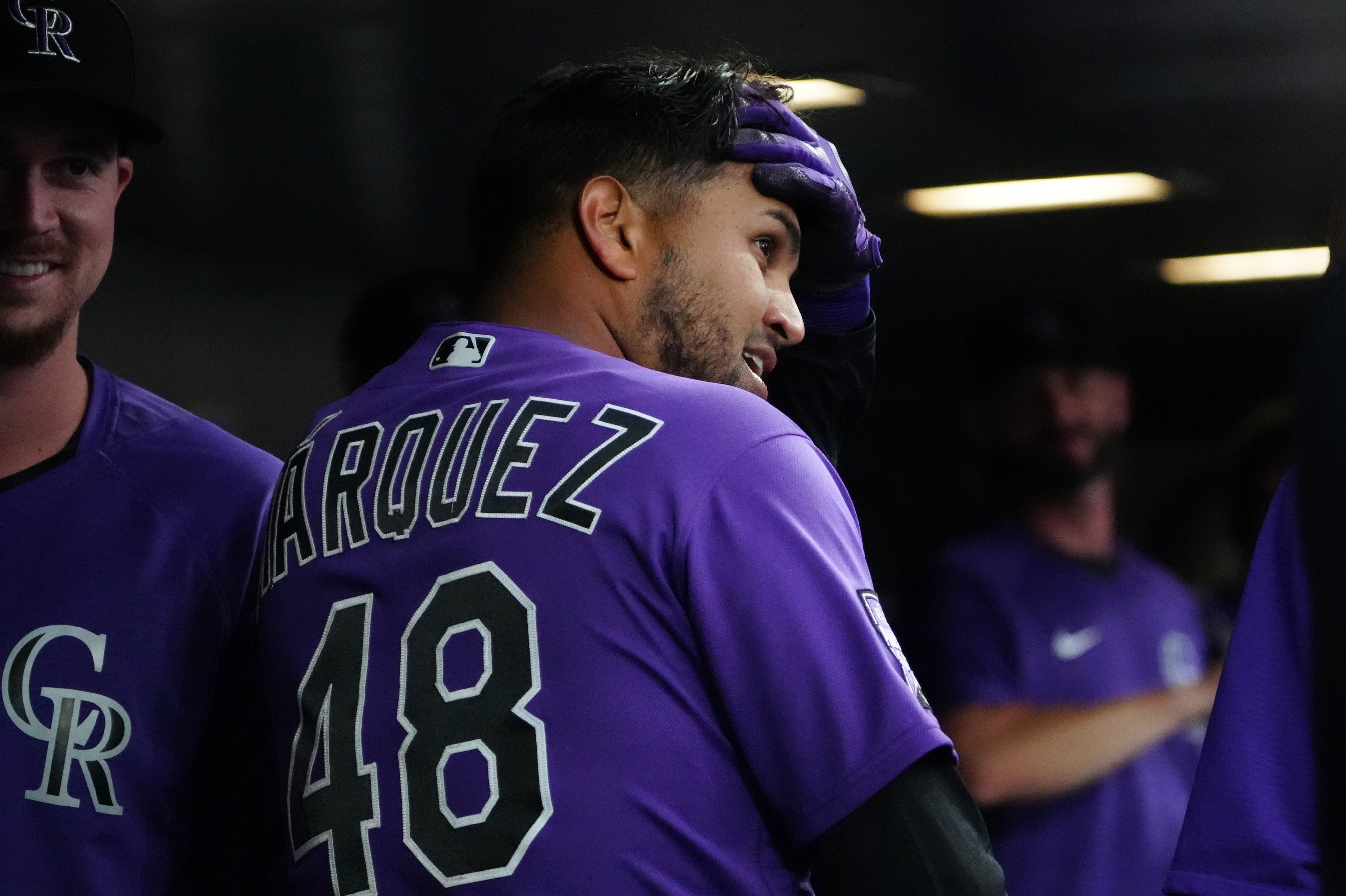 Colorado Rockies manager Bud Black, back on May 4, faced the tough task of trying to explain what was wrong with his team's top starting pitcher after he was ambushed to the tune of eight runs on six hits and a pair of walks in just two-thirds of an inning.
Black, as he's had to do many times over the last couple of seasons, maintained his composure as he recounted the result of each and every batter Germán Márquez faced in Game 1 of a doubleheader that day. Bad luck played a part in the Rockies' 12-4 loss to the San Francisco Giants. That, as Black often says, "is baseball." But Colorado's skipper didn't completely guard his disappointment when it came to the role his ace played in the decisive defeat.
"If you reconstruct it pitch by pitch there were some things he didn't do well," Black told reporters in a postgame Zoom session. "Lack of command, couldn't get his breaking ball in good spots when he needed to … there are definitely some things we need to take care of."
Márquez—from a numbers standpoint, anyway—was in shambles heading into his start against the St. Louis Cardinals six days later. His ERA was a league-worst 6.21. He'd issued a league-leading 21 walks in 33 1/3 innings. He was, in a sense, broken.
Exactly two months later, Márquez celebrated a six-inning, two-run effort that included 11 strikeouts by accepting a spot on the National League All-Star team. How in the world did we get here?
During his first seven starts of the season, Márquez used his fastball 54.1 percent of the time. The problem was he wasn't effective in controlling it; fastballs are usually a great way to get ahead in counts, but Márquez threw first-pitch strikes just over half of the time, and he missed the zone so much that he induced swings on just 42.9 percent of pitches.
Remember when the Rockies' manager mentioned things needing to be taken care of? Well, one of the main changes Márquez and the coaching staff worked on was his slider usage, which has jumped from 18.6 percent through that fateful May 4 start to 25.6 percent from May 5 through July 4. Márquez's slider was his best pitch in terms of run value even while he was struggling, so having him throw it more makes sense. With it has come increased effectiveness with the fastball, as shown by Fangraph's pitch values, which come in the form of runs above average:
| | April 1 - May 4 | May 5 - July 4 |
| --- | --- | --- |
| Fastball | -1.3 | 10.0 |
| Slider | 1.3 | 5.0 |
| Curveball | -1.9 | 1.8 |
| Changeup | -1.1 | -0.3 |
Of course, commanding these pitches is of great importance, and overall that has been the biggest difference in Márquez's performance. His walk rate dropped from 13.7 percent over his first seven starts to just 7.1 percent in his previous 11. His first-pitch strike rate is up nearly 10 percentage points, and it doesn't hurt that Márquez is also getting a few more swinging strikes recently than he was in the early going.
Some of these changes have been implemented with other pitchers in the Rockies' starting rotation, as well. Collectively, the unit throws a higher percentage of sliders than any other group in the majors. The results of those pitches in particular over the course of the season have been mixed, but it's hard to argue with the overall success Rockies starters have had over the past month. The group ranks in the top five in the NL in park-adjusted ERA; they've thrown more first-pitch strikes than just about anyone, have the lowest walk rate in baseball, and rely on sliders more so than any other club during that time.
It's hard to perfectly nail down the formula that Black and the Rockies' pitching coaches are implementing with Márquez and his rotation mates, but one can get pretty close when looking at Colorado's All-Star ace. Things for him have been taken care of, indeed.