This story first appeared on inifintyparkatglendale.com
In a match of undefeated teams the Glendale Raptors arose victorious, taking home their fourth victory of the season in a 29-24 road win over the Rhinos of San Francisco Golden Gate (SFGG).
 
"It feels good," Raptors head coach Andre Snyman said after the match. "We're very happy with the results and where we are in the table. It was one of the goal we would have liked to achieve. We said we'd be 4-0 this season."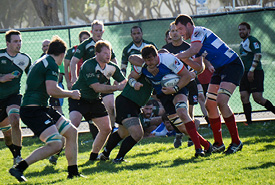 Glendale kept it tight in the first half but led throughout, holding on to a narrow 12-10 halftime lead.
 
That lead ballooned to 24-10 in the second half, but the Rhinos stormed back to tie the game at 24 apiece.
 
"We need more composure," Snyman said of the second half effort. "The game showed that we can score tries and if we stick to our structures we can play quality rugby and score against top quality teams. When we get in a position where we're up 24-10, we should have composure and discipline to not let the other team back into the game."
 
Glendale did settle down enough to close out the game, as Josh Barry linked up with DeWon Reed for the final try of the match, settling the score at 29-24.
 
"Obviously DeWon is always the X-factor," Snyman said of the play. "Josh Barry made the break and DeWon read the play really well. Credit to them to keep on going and making something from nothing."
 
While not a scoring juggernaut, Casey Rock earned Raptors Player of the Match honors in the win. His effort has been described as "simply solid" by Snyman, but his return to the pitch from a knee injury that forced him into retirement has been nothing short of remarkable.
"I thought Casey Rock played well," said Snyman. "He's getting better and better. He was basically staring retirement in the face and came back after knee surgery and rehab. To come back to the way he's playing right now is tremendous."
 
Glendale remains atop the Pacific Rugby Premiership table with the win, concluding its four-game road trip. The Raptors now head into a bye week before resuming play at Infinity Park against Belmont Shore on March 12.
Image credit: Glendale Raptors