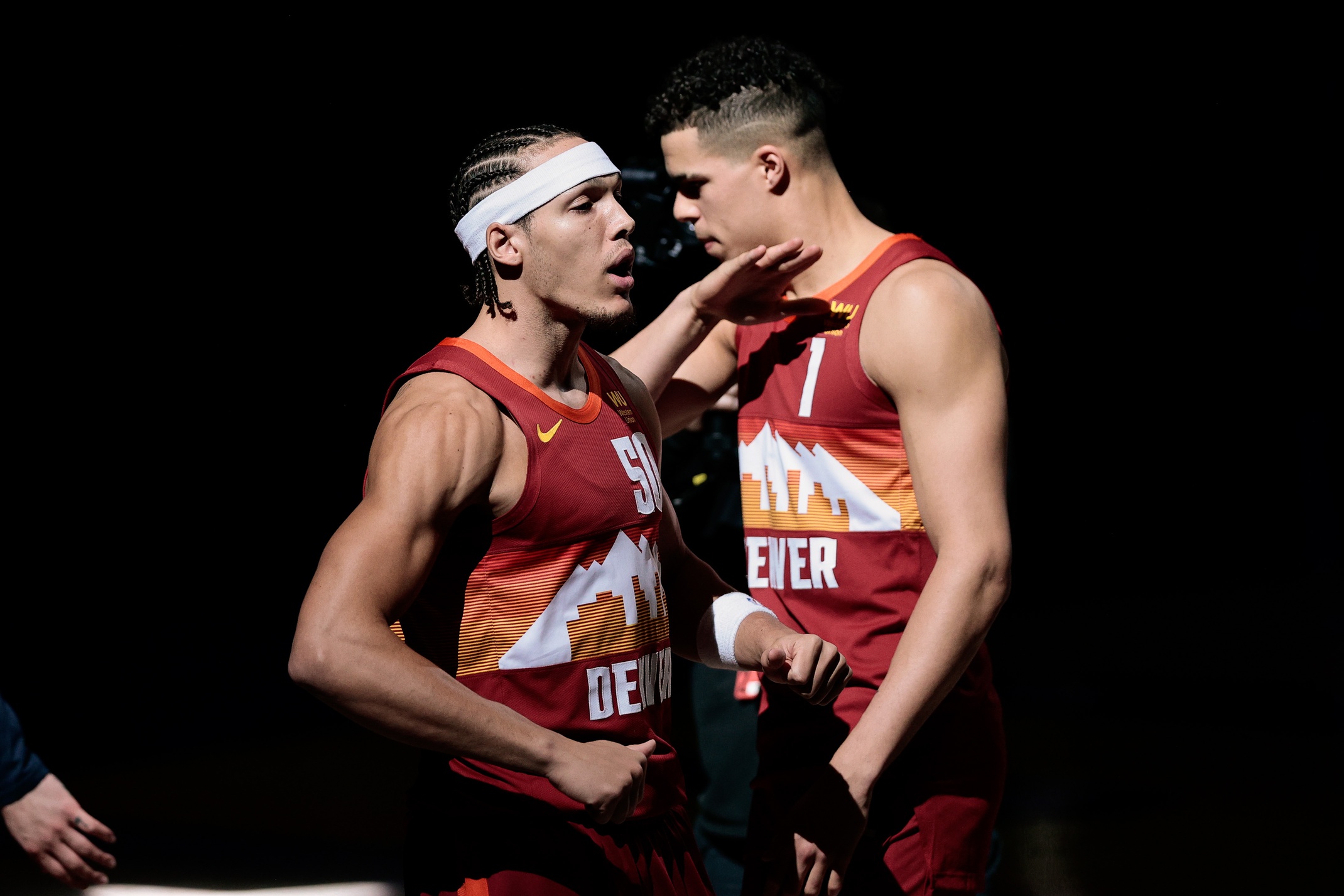 Damian Lillard was correct when he said, "I'm never going against one guy."
Against Lillard, one is never enough. It takes an entire team and a bench full of fouls, too. In the NBA's most compelling playoff series, the Denver Nuggets tried that "one" thing a lot in Game 1 and a little in Game 2. Lillard's 32-point first half in Game 2 was largely the result of one defender not quite being enough, especially when that one wasn't much bigger than Lillard himself.
While it's always a team effort – especially against Lillard – it was Denver's Aaron Gordon who seemed to have the best luck at slowing down the red hot guard on Monday night. With Gordon as the primary defender in the second half, Lillard finished the game with "just" 42. Perhaps it was Gordon's length, or maybe his strength, but the new look wasn't favorable for Lillard.
Tonight in Portland, Gordon will, most likely, be handed the duties of trying to mitigate Lillard's impact on Game 3. And to that notion, Lillard had only one thing to say:
As good as Gordon was in Game 2, Lillard isn't exactly the type of player who gets "figured out" so easily. One can safely bet he'll be determined to prove that the Nuggets might have found a solution – a temporary one.
Credit Nuggets coach Michael Malone for making the necessary and effective adjustments between Game 1's loss and Game 2's win. But in an NBA playoff series, one adjustment is never enough. If anyone thinks Blazers coach Terry Stotts or Lillard himself, won't return the favor with a few adjustments of their own, they'd be wrong.
Denver needs to beat Portland to the punch. In other words, Malone needs to be proactive rather than reactive. This is the type of chess match that favors the bold.
That's why Denver needs to go big – the bigger the better.
In simple terms, Portland has an advantage in the backcourt, while Denver's edge lies in the front court. Blazer guards are better; Nugget bigs are better.
Gordon, 6-foot-9 and a stout 235 pounds, is big enough to make shooting over him or muscling through him somewhat difficult. He's also athletic enough to run around with Lillard on the perimeter. But that doesn't mean he won't get beat off the dribble from time to time, and it certainly doesn't mean that Portland's highly-effective high-pick-and-roll game will suddenly disappear. Lillard has already suggested that Gordon likely won't see the same gameplan.
"I expect it to continue," Lillard said of the matchup, offering a hint as to how he and the Blazers plan to combat Gordon's size. "Just moving around more off the ball, getting more off-ball sets. Usually bigger guys can use their length and athleticism on the ball, but when you start to move around on flares and pindowns and things like that, typically you can get a little bit of space."
What if more bigs are flying at him if and when he's open? What if there's a big (or two) waiting for him at the rim when he shakes free en route to the paint? What if tiny terror Facundo Campazzo becomes the change of pace rather than the norm on Thursday night. That's not a knock on Campazzo, who's admirably made the loss of Jamal Murray more bearable; it's only to say he doesn't represent the Nuggets' strength in this particular series.
Size does.
And the thing about the Nuggets' bigmen – the real advantage – is the plenty of them can score. "Going Big" doesn't necessarily only help on defense. Besides, who need a point guard when you've got the best passing big man in the league? The ball does (and should) run through future MVP Nikola Jokic anyway. Whether passing or shooting, the Joker is Denver's offense.
Then there's Michael Porter Jr. Yes, he's the Nuggets next best offensive threat – and he's not a great defender – but he's long, can block shots even if he's been beaten off the dribble and is arguably Denver's best rebounder.
Gordon's defense already gets gold stars, but his offense is adequate. Namely, he understands his role within the Nuggets offense. He doesn't try to do too much, picks up the garbage and can hit an open three-pointer.
But those are the givens. Here's where the chess match begins: JaVale McGee and Paul Millsap.
One of them should start in place of Campazzo. Clearly, neither of them can or will eat up all of Campazzo's 30 minutes (his contribution in Game 2), but Millsap provided a highly efficient 15 minutes already, and McGee hasn't played a second in the series – that needs to change. Tim Connelly's addition of McGee at the trade deadline looked brilliant at the time to just about everyone, except, perhaps, Connelly's head coach, who has barely taken this toy out of the toybox. Surely, McGee was brought in to be a defensive force in the playoffs – something he can't do from the bench. Adding a little to both Millsap and McGee, and subtracting a little from Campazzo, gives the Nuggets a size advantage for most of the game.
The lone starting guard should also be "big." Monte Morris, who was a plus-19 in Game 2, provides both offense and defense. Austin Rivers is a stronger, longer defender who doesn't necessarily need to score, but is capable. If Gordon is primarily handling Lillard, let Morris, Rivers and Shaq Harrison – who was fantastic defensively in Game 2 – handle the primary duties on C.J. McCollum.
Campazzo should still play an important role, either running the Blazers bench ragged or spelling whoever is guarding Lillard; even though Campazzo isn't "big," he's annoying and could disrupt a gameplan built around sneaking Lillard away from the likes of Gordon. He could do the same against McCollum.
Point being, at any given time (or at least "most of the time") – especially when Lillard and McCollum are on the floor, the Nuggets should consider having only one true guard on the court at a time. Gordon's defensive ability allows Denver to do that. It's a luxury most teams don't possess.
At no point in this series can Michael Malone go toe-to-toe with the Blazers backcourt. But he can exploit his own strength by doubling down and going bigger than normal.
This series is already a gem. More importantly, it's a chess match. As such, there's one way for the Nuggets to bring homecourt advantage back home.
Go big, Big D.