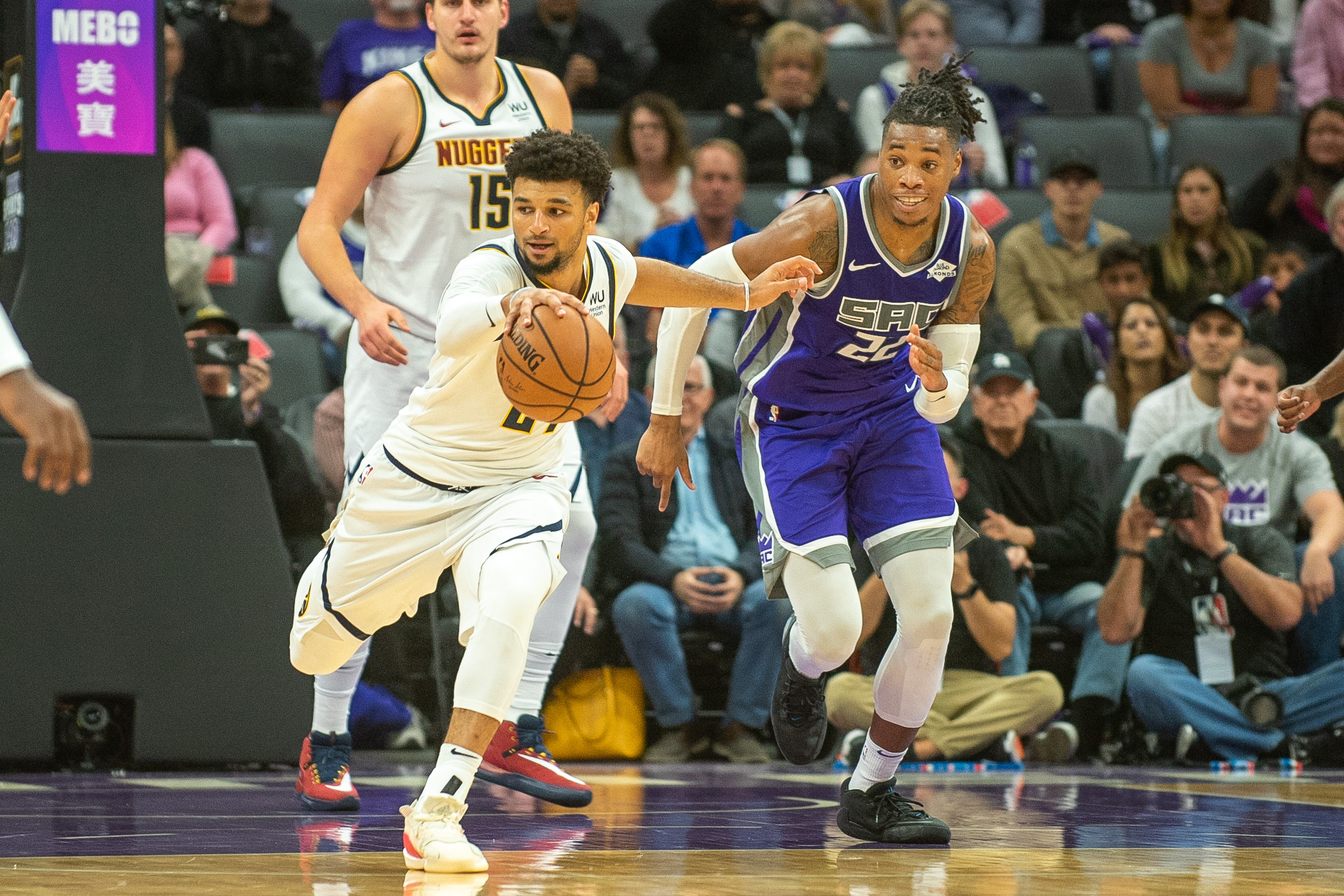 The Denver Nuggets took their undefeated record on the road to Sacramento after coming off of a nail-biting overtime finish against the Phoenix Suns on Friday.
Denver's defense has been the highlight in their first two games of the season and they picked up exactly where they left off in their 101-94 win over the Kings on Monday evening.
Here are the good, bad and ugly after the Nuggets grabbed a win in a game that did not have much scoring, but plenty of defensive stops.
Good – Harris and Barton shine on defense
There is a saying that goes something like, "offense wins games, but defense wins championships."
Denver has a long way to go before they want to consider themselves title contenders being that they have plenty of things to work on, but after a very ugly victory on Monday night, they remain undefeated on the season after three games
One of the biggest reasons for their victory was the play of their defense.
Denver held their first team of the season to under 100 points in the game, a feat that they accomplished on multiple occasions last season which helped catapult Denver into the top-10 defensive teams in the league in 2018-19.
While their offense could not get going yet again, the Nuggets relied on hard-nosed defense to get them through.
Denver got off to a slow start offensively and needed turn things around or they would sustain their first loss of the season so they turned to Gary Harris and Will Barton once again.
Barton and Harris did a sensational job in Friday's game against Phoenix defensively as they held offensive heavyweight Devin Booker to 18 points on 6-21 shooting from the field. Then they turned their attention to offensive weapon Buddy Hield and made things extremely difficult for him all night as they held him to 2-13 from the field with only five points in 33 minutes.
Hield is a player that is known for being a scoring threat, but they challenged themselves on that end of the floor as they swarmed him, gave him different looks, and made sure not give him any open looks.
As long as these two are hounding players defensively and setting the tone on that end, it is going to be tough to beat the Nuggets.
Bad – Another slow start
Denver entered Monday's game with the worst first quarter shooting percentage in the entire league at 28.6% so it was definitely a point of emphasis to attempt to get off to a fast start heading into the game.
Denver looked as if they were going to turn things around as they began the game with an 8-0 run, but again struggled on that end of the floor as Sacramento held the Nuggets to 28% shooting at the end of the first quarter.
Denver's second unit was a big reason that the Nuggets trailed 28-21 after the first quarter as Sacramento's bench outscored the Nuggets second unit 20-3 after the first period.
Denver attempted to get going in the second quarter as Malik Beasley and the bench started to come alive for a moment to give the Nuggets a lead, but then Sacramento held them scoreless for nearly five-straight minutes and went into the half with a 53-47 lead.
For the Kings, it was unusual suspects that took over early in the game.
Journeyman Richaun Holmes led Sacramento at the half with 15 points, five rebounds and a block. Trevor Ariza also had nine points as he hit three 3-pointers and made things difficult for the Nuggets.
Denver will have to find ways to get going more quickly so they can stop getting into these holes to begin games.
Ugly – Offense has to show up  
While it is a great thing to be battle-tested and know that a young team is able to win tough and tightly-contested games, there has to be a time that the offense shows up.
Through three games, the offense has been up and down and it has been the defense that has had to bail Denver out of games.
Monday's game was no different.
Denver's offense was stagnant in the first half and picked up a bit in the third quarter, but ultimately it was another low scoring night because that the offense could not get going.
Despite finishing with nine points and 13 rebounds, it was a passive night for Jokic. He had plenty of open looks and created mismatches but didn't shoot the ball well as he finished 4-15 from the field.
Murray hit a tough shot that silenced the crowd and ultimately put the Kings away, but struggled as well on offense going 6-14 from the field.
Paul Millsap and Jerami Grant both scored nine points apiece, but were not focal points of the offense and the bench did not play to the best of their abilities either.
Denver has the capability to be the best offense in the league, but through three games, they have not shown that type of firepower.