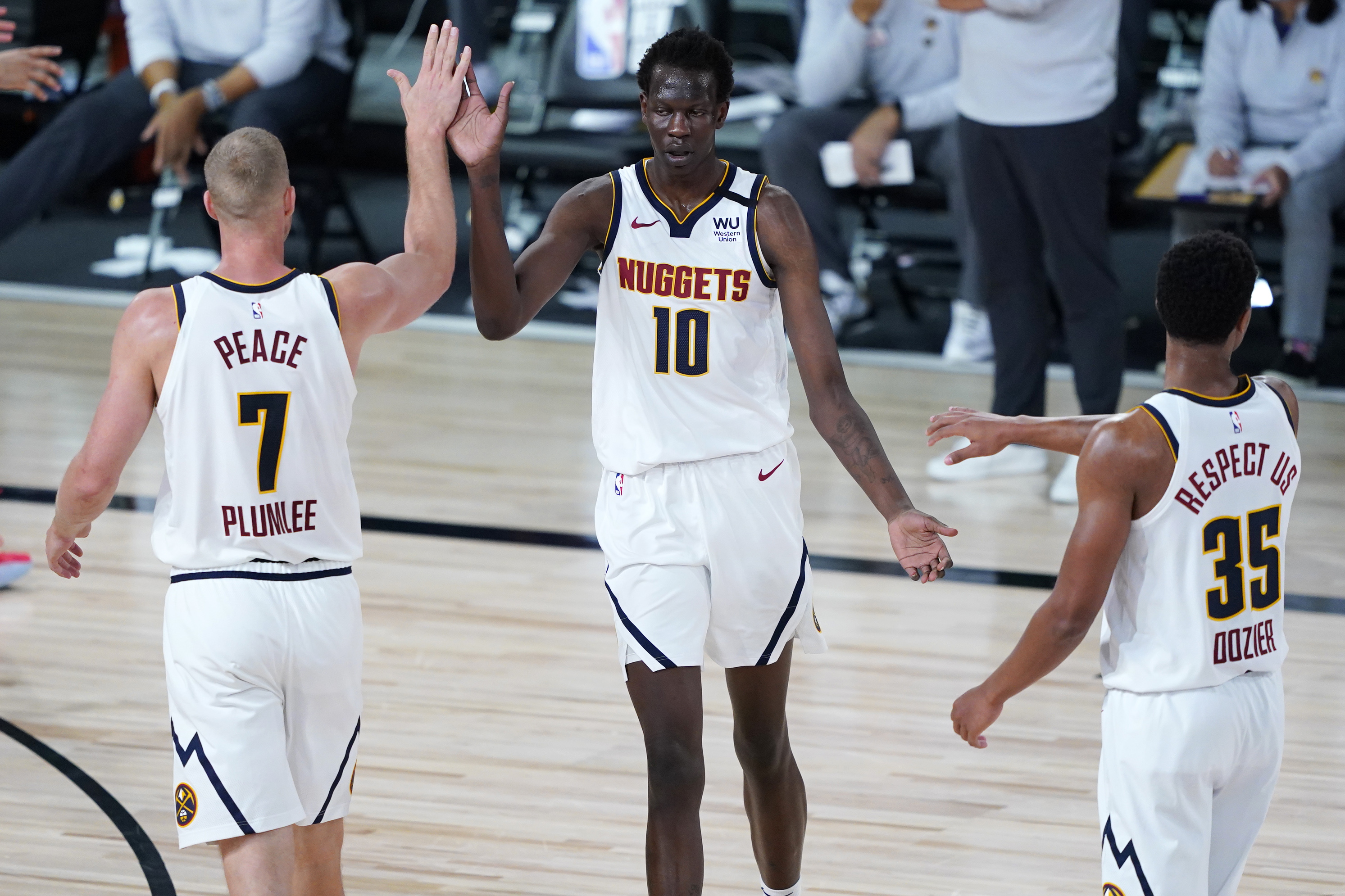 Denver fought valiantly against the first seeded Los Angeles Lakers, but it looked a bit different as the Nuggets entire starting unit rode the bench for the whole 4th quarter.
The Nuggets second unit took the LeBron James led Lakers to the final shot, but Kyle Kuzma drilled a game-winning 3-pointer with less than a second on the clock to put Los Angeles up 124-121.
It was not the outcome that Denver was looking forward to, but it was a teaching moment, and with that, here are the the good, great and awesome from Denver's loss.
Good – Rookies continue to shine
Michael Porter Jr. has arrived.
Porter has been a much needed offensive weapon for the Nuggets in the bubble, especially with so many players out due to injuries.
Since arriving in the bubble, the No.14 pick in the 2018 draft has been one of the best scorers in the entire league, and in a meaningful game with playoff implications, Denver leaned on the rookie yet again to lead the way.
Porter got on the board early with a 3-pointer, and from there, the flood gates opened for him. The promising rookie finished with 11 points in the first quarter on 4-4 shooting. He knocked down all three 3-pointers and remained on the attack.
MPJ gets us started early! pic.twitter.com/5iFOPZgAe3

— Denver Nuggets (@nuggets) August 11, 2020
His spark allowed the Nuggets second unit to come in and make a run of their own, which was pivotal toward the end of the game as this was their game to play. The second unit began the second quarter on a 10-1 run to take the lead and get back in the game.
That's where Bol Bol came into play.
Bol led the second unit in the second frame and beyond. Denver elected to go into a zone to switch things up, which gave the Lakers issues for a brief moment.
Having a 7'2 mobile big with a 7'8 wingspan allows Denver to try new things out on both ends of the floor. Bol gave great minutes and impacted the game with his size but also showcased his versatility.
Porter finished with 15 points in the game and was perfect from the field before sitting it down for the rest of the game. Porter continues to be a player that the Nuggets can rely on, which is a great sign heading into the playoffs, and there will surely be some decisions that Malone has to make come playoff time.
Bol got off to a great start and closed out the game solid as well, which led to Malone having high praises for his rookie.
"He just played hard, Malone said. "He was overmatched at times. Dwight Howard is a man out there, but he never gave up on plays."
Bol played 21 minutes in the game, and while he did not score much, he showed that he is capable of giving great minutes off of the bench if needed. Bol had eight points, five rebounds, a block, and two of the best passes that he has made since putting on a Nuggets uniform.
Having both players perform at a high level at the same time in only their rookie seasons only gives glimpses into the future, but that glimpse makes things look good for Denver.
Great – Reinforcements on the way
Denver has been a team that has been one of the most difficult to evaluate during their time in Orlando.
The Nuggets have yet to be at full strength since entering Disney World as they were initially undermanned in their scrimmage games.
Denver scrimmaged with only nine healthy players as the Nuggets waited for their team to be cleared to return to play, which forced Malone to be creative with lineups that had players like Nikola Jokic at point guard and Bol at shooting guard.
In the restart to the regular season, the Nuggets have slowly started to get players back. Murray returned to Saturday's game, but Denver has still not been fully healthy as Jerami Grant (right knee soreness) sat against the Lakers.
The Nuggets have not had a real look at their starting lineup since returning to play. But, in Denver's game against the Lakers, TNT sideline reporter Jared Greenberg gave optimism that Denver's roster could be full again.
.@JaredSGreenberg reports #Nuggets are hopeful that Gary Harris and Will Barton will be available for Denver's last seeding game Friday vs. Toronto. Significant news.

— Mike Singer (@msinger) August 11, 2020
Being able to go into the playoffs with a game under their belt as a full team is not ideal, but it is better than having to play an entire playoff series without the starters and rotation since March.
It might be just a dress rehearsal game, and Malone will make sure to keep players healthy, but potentially having Barton and Harris back and getting some minutes together is a positive.
Awesome – Second unit battles
Losing is never celebrated, but the way that the Nuggets lost was a teaching moment, and if the Nuggets also head into the final game healthy and at full strength – that's a win.
The Nuggets could have easily picked up their 47th win of the season against the Lakers as Denver had a lead heading into the 4th quarter, and the starters had a tremendous third frame in which they outscored Los Angeles 29-24.
Malone could have closed with his starters, but showed resistance when he decided to go with his second unit.
"I love those moments. I love being out there," Murray said. "When coach took me out, I was begging for more minutes in the fourth."
Nuggets players wanted to play and pick up an additional win, but at what cost?
Denver's bench unit fought tooth and nail with the best team out West with LeBron and Anthony Davis on the court for the final whistle.
The Nuggets had four reserves finish in double figures.
K3ITA BATES-DIOP pic.twitter.com/AJO5bOdIc8

— Denver Nuggets (@nuggets) August 11, 2020
Keita Bates Diop had his best game since being traded to the Nuggets, Bol got valuable minutes in a playoff-like atmosphere, and Monte Morris and PJ Dozier put their team in positions to win the game.
Denver was just one stop away from picking up their most impressive win since being in the bubble. Still, it was a lesson learned about a resilient bunch and one that the Nuggets desperately needed before entering the playoffs.