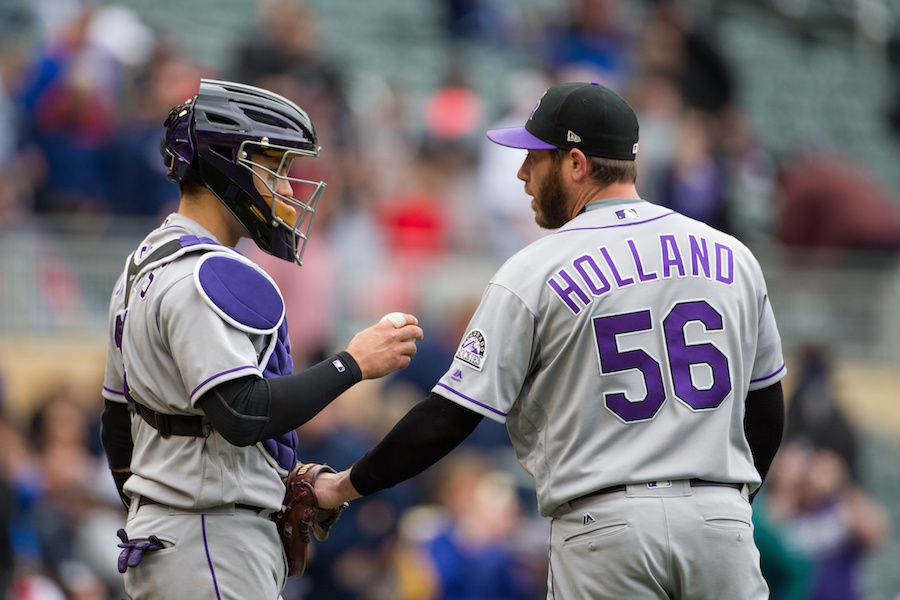 There's no such thing as an easy save for a closing pitcher in Major League Baseball, but Greg Holland has nabbed two that come as close as can be to that definition over the past two games against the Minnesota Twins. In his past two outings, Holland has earned a pair of four-run saves while needing to retire only one hitter, Brian Dozier.
On Thursday afternoon, Rockies manager Bud Black called on Holland to retire Brian Dozier in a 5-1 Rockies victory that earned Holland his MLB-leading 18th save. It would not have been a save situation, were it not for the slight jam that fellow Rockies reliever Mike Dunn worked into in the ninth inning.
After retiring the first two hitters of the inning, Dunn allowed a pinch-hit single to Eduardo Escobar. He then proceeded to walk Twins centerfielder Byron Buxton, brining Dozier to the plate with the potential tying run in the on-deck circle. As it officially became a save situation, Black went to his reliable righty, who has now converted all 18 of his save opportunities this season. Holland needed only four pitches to strike out Dozier for No. 18.
It might have felt a bit like deja vu for Holland, who two nights prior looked like he wouldn't be needed in the ninth inning.
In that game, a 7-3 Rockies win, Holland again earned a four-run save after Jake McGee allowed to runners to reach base with a pair of outs. After retiring the leadoff hitter, McGee surrendered a double to Twins catcher Jason Castro. He struck out Buxton, then appeared to end the game when he struck out pinch hitter Chris Gimenez on a check swing. But Gimenez swung on a pitch in the dirt and in their celebration of the win, the Rockies failed to tag him Gimenez out or get the force out at first base on the dropped third strike and the inning continued. Again, Black called on Holland to earn the final out and steal a save. Dozier was again the victim, popping out to second to end the game.
Dozier and Holland didn't get a chance to square off in the series finale on Thursday night. Minnesota won the game 2-0, and with Holland having pitched earlier in the day there was little chance he would make a second appearance. Dozier went 0-for-5 with a strikeout and six runners left on base in the nightcap.