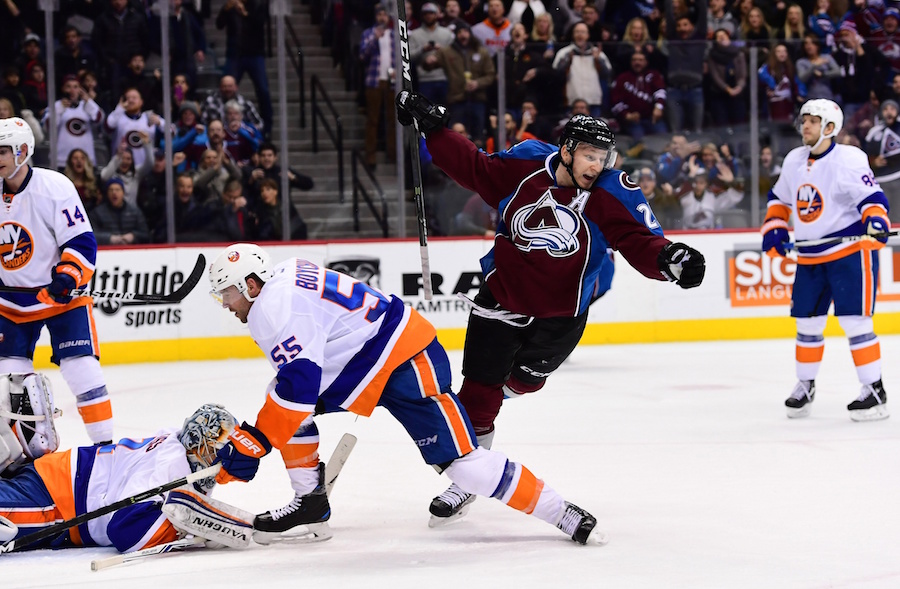 If NHL hockey were played 3-on-3, the Colorado Avalanche might be one of the best teams in the league. Colorado picked up their fifth overtime win against the Islanders on Friday night to move their record to 5-0-1 in extra time thanks to a Nathan MacKinnon power play goal with only 16 seconds remaining. The Avs and Isles traded a furious volley of scoring chances during the extra frame, with Colorado registering five shots on goal before MacKinnon finally busted through to end the game, Colorado's five-game losing streak and their 10-game home losing streak.
"Huge relief. It's tough to get out of a streak when you're losing every game at home," coach Jared Bednar said postgame. "We weren't playing with a whole lot of confidence. Hopefully this builds some of that and we can string some wins together. It's been a long time, it's been tough."
Gabriel Landeskog put Colorado ahead 1-0 in the first period while New York had to kill off two penalties. It was Colorado that went on the defensive in the second period, though, conceding a four power plays in the period. Johnny Boychuk finally took advantage on the fourth try, knotting things at one. Calvin Pickard and Thomas Greiss blocked shot-for-shot, each stopping 11 in the third frame, before giving way to overtime and MacKinnon's winner.
Despite the win, Colorado remains in last place in the league after Arizona picked up a single point on Friday night in an overtime loss at Anaheim. The Avs face those same Ducks next Thursday at Pepsi Center, until then they can enjoy their first home win in over a month.