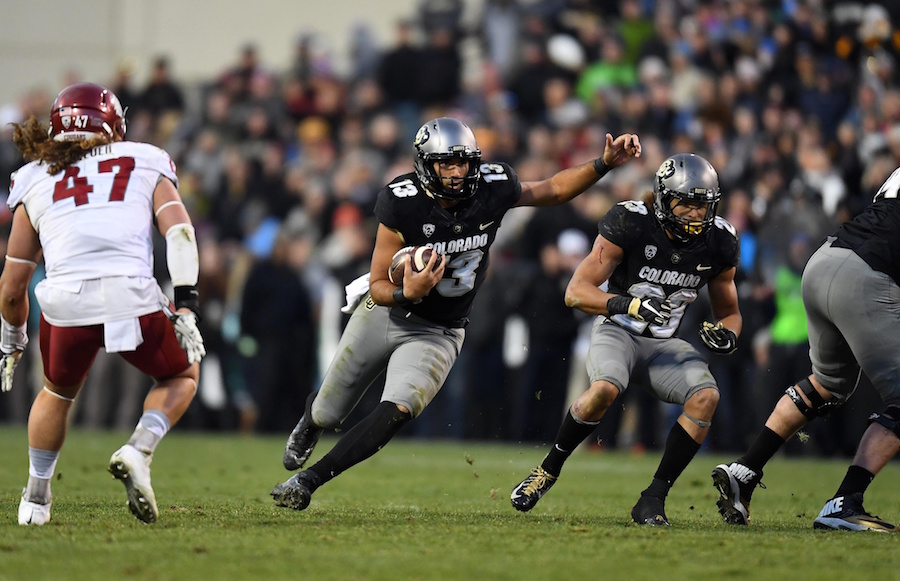 The Rise continues as the No. 10 Colorado Buffaloes defeated the No. 22 Washington State Cougars 38-24 at Folsom Field on Saturday on the back of three Sefo Liufau rushing touchdowns and a staunch defensive effort in the second half.
Trailing 17-14 at halftime after a missed field goal by Davis Price late in the second quarter, the Buffs went 71 yards to take the lead on their first possession of the second half. Sefo Liufau carried the ball the final 23 yards by himself put Colorado up. The Cougars retook the lead with 3:18 remaining in the third on a seven-yard Luke Falk touchdown to John Thompson. Those would be the only points the Cougars would score in the half.
Liufau and running back Phillip Lindsay responded on the ensuing drive. Together, they accounted for 53 of Colorado's 75 yards. Liufau capped the drive with an 11-yard touchdown run, his third of the day. The Colorado defense swarmed Falk on WSU's final two possessions, forcing a fumble (Jimmy Gilbert) and an interception (Tedric Thompson) to seal Colorado's ninth win on the season. Washington State was just 4-for-15 on third down and Luke Falk completed just 49 percent of his passes. It was the first time this season Falk was held below 50 percent completions.
Phillip Lindsay rushed for 144 yards and two touchdowns in the win. His 13-yard touchdown in the fourth quarter served as the death knell for a Washington State team that put up 462 yards on offense. There was no keeping up with the Buffaloes, though, and their 603 yards – 345 of them through the air.
Colorado still has much work to do to find itself in the conversation for a College Football Playoff bid. The Buffs host Utah, who lost to Oregon at home on Saturday, in one week. A win there (or a USC loss to UCLA this week) would clinch the Pac-12 South. After that the Pac-12 Championship would await, where they could face either Washington or those same Cougars they beat Saturday.