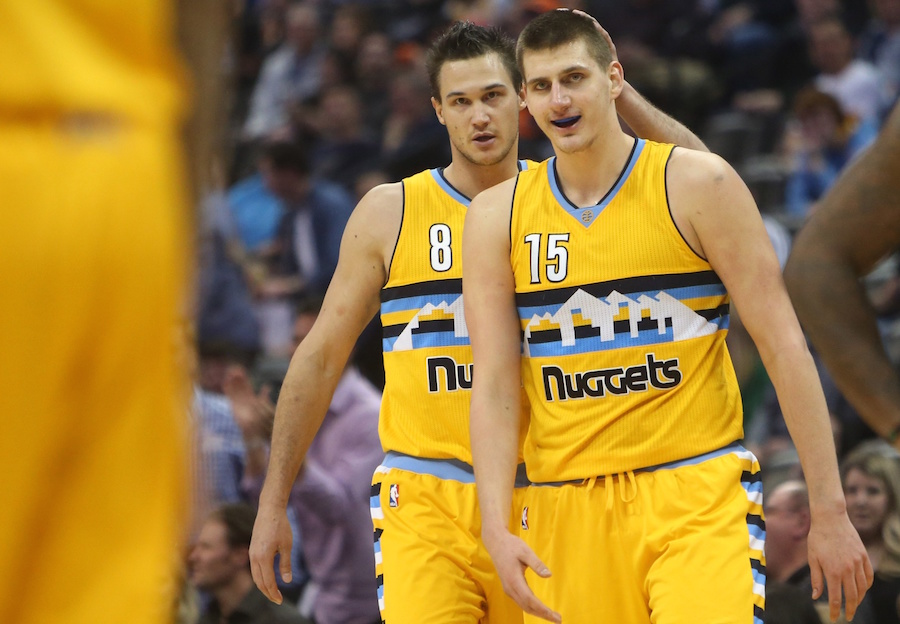 Nuggets rising star forward Nikola Jokic picked a tough time to catch the flu. In the heat of a playoff race, the Nuggets had dropped two of their previous three games heading into Friday night's matchup with the Boston Celtics; Jokic missed the last two of those with illness. Danilo Gallinari, Denver's leading scorer, also missed their last game with vertigo. The duo picked a great time to return, though, downing the No. 2 team in the Eastern Conference by a convincing 119-99 score.
Jokic scored 21 and Gallinari had 20 in the win. Wilson Chandler scored a game-high 23 points for Denver. Jokic pulled down 10 rebounds for his 28th double-double of the season. Jamal Murray had 13 points to lead Denver's bench scoring. Only one Celtic scored 20-plus on the night, Isaiah Thomas. Denver held Boston to 34-of-80 shooting from the floor. Denver out-rebounded Boston 49-33, and the Nuggets dished out 24 assists on the night.
Denver never trailed in the contest and enjoyed an 11-point lead at halftime. The game was the last of a five game West Coast road trip for the Celtics. Boston had defeated Golden State in ORACLE Arena on Wednesday. It was only the fourth home loss of the season for the Warriors, who have already clinched a playoff berth.
The win gives Denver an extra half-game cushion on Portland for the No. 8 seed in the Western Conference. The Nuggets' lead had been as high as three games until Denver lost two of three going back to last Saturday. The Nuggets are at Sacramento on Saturday night. The Kings have fallen a full five games back of Denver for the final playoff spot.