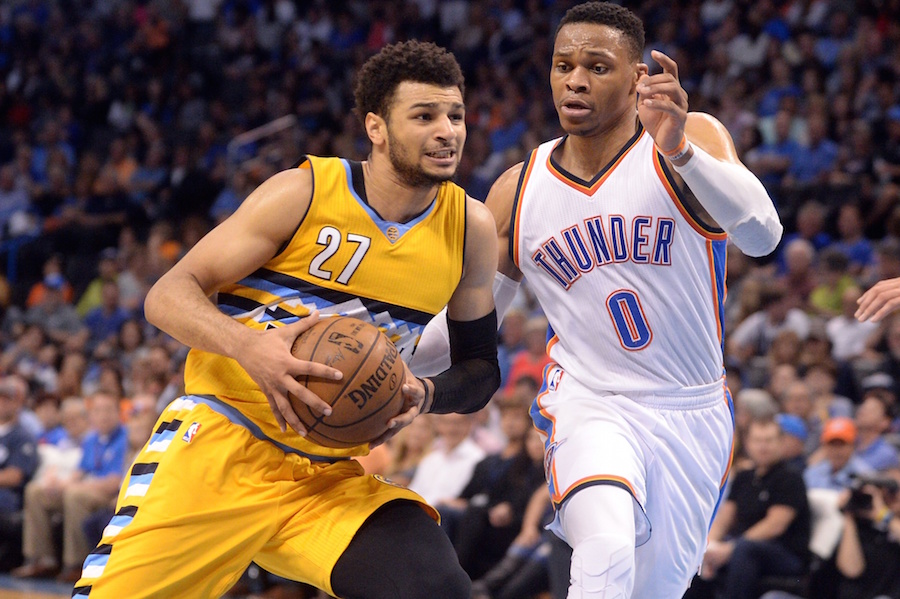 Ask them a thousand times and they'll say the only win they wanted over the Thunder would have been on April 9 – the day Oklahoma City eliminated them from the playoffs for the 2016-17 season – but the Denver Nuggets can at least say they ended the season on a high note. The Nuggets defeated the Thunder 111-105 on Wednesday at Chesapeake Energy Arena, closing the year with back-to-back victories.
Just as it was on Tuesday night in Dallas, it was the young guns for the Denver Nuggets that delivered victory in the season finale. Sophomore standout Nikola Jokic scored a game-high 29 points over 40 minutes, adding 16 rebounds to record his 39th double-double of the season. Jokic became the first player since Shaquille O'Neal to record at least 29 points, 16 rebounds, eight assists and 5 blocks in a game. Rookies Jamal Murray and Malik Beasley also played 40-plus minutes in the contest, scoring 27 and 17 respectively. Big men Mason Plumlee and Darrell Arthur did the rest of the heavy lifting for Denver, each scoring in double-figures themselves. Juancho Hernangomez (nine points) and Mike Miller (zero) were the only other Nuggets to see playing time in the finale.
The Thunder, who are headed to the playoffs, emptied their bench. Billy Donovan put all 13 men on the floor; Nick Collison (nine minutes) was the only Thunder player not to log at least 10 minutes in the game. MVP candidate Russell Westbrook, who on Sunday scored the game-winning shot that knocked Denver out of the postseason, had five points and eight assists in 18 minutes.
The Nuggets end the season 40-42, owners of the No. 9 seed in the West, just behind Portland for the final playoff spot. Denver was 18-23 away from Pepsi Center, 22-19 at home.