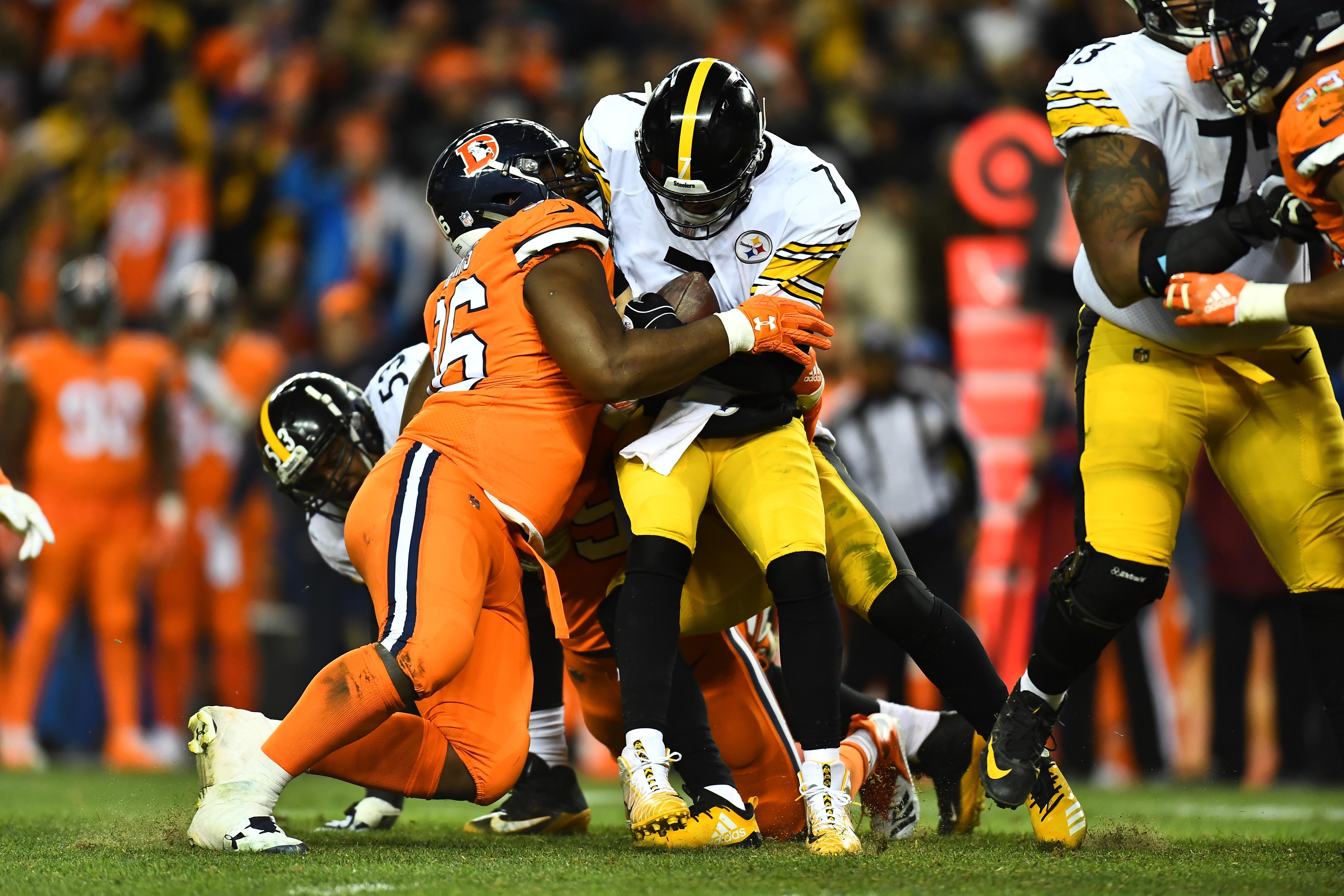 After an embarrassing Week 4 loss to the Ravens, the Broncos must get back on track this week on the road, against the Steelers.
What must Denver do to ensure a victory, and what missteps could cost them the game? Let's look.
How the Broncos beat the Steelers Sunday
Avoiding turnovers at all costs: You could argue avoiding turnovers and winning the turnover battle is one of the most important keys to any football game — and you would be right — but that's especially true as these two high-flying defenses prepare to clash Sunday.
Both teams have a pretty talented defense, and an offense that boasts a lot of question marks — though Denver's are almost all injury-related.
With the Steelers' lack of offensive talent, it's very difficult to see them putting together many long drives against this Broncos defense, so it should be a low-scoring game. With that in mind, Denver has to avoid turnovers at all costs, to avoid providing Pittsburgh's offense with any semblance of a spark.
Short fields will be remarkably valuable this week.
Vic Fangio adjusts defensively and ups the aggressiveness: Fangio's defensive concepts are all the rage in the modern NFL, and we're seeing its concepts rapidly being adopted by teams all around the league — much like we've seen with Shanahan and McVay's concepts on the offensive end, though not to the same extent.
The reason is fairly simple. It's excellent at preventing touchdowns, whether that be by preventing big plays and long touchdowns, or by being remarkably efficient in the redzone. However, at the cost of taking away all those deep shots, it does allow a lot of opportunities for the offense underneath.
That works against the Chiefs, Chargers, and Raiders — which is most important — but that defensive philosophy isn't going to work against the Steelers, who have no vertical element to their offense.
Ben Roethlisberger cannot physically attack downfield anymore. Not only is it a lack of physical ability, but a lack of will as well, as Roethlisberger doesn't want to go downfield. Since the start of the 2020 season, no quarterback in football has gotten rid of the ball as fast as Roethlisberger, and it isn't even close.
Their passing game is all quick-game, with screens and dump-offs to Najee Harris mixed in.  If the Broncos take their standard approach of allowing the underneath plays, the Steelers' offense might be able to be surprisingly efficient. They'll have to adjust to their opponent, play closer to the line, and be much more aggressive because — as we stated in the prior section — short fields will be tremendously valuable this week.
How the Steelers beat the Broncos Sunday
Denver is just too beat up: The Broncos could enter their Week 5 game against the Steelers down 9 starters, and on top of that, almost all of them are key starters of high importance to the structure of the team.
The Broncos are also down their starting quarterback who — in a very limited sample size — has thoroughly outplayed the team's backup, who appeared scared and unprepared, with eyes as big as dinner plates, upon entering the lineup Sunday.
Being down a quarterback, two guards, two wide receivers, two cornerbacks, an edge-rusher and a linebacker is enough to cripple just about any team, and the Steelers have the talent to potentially capitalize on the shorthandedness of the Broncos.
Final Thoughts and Score Prediction
Ultimately, the Broncos should win this game, mainly because the Steelers aren't very good. Of course, you know about the lackluster offense, which we already discussed in part above, but the defense has been thoroughly underwhelming as well.
They currently rank 22nd in defensive DVOA, one spot ahead of the Giants team the Broncos had few issues with, and are down several key starters.
That DVOA ranking is a little misleading, but the point holds that their defense has gone from elite to mediocre. Meanwhile, Denver's defense remains elite.
Barring a special teams disaster or Drew Lock handing the game away, Denver will win a low-scoring, defensive slug-fest.
Broncos win 16-9