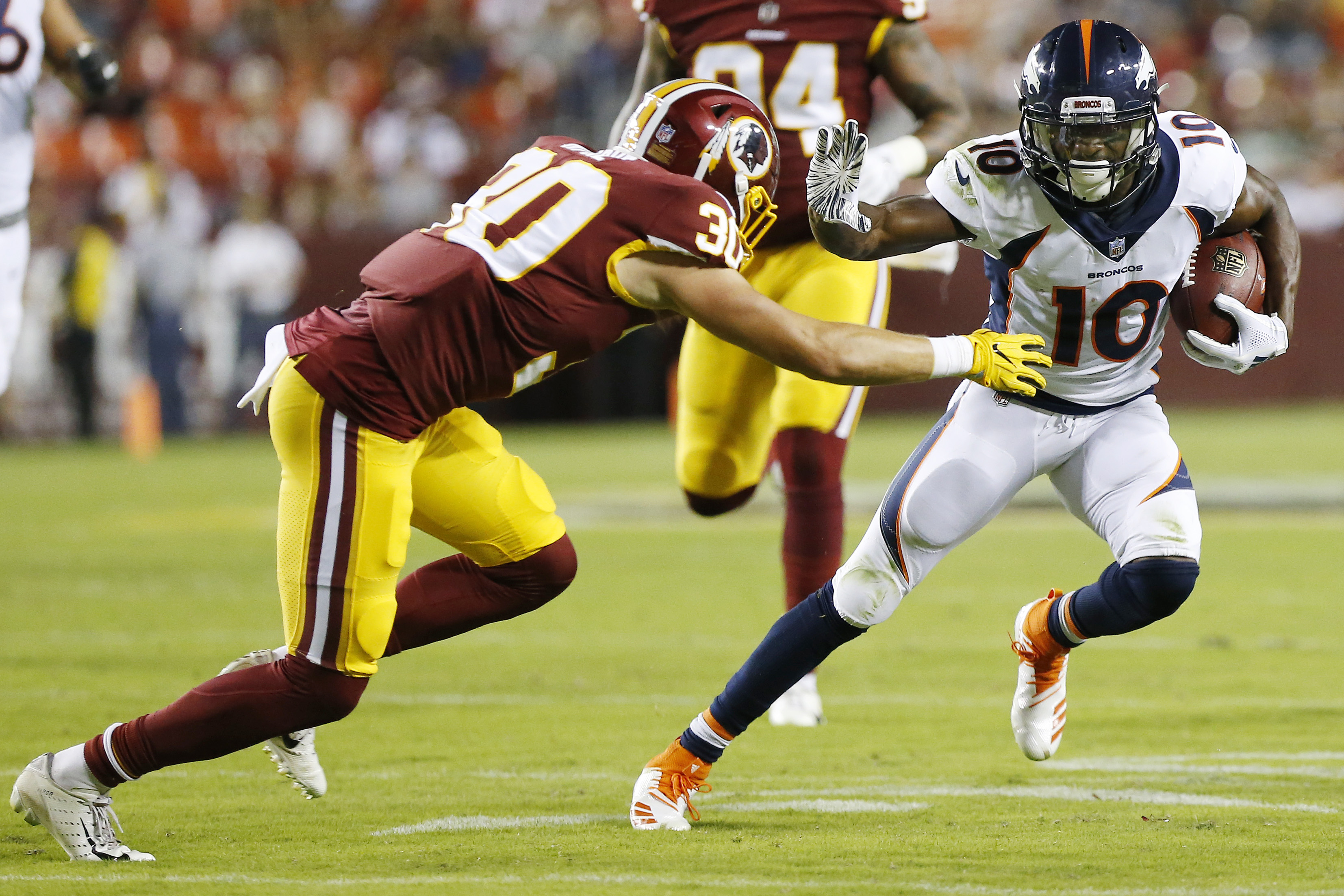 With the Denver Broncos in the midst of a four-game losing streak, they find themselves in a must-win scenario against the Washington Football Team.
What can they do to ensure victory, and what pitfalls must they dodge to avoid defeat? Let's look.
How the Denver Broncos win
Take advantage of poor defense: Many view the Washington Football Team as a quality defense, but that reputation they earned last season has entirely faded away.
According to Football Outsiders, they rank 28th in overall defensive DVOA (Defense-adjusted value over average) and 29th in passing-defense DVOA, and only the Lions, Jaguars and Chiefs are allowing a higher EPA/dropback (expected points added per dropback) than Washington.
Not only is Washington's defense pretty porous, and especially vulnerable to the pass, but the Broncos' offense now finds itself just about at full strength, with Jerry Jeudy expected to return to the starting lineup.
Now there are no excuses for Pat Shurmur and Teddy Bridgewater. They have to be able to consistently attack the defense through the air to rack up some point and stop Denver's season from going down the tubes entirely.
How the Washington Football Team wins
Denver's D gives up the big play: At first glance, Washington's offense doesn't seem highly explosive, but Taylor Heinicke and Terry McLaurin gives the team more vertical pop than one would first expect.
Taylor Heinicke might not have the same talent as Ryan Fitzpatrick, but they both do seem to share the 'no-risk-it, no-biscuit' philosophy. Heinicke ranks among the top-10 quarterbacks in terms of how frequently he attacks downfield, as he rarely shies away from the big throw.
McLaurin and Dyami Brown have been perfect targets for him in this regard, and although Brown appears likely to miss this game, Washington should still be able to attack Denver's D downfield.
Since Week 4, the Broncos rank 30th in explosive-passing-play-rate surrendered. In other words, only Detroit and Jacksonville are allowing more big plays through the air. That's a huge concern for a Vic Fangio that is supposed to be elite at removing the big play.
Washington steamrolls the Broncos on the ground: The Cleveland Browns dominated the Broncos in the trenches for all four quarters of their Thursday Night trouncing.
The Browns were down an offensive lineman, starting quarterback, and their top two running backs, and yet still, every Cleveland back averaged over 6.5 yards per carry. It was an embarrassing performance and a troubling omen for what Denver's defense might look like moving forward without their two starting linebackers.
Some may counter that the performance was only so bad because of Cleveland's elite run-blocking line, and while that's an excellent point, Washington won't offer and reprieve this week.
Washington ranks first in the NFL in Run-Block Win-Rate, has the league's top center in RBWR, and has three of the top six guards in RBWR (Wes Schweitzer, first; Brandon Scherff, third; Ereck Flowers, sixth) as well.
Plus Antonio Gibson is an incredibly explosive and dynamic back. Even if he isn't living up to statistical expectations on your fantasy team right now, don't let that fool you. He is deadly, especially when in comparison to D'Ernest Johnson, who just ran roughshod over the Denver Broncos.
Final Thoughts and Score Prediction
One can make a very compelling argument for why the Broncos could beat this vulnerable Washington Football Team. One could also have done the exact same for the last four games, all of which the Broncos lost.
This might be the best opportunity the Broncos have for a win the rest of the way, so they better capitalize on it, but so long as these players are uninterested in playing for the coaching staff, it's going to be difficult to beat anyone.
Meanwhile, Ron Rivera hasn't lost Washington's locker room.
Washington Football Team wins 27-23