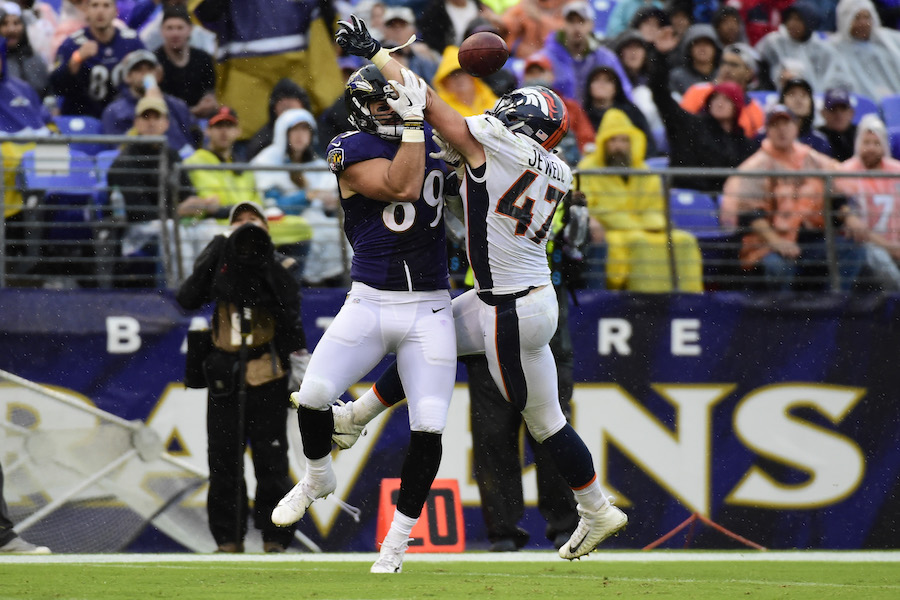 The Denver Broncos are riding high at 3-0, but they face their first true test this week as the Baltimore Ravens come to town.
What must the Broncos do to win this game, and what errors could force them to lose it? Let's look.
How the Broncos beat the Ravens
Force Lamar Jackson to beat you with his arm: Let's get one thing clear right off the bat. We aren't going full-Bill Polian here and claiming that Jackson can't throw and should be a wide receiver at the next level or anything even close to that. Jackson is a deadly passer, and he is rarely given enough credit for how much damage he can do through the air.
But still, his running ability is much more deadly and Denver's top priority should be containing that.
There's a stat from Sports Info Solutions called boom and bust rate that looks at how frequently a player has a tremendously good, or horribly bad play. A 'boom' is quantified as any play that results in +1.0 expected points added, while a 'bust' is any play that results in -1.0 expected points added.
When Patrick Mahomes drops back to pass, he has a boom rate of 26.1% and a bust rate of 11.3%.
When Lamar Jackson decides to run, he has a boom rate of 31.4% percent (12.2% more than the next-highest rushing boom rate) and a bust rate of 8.6%. In other words, his running ability is just as explosive and deadly as Mahomes' passing ability, but with fewer negative plays.
That's in stark contrast to Jackson's dropbacks, which have rates of 23.2% and 13.7% respectively, which are still deadly, but certainly preferable.
Vic Fangio's priority No. 1 has to be limiting the destructive nature of Jackson's legs to some extent.
Establish some semblance of a run game: While it's true Teddy Bridgewater will likely continue to play quarterback at a fairly high level for the rest of the season, it's also true that we're likely to see some regression towards the mean eventually because this superstar-level play seems unsustainable.
When that regression comes, the Broncos offense needs to be able to fall back on the run game, and through three weeks, the run game has been a serious disappointment.
According to Sports Info Solutions, they've been 'stuffed' at the second-highest rate of any run game in the league (26.3%), and they rank 20th in expected points added per rush attempt. However, they've also faced more eight and nine-man boxes than anyone in football outside of Derrick Henry and the Tennessee Titans.
No matter what the reason for the run game's struggles though, it has to start picking up the slack sooner rather than later if the Broncos want to remain atop the AFC West.
How the Ravens are able to beat the Broncos
Devour the Broncos young IOL: It's starting to look more and more like the Broncos will be without both Dalton Risner and Graham Glasgow for their matchup with the Baltimore Ravens, which presents some serious problems.
While Muti and Meinerz have both flashed a lot of upside, both have serious drawbacks that can be exploited by this Ravens defense.
Muti's Achilles heel is a serious lack of length, which allows defenders to beat him with their superior reach. That's especially problematic this week, as Calais Campbell is one of the longest defensive linemen in the league and an absolute superhuman athlete.
For Meinerz, it's the obvious lack of experience, given his Division-III background and the fact he hasn't played since the 2019 season. This Ravens defense sends a lot of blitzes, and a lot of exotic blitzes, designed to baffle the offensive line. That's a tough test for such an inexperienced player.
A stark advantage in the all-important third phase: The biggest advantage any of these units have over their counterparts in this game, is the advantage Baltimore's special teams unit holds over Denver's.
Ever since John Harbaugh took over as head coach, the Ravens have had one of the best special teams units in the entire league.
Obviously, they're coming off the back of one of the greatest kicks in NFL history, but they've been performing at an elite level all season. They already rank first in special teams DVOA (to Denver's 26th).
If the Broncos can keep the ball out of play as they did against the Jets, they should be fine. But, if they make a special teams misstep as they did against the Jaguars, it could cost them the game.
Final Thoughts and Score Prediction
Dominating lackluster competition is the sign of a good team, and people should buy the Broncos as a good team.
With that said, the Ravens are also a good team and injuries are mounting.
These two teams feel very evenly matched, and it seems likely that they'll be among those battling over the three wildcard spots for the rest of the season.
Baltimore presents a lot of challenges for Denver, but ultimately Fangio's defensive genius and home-field advantage reigns supreme.
Broncos 23-17