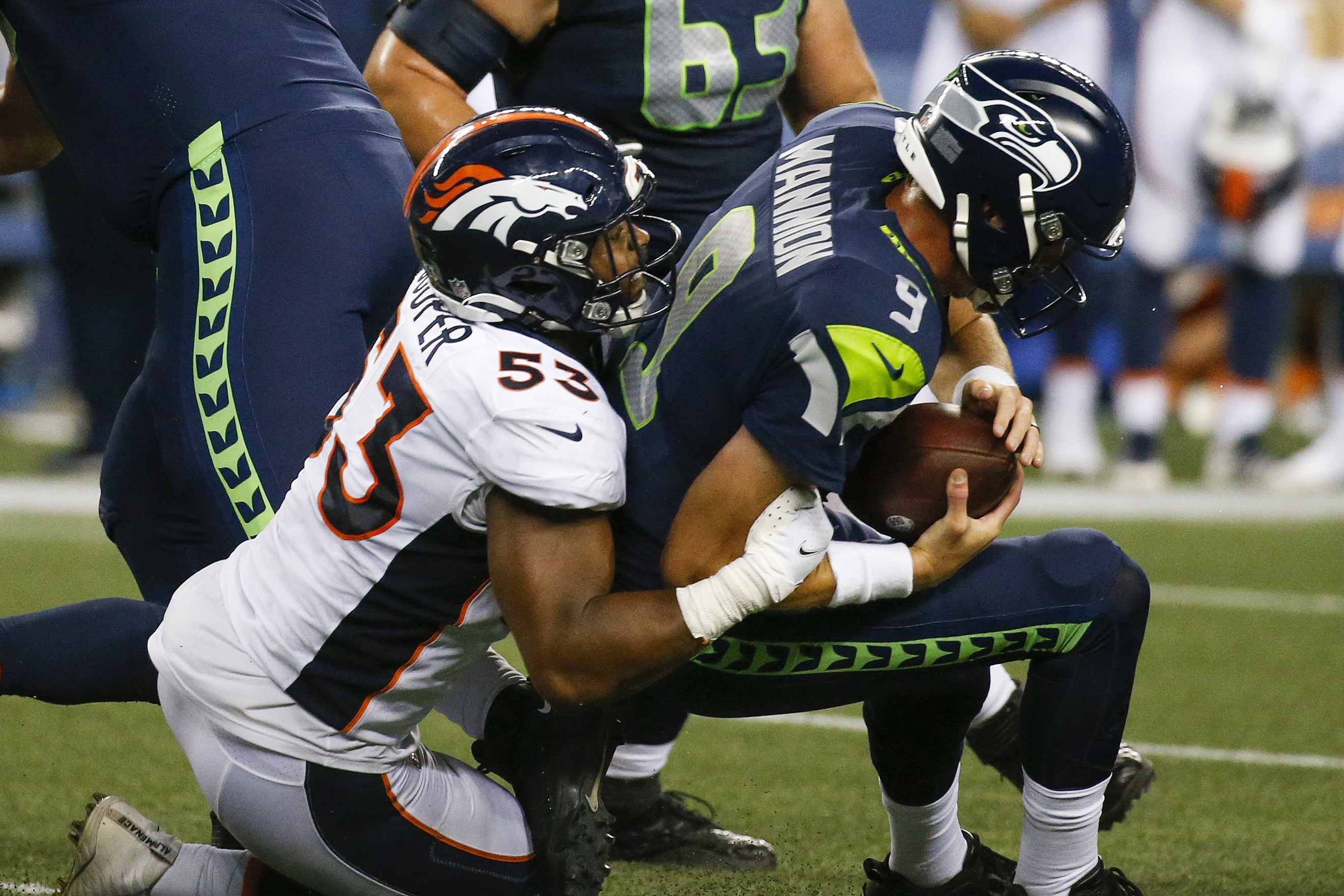 While the main storyline coming out of the Broncos' second preseason game was the starting quarterback competition, many rookies were in a competition of themselves, trying to earn playing time or prove to the coaching staff that they deserve a spot on the Broncos' 53-man roster.
Looking at each rookie's individual performance will begin to paint a picture of just how far each prospect is in their path of development.
Javonte Williams, Running Back, 2nd round
Shocking absolutely nobody, for the second week in a row, Williams impressed.
Although not as productive as last week, rushing seven times for a total of 20 yards, Williams had just as many highlight-worthy plays. Like a pinball, Williams bounces off of tackles and weaves his way through the defense.
He did have one crucial mistake, dropping a wide-open pass in the flat that would have moved the chains for a first down but he made up for it on the very next play, rushing up the middle for a first down.
Outside of that one mistake, Williams had a good night. Much of what he did well will not show up on the stat sheet as he was making people miss at the line of scrimmage and behind the line of scrimmage, maximizing yards to the best of his ability.
Jonathon Cooper, Edge, 7th Round
Cooper had the best night of any Broncos rookie, finishing with two sacks, a pass break up, two tackles, and a forced fumble.
The first thing that stands out about Cooper is just how hot his motor runs. He never gives up on a rush, even when initially beat. This was on full display during his first sack, which ended up being a fumble and Seahawks turnover.
Huge for the brand! #Broncos DE Jonathon Cooper with the huge strip sack, counting to flash in this preseason. Love to see him make plays and he has such a bright future. #DENvsSEA

— Devin Jackson (@RealD_Jackson) August 22, 2021
His initial jump off the line of scrimmage is very impressive, showing explosiveness and getting on the tackle's outside shoulder quick and in a hurry. Matching that with extremely active hands, Cooper had a phenomenal day.
Overall, it's pretty safe to say that Cooper has made the Broncos' final 53-man roster after a really good training camp and dominant week two in the preseason.
Jamar Johnson, Safety, 5th round
After not playing much last week, Johnson finally had his opportunity against the Seahawks this week.
All in all, Johnson looked as advertised coming out of the University of Indiana.
He has a really good feel in coverage, from both deep safety and nickel, but his tackling is an issue that still needs to be resolved before he'll get serious regular-season run.
Quinn Meinerz, Offensive Lineman, 3rd Round
Meinerz has been a pleasant surprise to many, as his college film is tough to come by considering that he went to such a small school.
After playing both center and guard last week, Meinerz was strictly a guard this week. On film, he looks more comfortable there, which is expected as he was snapping the ball for the first time this offseason in the Senior Bowl.
Overall, he looked solid against Seattle. Coming out of the University of Wisconsin White-Water, this is what you want to see. There was always going to be a learning curve but he didn't look like the inferior talent going against the pros. He looked like he belonged.
With his measurables and athleticism, Meinerz is an intriguing player going forward.
Patrick Surtain II, Cornerback, 1st Round
Surtain didn't seem to play as much or get tested as much in this game as he did last, which is a good thing but makes it increasingly difficult to evaluate.
Like Fangio said during a training camp, a good cornerback is like a good official, you don't notice them.
He got beat once on the night but it was for a minimal gain. Surtain is as pro-ready as any cornerback coming out of college in recent memory and after last week's performance, Broncos fans shouldn't be worried about him at all.
In fact, Surtain is Pro Football Focus' second-ranked rookie in the entire draft class through these last two games (Cooper is No. 1). He will get plenty of regular season playing time this season and is bound to have a positive impact on the defense.
Seth Williams, Wide Receiver, 6th Round
Williams, only playing 12 snaps out 62 available, ranked sixth amongst the Broncos' receivers last night, but still managed contribute.
Specifically, he caught a shovel pass from Drew Lock on a broken play, before flashing his athleticism and generating plenty of yards after the catch.
This @DrewLock23 flip to @8_sethwilliams 🔥

📺: #DENvsSEA on My20 pic.twitter.com/yekoLweTyO

— Denver Broncos (@Broncos) August 22, 2021
Outside of that, it was a quiet night for Williams.
At this point, the biggest concern with Williams is a lack of quickness out of his breaks. Generating separation is king in today's NFL and Williams will need to continue to work on his route running to have an impact on a 53-man roster.
Caden Sterns, Safety, 5th Round
Sterns wasn't as productive this week but at the safety position, production doesn't exactly equate to good play.
Sterns definitely looks the part and isn't afraid to be physical, which is important in Vic Fangio's defensive scheme. We need to see more out of him but at this point, the arrow is pointing up for Sterns.
Kary Vincent Jr., Cornerback, 7th Round
Vincent has flashed on occasion for the Broncos, having a pass breakup in both games, but the defensive back room is so crowded with good football players that it makes the job Vincent increasingly difficult to make the team.
He logged zero special teams reps against the Seahawks which is concerning as he will definitely be asked to contribute there if he does make the team this year.
Baron Browning, Linebacker, 3rd round
Browning was only on the field for ten snaps in Seattle but it was fantastic seeing him out there nonetheless.
He has missed the majority of this offseason with an injury that will most definitely prolong his adjustment to the NFL, but it's no reason to be completely off of Browning.
Browning is the most athletic linebacker the Broncos have and it is not particularly close. His impact may not be substantual this season but he is a name to keep an eye on next year.
This year, there is a chance he could be used in specific packages, capitalizing on his athleticism and pass rush ability, but will more than likely make his imprint on special teams.
Andre Mintze, Edge, UDFA
Battling Cooper for the last edge rusher spot on the roster, Mintze will have a tough time making the team but not at the fault of his play. Mintze has been impressive but Cooper's dominant performance puts him ahead.
Mintze is a prime practice squad candidate for this season and could fill in nicely if there is an injury.