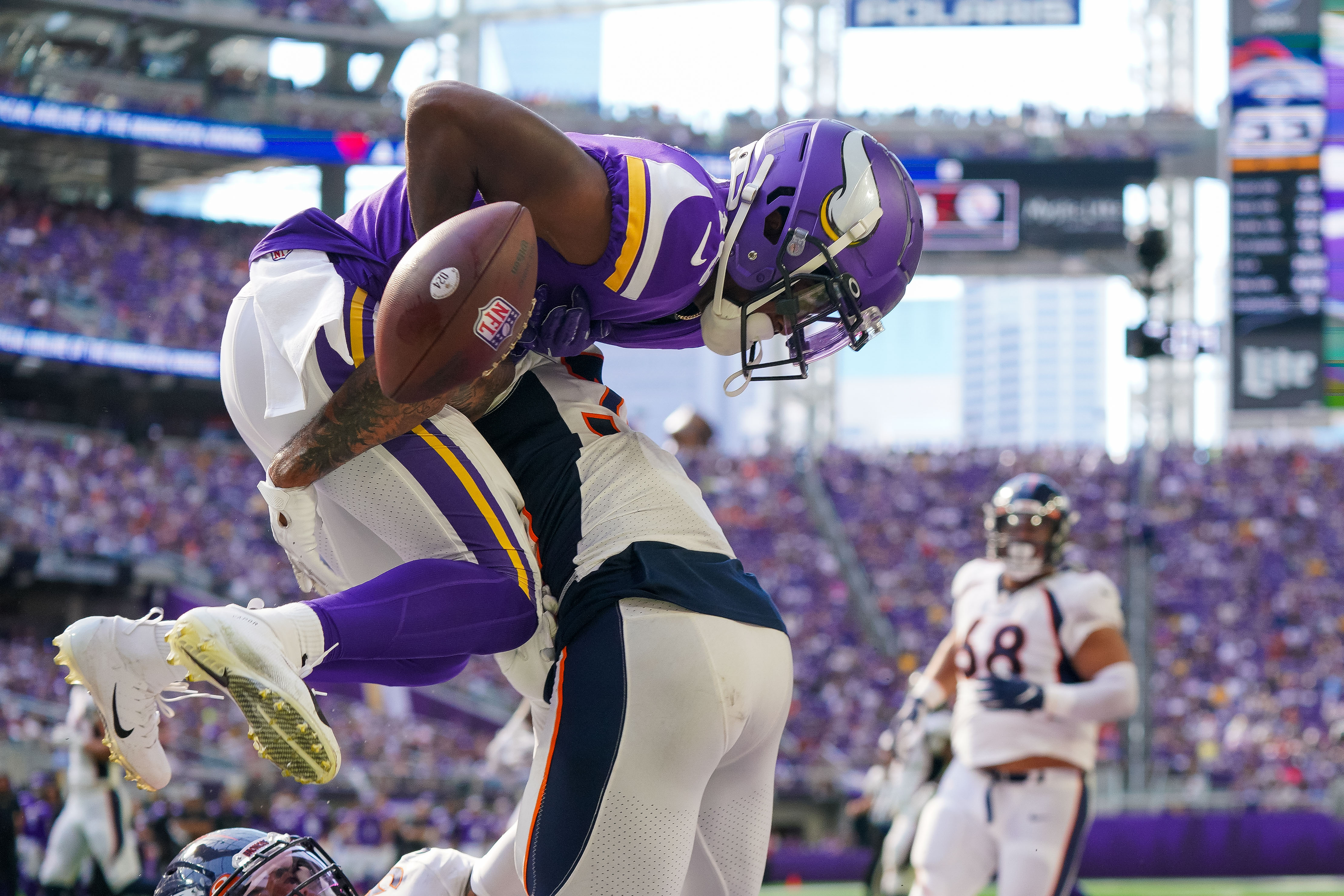 The preseason is a fantastic opportunity for young players to showcase their talents to the coaching staff and give fans a sneak peek of what may be to come.
Either proving they're worthy of a final 53-man roster spot or vying for playing time, their performance in these games could greatly impact the season ahead.
For the rookies, the preseason game against the Vikings was their first chance to play against NFL competition in a live game. While it would be unfair to judge them too harshly off this minuscule sample size so early in their career, this game could offer an indication of how ready they are to make an impact in year one of their careers.
Patrick Surtain II, Cornerback, 1st Round
Patrick Surtain II looked as advertised against the Vikings displaying why general manager George Paton selected him with the ninth pick of the NFL draft.
With a pass break up on a short in-cutting route, and an interception that resulted in a touchdown, on a seven-yard out route, Surtain looks ready to go for Week 1.
PATRICK SURTAIN II PICK-6! @PatSurtainll

📺: #DENvsMIN on @NFLNetwork (or check local listings)
📱: https://t.co/3NquKzXV50 pic.twitter.com/YWIJDXFwOZ

— NFL (@NFL) August 14, 2021
Broncos Country has heard it all offseason, but Surtain looks as pro-ready as they come.
He seemed to be composed and played technically sound from start to finish. While it's true the Vikings didn't play their starters, you couldn't have asked for much more from him. In his eleven coverage snaps played, he didn't allow a single reception.
With a near-flawless performance and versatility to play multiple positions in the secondary, Surtain should see a substantial amount of playing time as early as Week 1 of the NFL season.
Javonte Williams, Running Back, 2nd Round
Williams has been quiet through training camp but as yesterday showed us, practice isn't much of an indicator of a player's running ability.
The North Carolina product was highly impressive yesterday, and while he only played ten snaps, he exhibited why many had him as their number one running back coming out of the draft.
Williams had five carries for a total of 29 yards, as well as had an impressive five-yard rushing touchdown that, unfortunately, was called back due to a holding penalty.
The trait that stood out the most was Williams' contact balance, which was impressive, to say the least. Whether it was running through defenders, bouncing off of them, or stumbling forward for extra yardage, his low to the ground and stocky build made it exceedingly difficult for any defender to bring him down one-on-one.
Caden Sterns, Safety, 5th Round
The former University of Texas safety played the most snaps, at 54, out of any of the Broncos rookies in their first preseason game and was a pleasant surprise.
The word out of training camp has been nothing but positive but his collegiate film showed a player that had a while to go in his development.
All in all, Caden Sterns finished the game with a team-high six tackles and had a fantastic touchdown-saving pass breakup in the back of the end zone. He looked eager to come up and tackle — which is important in Fangio's defensive scheme — and didn't have any major lapse in coverage.
Caden Sterns prevents a touchdown pic.twitter.com/Pphy1XQT0s

— Joe Rowles (@JoRo_NFL) August 14, 2021
Playing time at the safety position will be tough to come by this year for Sterns but his impressive performance bodes well for years to come. In the upcoming season, Sterns has the opportunity to be a key special teams player while also offering depth behind safeties Justin Simmons and Kareem Jackson.
Andre Mintze, Edge, UDFA
As an undrafted free agent out of the University of Vanderbilt, Andre Mintze played quite a bit yesterday, totaling 40 snaps on the field.
In that time, Mintze had the Broncos' only sack of the game. While it was mostly due to a great interior rush and coverage down the field, Mintze showed us his great motor, never giving up on the play.
Outside of that, his run defense was adequate, finishing with three tackles and he looked fairly comfortable in coverage.
This was all against the Vikings' second or third-team offense but Mintze has a chance to carry the tradition of undrafted free agents making the roster this year.
Jonathon Cooper, Edge, 7th Round
Listed as a second-string player on the depth chart, Jonathan Cooper had more buzz than one might expect for a guy who has not been healthy for a large portion of training camp.
In his time on the field, Cooper showed a tremendous motor and looked fairly explosive, but often got too far upfield in his pass rush.
Short in stature, Cooper was not projected to be a dominant run defender but never the less, he ended up tallying three tackles on the day.
Quinn Meinerz, Offensive Lineman, 3rd Round
Quinn Meinerz, the Division-III product, is an interesting name to watch this preseason as the physical tools are there but the nuance and polish are still a work in progress.
Meinerz is known as a mauler and we saw plenty of that against the Vikings. Getting off the line of scrimmage fast and in a hurry, he won his battle, pushing the defender down the field, on multiple occurrences. While this aggressiveness is a great trait going forward, his want to destroy anybody lined up in front of him also led to him lunging and sometimes losing control of his assignment.
Meinerz is a long shot to play much this season but is definitely a name to keep an eye on going forward. The potential is there for him to someday be a starting offensive lineman for the Broncos.
Seth Williams, Wide Receiver, 6th Round
The big-bodied receiver out of the University of Auburn didn't play much too much, totaling 18 snaps on the field.
In that time, he caught one ball over the middle for 13 yards. The catch was impressive as he took a hit to the head, drawing a flag but still maintaining possession of the ball.
Outside of this one catch, Williams didn't get enough targets to evaluate his game thoroughly.
Kary Vincent Jr., Cornerback, 7th Round
Vincent is another guy that got a very limited amount of reps in this game but he did flash a bit in that time.
In particular, he looked eager to come up and help in run defense. He did miss a couple of tackles but the willingness was nice to see as if he makes the roster, he will be playing a ton of special teams.
Jamar Johnson, Safety, 5th Round
Next to Williams, Johnson played the second least amount of snaps of any rookie on this list at only 14 snaps.
Being that he played so little, trying to pull anything substantial out of his performance is near impossible. Johnson missed a large portion of training camp due to injury which might be why his reps were so limited in the game.
Now healthy, hopefully Johnson will be able to get up to speed fast and get plenty of playing time in the Broncos' next preseason game against the Seahawks.