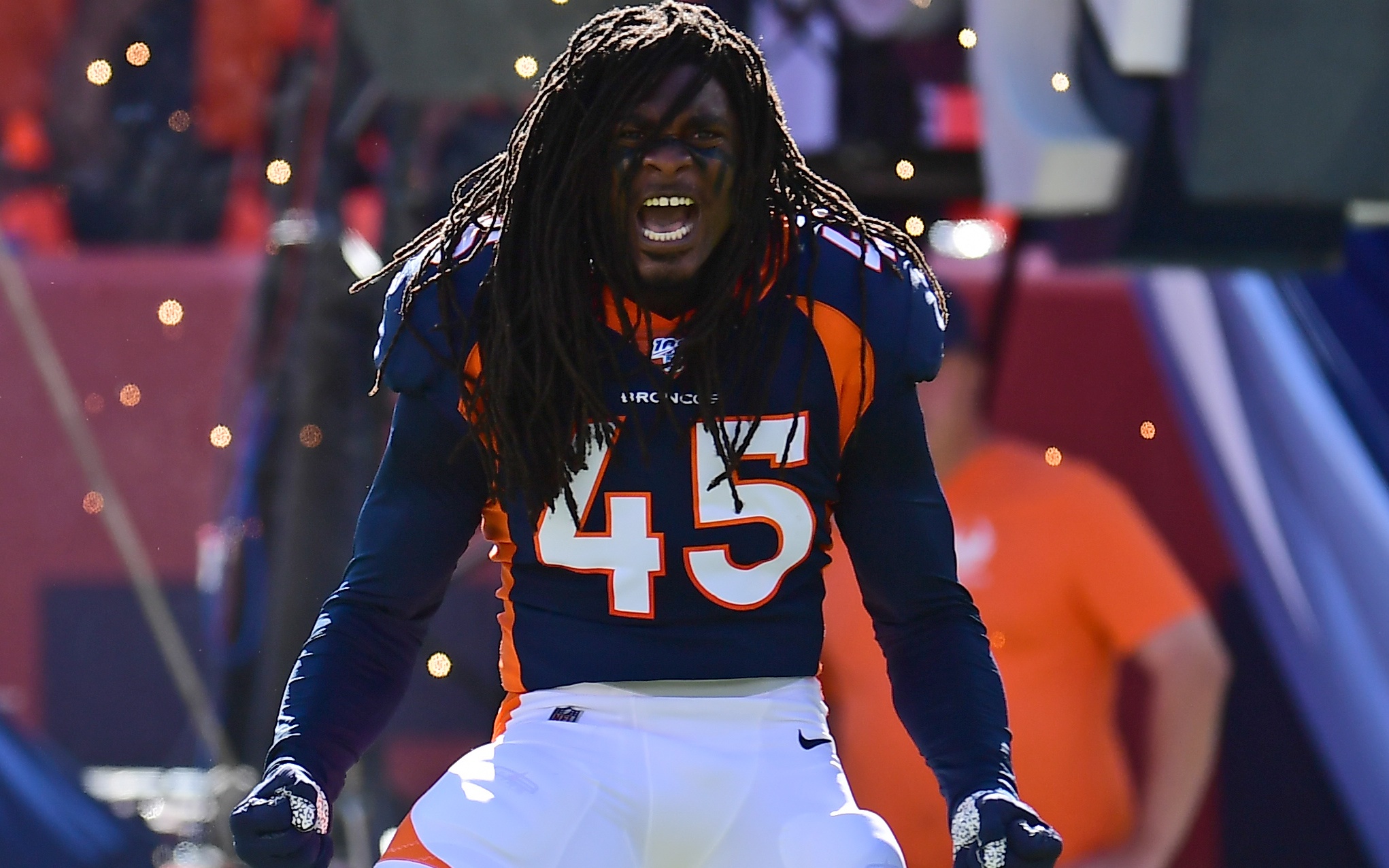 The linebacker position will be one of the more intriguing units to watch this summer with Baron Browning being added to the room via the NFL Draft and Justin Strnad — a member of last year's draft class — returning from a wrist injury that robbed him of a rookie year.
Those additions to the linebacker room are made even more exciting by the fact that both Alexander Johnson and Josey Jewell are coming off good-not-great seasons that leave them vulnerable to replacement.
How will it all shake out? Here's our preview:
Starters
The only surefire starter at inside linebacker presently for the Broncos is Johnson, as Jewell's starting job is entirely up for grabs, though for now, he remains the starter. Even then, 'surefire starter' might be too strong a term for Johnson.
Johnson took a mild step back in 2020 after playing like one of the better linebackers in the league in 2019, but he was still an above-average starting linebacker. He led the team in total tackles with 124 and also forced two fumbles on the season, but as a result of Von Miller's injury — and others in the front seven — Johnson was asked to blitz frequently where he was remarkably ineffective.
He rushed the passer on nearly a quarter of his snaps (145 in total) but only managed to generate a measly 16 pressures and one sack on those attempts. Fortunately, he should be allowed to thrive in a role more similar to the one he occupied in 2019, with Von Miller returning and a defensive line still boasting Shelby Harris and Dre'Mont Jones as interior pass rushers.
Returning to the caliber of play we saw in 2019 will be huge for Johnson, as his contract is set to expire after the upcoming season. If we see the 2019 version, Johnson could cash in with a nice payday, but if he recreates his 2020 campaign, he might struggle to find a contract as an older-than-normal, run-stuffing linebacker that has a limited impact on the passing game.
With that said, Johnson could still be in trouble if Denver's young linebackers perform at a high level. The Broncos could save more than $3 million dollars against the cap by cutting him now — though it would be an odd move after tendering him.
However, Johnson still finds himself in a much more desirable position than Jewell, whose contract is also set to expire after this season.
While Johnson has flashed upside in his career, Jewell seems more or less maximized after last season.
2020 was the best and most productive season of Jewell's career, and he was an adequate linebacker, but his athletic limitations continued to pester him throughout the season. Unlike Johnson's flaws, Jewell's athletic limitations aren't likely to improve at this point in his career.
In other words, he is what he is. An average-or-worse linebacker who won't make the wrong read, but will hurt you by consistently by being an athletic mismatch the opposing offense can exploit.
It lands him in a very similar position to where Todd Davis was this time last season, before being a surprise summer cut. Justin Strnad and Baron Browning are gnashing at Jewell's heels for the starting job. If Jewell loses that starting job — which seems fairly likely considering how it would make a lot of sense for the Broncos to pair Johnson with a more complementary skill set — his only hope of making the roster would be as a special teamer.
$2.36 million is a lot for a special teamer, and Jewell's dead cap number is less than $200 thousand, but Denver's renewed investment on special teams has been a consistent theme throughout the offseason, so it's possible they would hold onto Jewell.
Competing for the job
The two young linebackers Jewell will have to fend off to retain his starting job are Baron Browning and Justin Strnad — and there's certainly reason for Jewell to be concerned.
Baron Browning is a truly rare athlete in a world that overuses the term 'rare'. Based on his pre-draft testing numbers, he ranks in the 99.8th percentile of linebacking prospects in terms of both his physical profile and athletic prowess.
He also has some versatility to rush the passer or play as an edge rusher — where he also rates as a 99th percentile athlete.
In a word, Browning's play-style is explosive. He zips to the ball like a lightning bolt, but he's a thumper who knows how to lay the wood when the time comes. As a Buckeye, he had a nose for the big play, whether that be a sack, a big tackle in the backfield, or even a forced fumble, Browning is a playmaker on defense.
The problem with Browning — which is why he fell to the third round and why his rookie year might not live up to expectations — is that he's a fairly slow processor and plays the linebacker position in a more reactionary style. He's able to get away with that because of his next-level athleticism, but it prevents him from being the game-changing defensive weapon he one day could be.
Now, it's possible Vic Fangio's masterful linebacker coaching gets Browning all ready to go for Week 1, but it seems pretty unlikely that Browning will immediately be a better processor at the pro level than he was at the college level.
Don't get it twisted. Browning will start games for this team, and likely for a long time, but his rookie year impact will likely be pretty small, unfortunately.
That leaves Justin Strnad, who Broncos Country should stop sleeping on immediately. Yes, injuries are a concern considering each of his past two seasons have ended with injury, but outside of that (admittedly large) issue, there's little reason to believe he won't steal the starting job from Jewell.
While at Wake Forest, Strnad was a coverage specialist who consistently made big plays with his impressive instincts and sky-high football IQ. He has an innate understanding and feel for the linebacker position, which is immediately apparent as you study him. Athletically, he's not a freak of nature like Browning, but he also is also less of a liability than Jewell because of how he's able to hold his own in the passing game.
Outside of his health, size and effectiveness in the run game will be the concerns for Strnad, but one could also argue that's why he fits so well with Johnson — who has been one of the best run-stuffing linebackers in football the past two seasons.
Before suffering a broken wrist that ended his season before he even had a chance to play in a game, Strnad was turning heads in training camp and looked like one of the best selections of Elway's 2020 class.
Whether it be Browning or Strnad, Jewell is certainly going to be challenged for his starting job
Roster Bubble
The backend of the Broncos depth chart at linebacker is likely the least intriguing part of the position group. Johnson is penciled into one starting spot, while Jewell, Strnad and Browning battle for the other, leaving Josh Watson and undrafted free-agent Curtis Robinson to compete for the final roster spot.
After entering the league as an undrafted free agent himself, Watson slowly climbed through the ranks and finally saw serious playing time last year. Unfortunately for him, unless he can steal a roster spot as a special teamer, he'll likely be back on the practice squad and the same goes for Robinson.