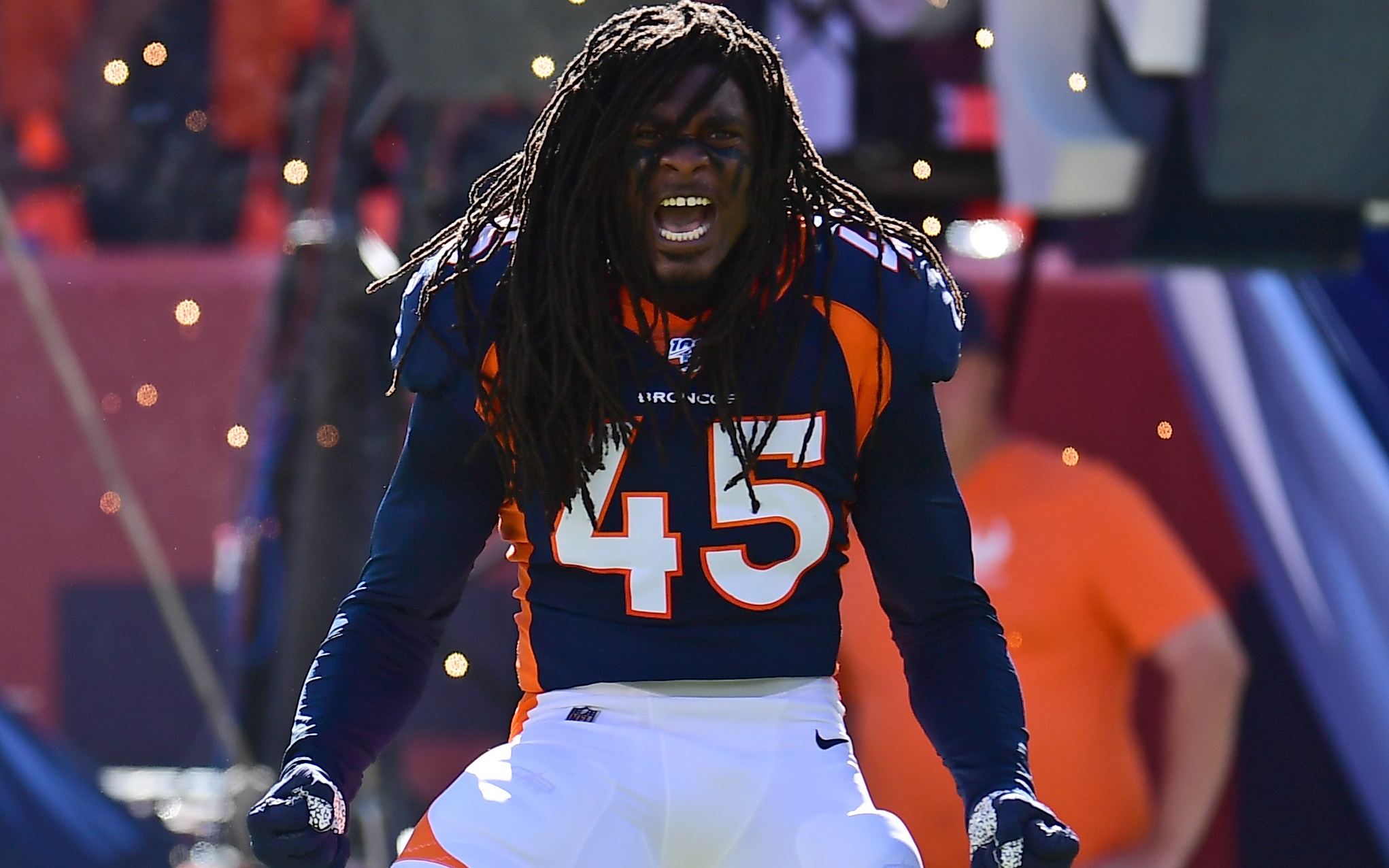 The inside linebacker position has been a nagging problem for the Broncos since Danny Trevathan packed his bags for Chicago following the Super Bowl victory over the Panthers. Despite all their efforts, they haven't been able to find someone who can consistently lock down tight ends and running backs in the passing game.
The addition of head coach Vic Fangio has led to some players realizing their potential, but the unit could still use an infusion of talent.
In this article, we'll analyze what each linebacker on the roster did in 2020 and what that means for their respective futures with the team.
Alexander Johnson
One could argue that Alexander Johnson's rise from a freshly-exonerated, practice squad linebacker, to one of the most productive inside linebackers in the league, was the defining story of Denver's 2019 campaign. That quick rise is also a testament to Vic Fangio and his innate ability to coach up the linebacker position.
In 2020, Johnson didn't play quite to the same level he showed in 2019, but he was still an asset on the defensive side of the ball. He fills the role previously held by Todd Davis brilliantly, as a physical and imposing run-stuffer that can come downhill in a flash, though a visibly more athletic version.
Per Pro Football Focus, among linebackers with at least 200 snaps against the run, only Bobby Wagner, Avery Williamson, and Zach Cunningham had a higher run-stop rate than Johnson (10.0%).
Much like Davis (and almost every other starting inside linebacker for the Broncos since 2015), Johnson struggles in coverage. He's much more comfortable firing through seams in the offensive line than squaring up against Travis Kelce or Darren Waller in coverage. Obviously, that's not ideal given the slate of tight ends the Broncos have to face every season, but it can be managed as long as you have a counterpart that can handle the coverage assignments.
One negative aspect to Alexander Johnson's game that doesn't get quite enough attention is his ineffectiveness as a pass rusher despite the heavy usage he sees as one. Only two inside linebackers rushed the passer on more snaps than Johnson, and among the 11 linebackers with at least 100 pass rushes, he ranks ninth in PFF's pass-rush productivity metric.
Despite those holes in his game though, Denver should absolutely bring him back as a restricted free agent for the 2021 season.
Josey Jewell
Josey Jewell is a very tough case to analyze. Breaking down his film was reminiscent of breaking down Mac Jones' tape during this draft cycle, despite both being wildly different athletes and playing on opposite ends of the line of scrimmage.
The similarity is this, both make the right decision on almost every single rep. They've taken to their coaching brilliantly and know where to be, what to do, and what their responsibility is. Jewell is very instinctive and finds the ball with ease, but just like Jones, his athletic limitations hold him back from being as great as his processing would allow most linebackers to be.
That was the case with Jewell in 2020. He did almost everything right, and still, it was barely enough.
As a result, it appears Jewell is a longshot to hold onto his starting job, though Denver might like to retain him as a backup.
"I think corner, I think inside backer are both priorities," Benjamin Allbright said on the Manely Broncos Podcast when asked about the team's top priorities this off-season. "Josey [Jewell] played admirably but he's just not good enough, y'know? He's not athletic enough. So they're looking to upgrade. They wanted to upgrade this past year and thought Mark Barron was gonna be the guy, and then he got hurt and just could never get on the field."
Justin Strnad
The fifth-round selection of linebacker Justin Strnad out of Wake Forest was one of those attempts at upgrading on Josey Jewell. Unfortunately, Strnad broke his wrist before the season and never even played a snap.
As a result, it's very easy to forget about Strnad when thinking back on the 2020 draft class. Immediately following the draft, Strnad was viewed as Elway's most impressive steals.
Watching his college film you see a long, rangy and instinctive coverage linebacker. It was also reported by Lyle Hemphill, Wake Forest's defensive coordinator, on Locked On Broncos that Strnad has incredible football character and work ethic.
Don't be surprised if he steals Jewell's starting job early on in the season, or even before the season starts.
Austin Calitro, Joe Jones and Josh Watson
Austin Calitro, Joe Jones and Josh Watson round out Denver's presently existing linebacker room, though that will likely change this off-season.
The Broncos are expected to add at least one inside linebacker through the draft, and there's no need to hold onto all three of these backers, who only really help you on special teams.
In-house products Joe Jones and Josh Watson are probably the favorites to stick around, but with a new general manager, anything is possible.