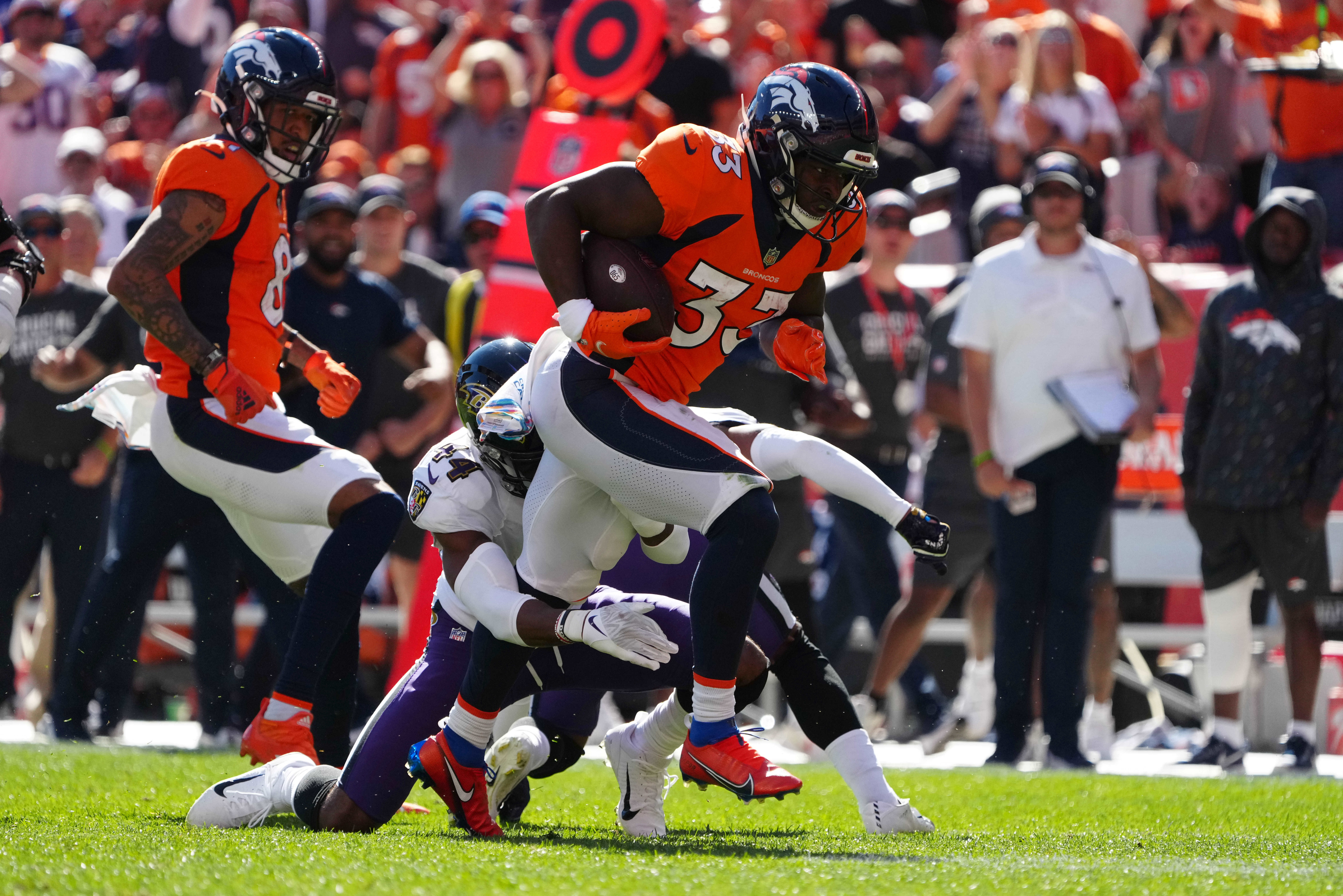 The Denver Broncos have had to rely on their running backs a lot in recent years, as the quarterback position failed to produce competency.
Now, with Russell Wilson in town, that's no longer the case, but the running back room continues to be remarkably talented.
How should the depth chart at this position be ordered, and what can we expect from every member of the backfield in 2022? Let's take a look.
Javonte Williams
There are arguments to be made that Javonte Williams was one of the NFL's elite running backs in 2021, even though it was merely his rookie season.
By its nature, the running back position relies on competency from a lot of the positions surrounding it, primarily the offensive line. That means that a lot of the raw rushing stats we're used to aren't often the best indicator of a running back's talents, as that production is either getting massaged or stifled by the help that player has.
However, there are a few stats that isolate the running back, and two of those stats — missed tackles forced (MTF) and missed tackles forced rate (MTFR) — view Williams not only as the best back in all of football, but the best back in all of football by a wide margin.
In 2021, Javonte Williams forced 63 tackles to be missed (the second-most in the league, despite operating out of a split backfield), at a rate of 0.31 tackles missed per carry (the highest rate in the league among running backs). Jonathan Taylor, who led the league in MTF (66), only led the league because he 129 more carries than Williams.
Taylor's MTFR (0.19) isn't even two-thirds as good as Williams'. In fact, no running back with at least 45 carries in 2021 has an MTFR of 0.27. That means no back with decent playing time came within being even 88 percent of Javonte Williams from a power-rushing perspective.
That might not sound like a lot, but being 12 percent better than literally every other NFL player at any one facet of the game is the type of insane dominance we rarely see. To contextualize that talent gap, it's a gap 24 times larger than the gap between Matt Araiza's punt distance in 2021 and his top collegiate peers. Araiza's punt distance was thought to be so impressive that he was labeled the "punt god".
Williams dominated the 'breaking NFL tackles' game on a much larger scale than Araiza dominated the 'punting the ball far' game, and yet doesn't get nearly as much praise.
Setting aside that eye-catching stat, Williams a potent weapon with the ball in his hands, both in the passing game and in the rushing game. Plus, he was surprisingly solid in pass protection as a rookie. He's the perfect, modern prototype at the position.
Melvin Gordon
Despite all the empirical information suggesting it wasn't the best way to utilize their assets, Denver opted to re-sign Melvin Gordon.
Gordon provides stability to the running back room, as Williams transitions to a scheme that might not be the best fit, considering his strengths and weaknesses as a player. Gordon does have more familiarity with the scheme, and one could argue he's been Denver's best offensive player each of the past two seasons.
His return guarantees that the run game should stay afloat at the very least. He's a very skilled pass-protector and receiver, has high-end vision, and just has a knack for finding the endzone throughout his career. These traits should make Gordon an idyllic fit for Hackett's offense, so expect him to remain a large part of the game plan.
The one hiccup that could potentially derail the plan is age and how worn down Gordon is.
Of the NFL's 28 most productive backs from a season ago, only one was older than Gordon — Cordarrelle Patterson, who hasn't experienced the beatings or the number of touches that Gordon has. It's also recently become a horrific idea to sign running backs to a second deal, as their play has sharply declined following these extensions. Gordon will be on contract No. 3. Lastly, Gordon is also over the 1,500 career touches threshold, a mark which often singles the sharp decline of running back talent.
The point being, Gordon might not be over the cliff yet, but when one looks around the league, it's impossible to ignore that all signs point to that cliff face being right around the corner.
Mike Boone
No one should be more upset about the Gordon signing than Mike Boone, who is a talented runner that is more than capable of being the co-star to Williams.
However, after bringing the veteran back this offseason, it's practically certain that Boone won't find himself any higher on the depth chart than third.
With that in mind, it'd be hard for the Broncos to do better. Few teams in the league have a tertiary ball carrier as gifted as Boone, something he was quick to demonstrate in his limited playing time last season, as he ran roughshod over the Kansas City Chiefs. Not only that, but Boone is experienced in the zone-blocking scheme, and is also an adequate pass-protector, pass-catcher, and special teams player.
Damarea Crockett
During training camp last season, Damarea Crockett consistently ripped off long runs and turned the heads of media figures, and eventually, he landed himself a spot on the active roster during the regular season.
That tendency to have impressive practices will be a necessity for Crockett, as he tries to crack a strong rotation that is nearly cemented.
In 2022, Williams is the clear-cut No. 1 running back, Gordon is the clear-cut No. 2 back, and Andrew Beck is the fullback. Then, Boone's role is less concrete, but he's still the prohibitive favorite to be the team's No. 3 back.
If Crockett can comfortably beat out Boone, it could be enough to earn him a roster spot, but that's a tall order.
Tyreik McAllister
Unfortunately, Tyreik McAllister doesn't have a realistic shot of making the roster. He could maybe carve out a role for himself on the practice squad, but it would be stunning if he snuck his way onto the final roster.
McAllister tallied 1,445 all-purpose yards and 12 touchdowns during his final season at the University of Charleston.
Andrew Beck (FB)
Although Andrew Beck is also listed as a tight end, it seems necessary to discuss him here, as he's the only fullback presently listed on the Denver Broncos' roster — a mild surprise considering the team is expected to utilize the position much more this season.
Beck has done an adequate job in the role during recent seasons, but that was in Pat Shurmur's offense, which seldom required a fullback. It's fair to wonder if Beck, a converted tight end, will be able to continue to find success in this hybrid role, once more is expected out of him.
It's easy to overlook now, but during last offseason, the Broncos added undrafted free agent Adam Prentice, who wowed during camp before eventually being cut for not being necessary for Shurmur's offense, while a hybrid option like Beck boasted more value at the time. Prentice went on to be an excellent fullback for the Saints, and now New Orleans has that position solidified. Should have been Denver.