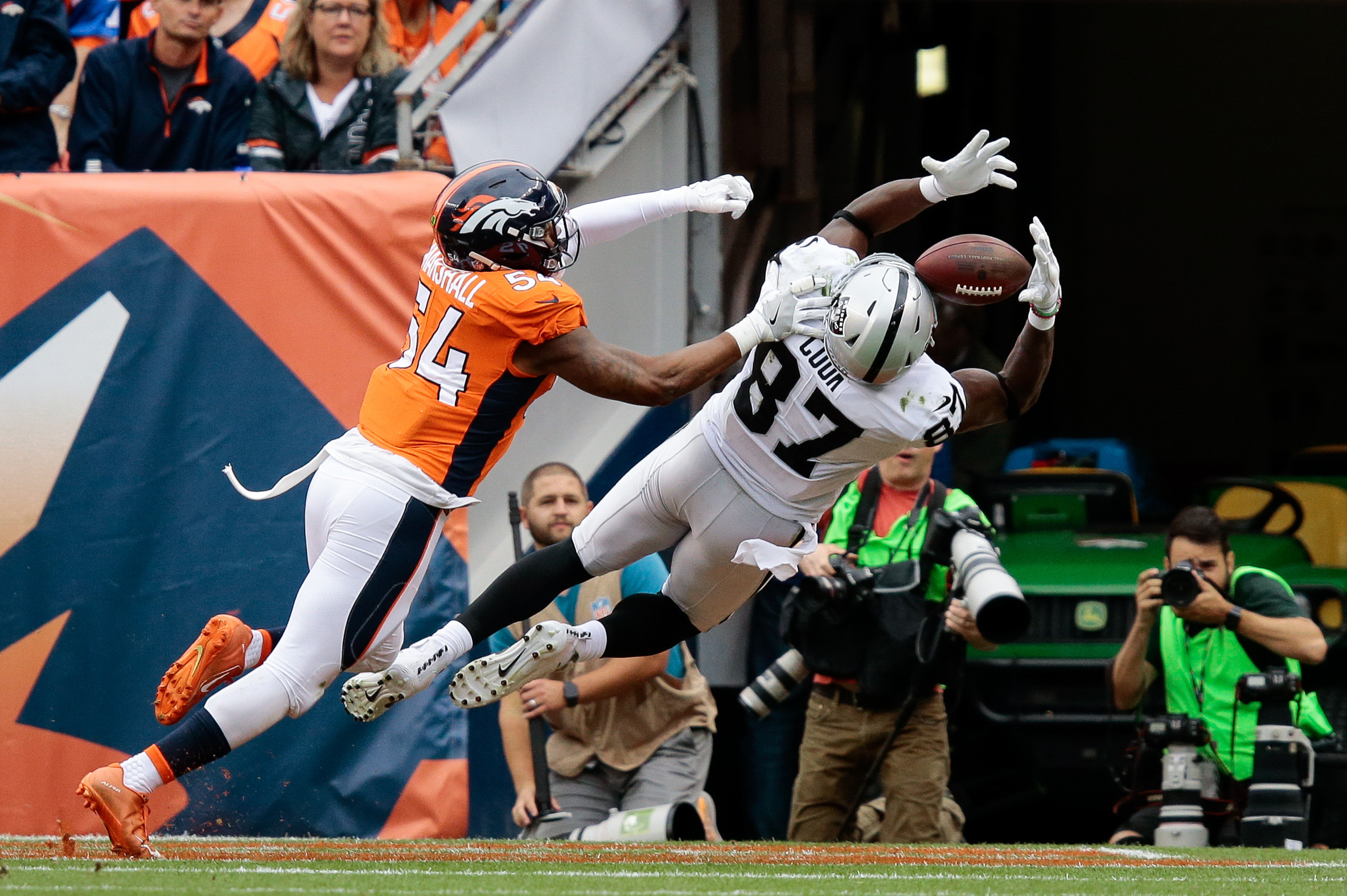 A major challenge stands in between the Denver Broncos and a 2-0 start to the 2018 season: covering the Oakland Raiders' tight ends on Sunday.
After allowing Seattle Seahawks rookie tight end Will Dissly to run wild for 105 yards receiving – including a 66-yard reception – in their season opener, Denver will have their hands full with Raiders tight end Jared Cook, who torched the excellent Los Angeles Rams defense for nine receptions and 180 yards of offense Monday night.
"He's going to be a true challenge," head coach Vance Joseph said of Cook on Wednesday. "He's 6-6, he has great ball skills, he runs a 4.5 [40-yard dash]. We have to have a great plan to get him contained. We can't walk in here on Monday and say we didn't contain him. If we don't contain him, it's going to be a long day for us."
That inability to contain tight ends has plagued Denver in the past. According to Football Outsiders, the Broncos ranked 31st in the league last year when covering tight ends. Denver went 1-9 in 2017 in games when an opposing tight end caught a touchdown pass.
One touchdown pass caught by a tight end in a loss certainly doesn't tell an entire game's story, but it does show how effective tight ends were in losses for Denver last year. The Broncos realized this and attempted to solve their issue, swapping draft picks with the Washington Redskins to acquire hybrid linebacker Su'a Cravens, who has yet to see the field after being placed on injured reserve (with designation to return) prior to the season opener.
Joseph and the Broncos hope that Cravens is healthy enough to return to the active roster for their Week 9 matchup against the Houston Texans after undergoing a surgical procedure on his knee.
But even then, nobody is sure that Cravens is a cure-all when it comes to covering the big guys who can run and catch. After all, Cravens hasn't played a regular-season football game since 2016, nor can Denver wait until Week 9 to patch the hole. Denver's first divisional opponent now stares them right in the face – and they sport one of the best receiving tight ends in the league.
"The tight ends, we haven't fixed that yet," Joseph said. "That guy (Dissly) had too many big plays on us last week… The tight end is going to be a challenge this week. He is a physical mismatch for most safeties, and definitely for [linebackers]. We have to have a plan to bracket him and to play a safety over top of him like he's a receiver. Hopefully we can rush the passer, speed the quarterback up and kind of help us cover these guys. He's going to be a challenge."
Cook is a savvy veteran who is no stranger to busting big plays, tacking on yards by using his big frame after the catch. In 2017, Cook's average yards-per-catch was over 10 yards in 10 of the 16 games he played in.
"Just game plan. Know what he can do and try not to let them do it," Broncos Bradley Chubb said about stopping tight ends Sunday. Chubb says whether it's him or a defensive back, containment is key.
"Whether it's me guarding or a DB [defensive back] guarding him, dropping the coverage and stuff like that. We've just got to make sure we contain him and not let him get too big on us."