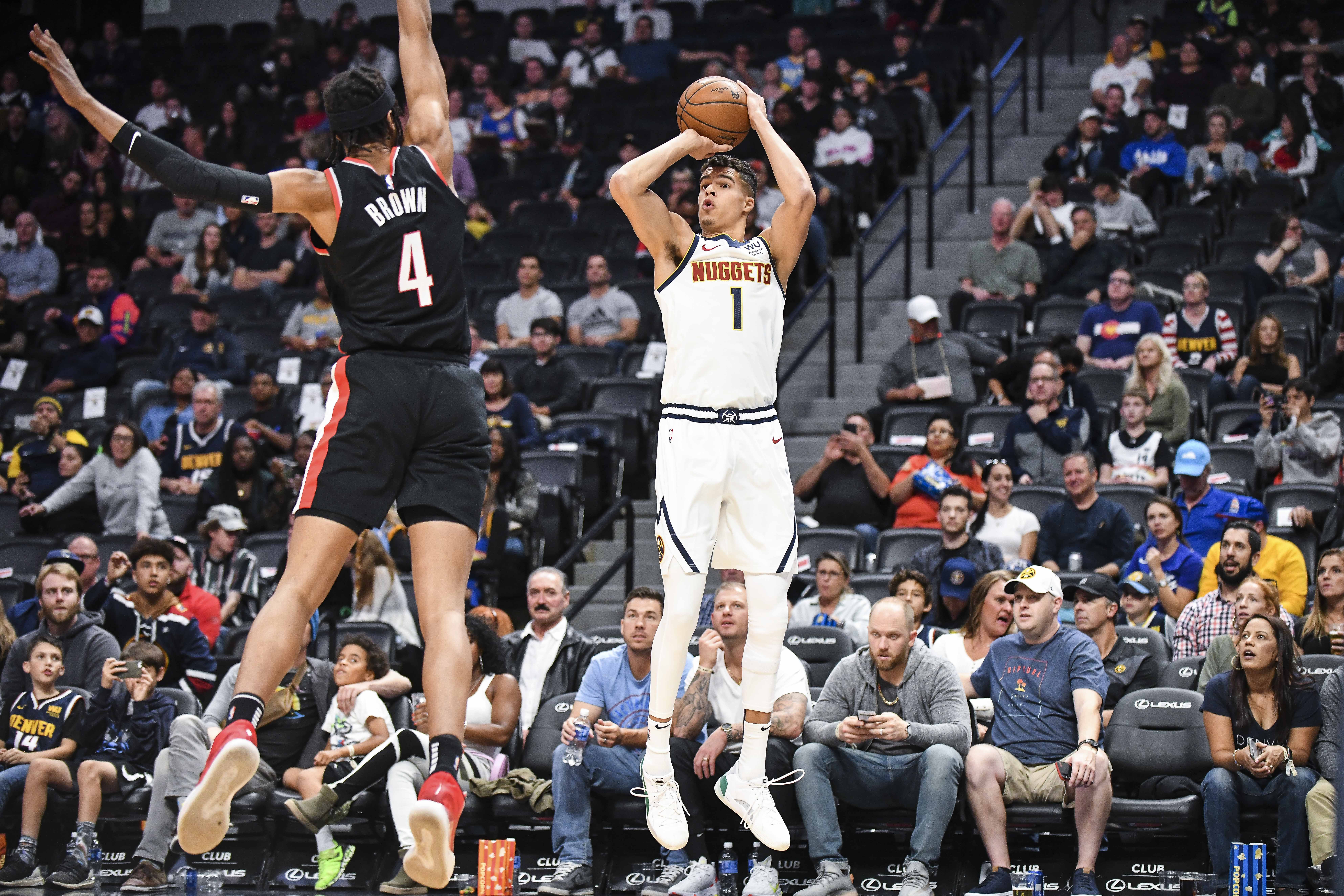 "We have to find a way to give (Michael Porter Jr.) a chance to play," Nuggets head coach Michael Malone stated on media day. "He has to earn it, but we have to get him out there because the talent is there."
It has been 32 days since Malone vocally stated that he needs to play Porter Jr., but as four regular season games have come and gone, Porter Jr. has yet to record a single second of playing time.
Denver's second-longest tenured player — Will Barton III — has been holding down the starting role while Torrey Craig has soaked up the remaining small forward minutes off the bench, but that current formulation has left Porter Jr. — and Juancho Hernangomez — without a spot in Malone's rotation.
That may all change on Halloween night in New Orleans.
As of Thursday morning, Barton III has been added to the Nuggets injury report and questionable to play Halloween night because one of his toes on his left foot is inflamed.
That means there will finally be some minutes at small forward available, but will Porter Jr.'s number finally get called? The answer could infuriate some fans of the Nuggets, but he would be a step closer to logging real NBA minutes during the regular season if Barton III is unable to play. The same can be said for Hernangomez who still has not played any minutes through four regular season games.
So what does Barton III's injury mean for the likes the Porter Jr., Hernangomez, and Barton III himself?
Will Barton III
Before discussing Porter Jr. and his potential opportunity to play, it is important to start with Barton III who is battling his second lower body injury dating back to the preseason where he had a hamstring issue limit his playing time for the first few days of training camp.
The fact that Barton III has to battle through yet another injury must be extremely frustrating for him. After missing the majority of the 2018-19 season with a core issue, Barton III's path back to full strength has been full of trials and tribulations.
Barton III has never been seriously injured or even had a surgery of any kind before his injury last season. The fact that this was untouched territory for him elongated his recovery timeline and hurt his productivity.
With a full offseason to prepare and get healthy, Barton III has looked much more like the man they call "Thrill" than the player who struggled mightily in the second half of the year last season. He has been able to finished extremely tough shots at the rim, is getting his own shot when the Nuggets offense breaks down, is moving the ball well, and has shown significant growth as an all-around defender and rebounder.
Simply stated, Barton III has done everything he can to prove that he deserves his starting role, but now the injury bug has returned to derail his resurgence.
Hopefully this toe inflammation that he is dealing with is nothing serious and he does not miss time, but if he does miss time, who will be impacted by his absence?
Torrey Craig
When Barton III returned from injury during the 2018-19 season, he was far from himself. His burst was lacking as was his efficiency as a scorer which made his overall effectiveness drastically lower than many expected.
Because of those facts, Malone turned to Torrey Craig as his starting small forward for most of their postseason run and was rewarded with strong defense and a hot-streak shooting from three-point range.
Malone has always trusted Craig with many different roles, which means that if Barton III is unable to play on Halloween, Craig would almost certainly start in his place and see an increase in minutes.
Through four games, Craig is only playing 17 minutes per game which is third-lowest on the team. If he starts, he will play closer to 30 minutes which means there would be 18 minutes available for other players to soak up some small forward minutes.
Who gets those minutes if Barton III is out and Craig starts?
Michael Porter Jr.
The low-hanging-fruit answer to who gets more minutes if Barton III is out is of course Porter Jr. — the sweet-shooting phenom who has yet to log a single minute during the regular season. He has an enviable skill set at his size and plays a position of need which is why the Nuggets took a chance on him with the 14th pick of the 2018 NBA Draft despite his injury history.
"When we drafted him a few years ago — when Tim drafted him — we made that decision, it was 'hey, he fell for a reason, but we believe this kid has incredible talent'," Malone explained back on media day. "His size, his length, his shooting ability, and just his raw talent are something that we really appreciate."
While it feels like an obvious decision to just play Porter Jr. off the bench if Barton III is out, there is clearly a reason that Malone has chosen to keep him off the floor for the first four games of the season.
It seems likely that Porter Jr. is still pretty far behind on the defensive end of the floor and is struggling to adapt to playing off the ball which is why he has been riding the pine this season. Yes, he showed promise in those areas during the preseason, but he was playing against third string players at the end of preseason games. Logging real minutes as a member of the rotation during the regular season is an entirely different beast to deal with and that is without noting that Denver is playing on the road on nationally television on Halloween night.
Still, Porter Jr.'s debut feels imminent even if there is no tangible information pointing to that fact. His talent is undeniable as is his fit. Because of those two factors, Denver has to do what they can to get him on the court.
On the other hand, there are a few reasons to continue keeping Porter Jr. off the floor for the time being.
First of all, making Porter Jr. earn every last minute he gets is an important vehicle to developing him as a man as well as a basketball player. Ever since Porter Jr. has been involved in organized basketball, he has been the best player in every single gym that he has played in which is why he has a bit of a completely-understandable ego. For the Nuggets, they now have to work towards breaking that ego and the best way to do that is by making him earn everything and not just giving him a spot in the rotation and minutes during the regular season.
Malone was correct on media day when he said the he has to find a way to play Porter Jr., but he did not specify when he would play him or how much. Despite all of the signs pointing to Porter Jr. making his regular season debut on Thursday night against the Pelicans, there is another forward who could also see an increase in minutes who has been largely forgotten.
Juancho Hernangomez
Hernangomez has gotten the short end of the stick for the past few years. During his sophomore campaign, he got mononucleosis which effectively killed off his entire season.
He then came back prepared to make an impact last season, but after starting the year out very well, he ended up being the victim of another core muscle injury that required surgery. From the time he got hurt until he finally had his surgery during the offseason, Hernangomez was virtually unplayable. He was unable to hit shots from three-point range, was struggling on defense more than usual, and was unable to contribute as a rebounder.
Most of those issues stemmed from his core muscle injury which is why he looked so strong during the FIBA World Cup as he helped the Spanish National Team become World Champions.
Now that he is healthy, Hernangomez is ready to prove that he is a helpful NBA player, but Denver's depth has hindered his ability to get playing time. With Barton III healthy, he has obviously retaken the starting small forward role while Craig has secured the small forward role off of the bench. That means that Hernangomez — like Porter Jr. — is facing an uphill battle for playing time.
If Barton III does not play against the Pelicans, the way Malone tweaks his rotation will be extremely revealing. Has Porter Jr. passed Hernangomez on the depth chart or will Malone look to play the FIBA World Cup gold medalist instead of the promising rookie?
If Porter Jr. has eclipsed Hernangomez, it may end up being the first clue that Hernangomez's time in Denver is rapidly coming to a close. He will be a restricted free agent at the conclusion of the season and the Nuggets are already starting down a potential luxury tax bill.
If the Nuggets have already placed Porter Jr. above him, Hernangomez's role in Denver has seemingly come to its end, but if Hernangomez plays over Porter Jr., there will suddenly be hope that he is perceived as a long-term piece of what the Nuggets are trying to build.