The Blackhawks will be in town Saturday to face the Avalanche at the Pepsi Center, and by now, we know the Chicago fire drill.
As many as half the seats will be filled by fans wearing Blackhawks jerseys, T-shirts sweatshirts or jackets.
If the Blackhawks' Patrick Kane scores, it will sound as if this is the United Center, the Madhouse on Madison Street.
We're used to it in Denver, and in all the major league sports.
It's not just the Blackhawks fans.
It's Steelers or Raiders fans at the Broncos' stadium.
Celtics, Warriors or Lakers fans at the Pepsi Center.
Cubs or Cardinals fans at Coors Field.
Sounders or Timbers fans at Dick's Sporting Goods Park.
They — and the fans of virtually all visiting teams — are there, often in highly noticeable numbers.
There's nothing "wrong" with it. At least to some extent, it happens in every major-league city and facility. Visiting team fans, especially those of certain teams, show up. It isn't just here. But it's as pronounced here as anywhere in North America.
In most cases, those fans have gone to the local team's own site or taken advantage of the many other secondary markets in this age to get tickets, including those sold by season-ticket holders willing to recoup some of their season-long investment. Teams, of course, encourage that by running their own resale sites and there is no box to check for fans pledging that they will root, root root for the home team.
The visiting team fans have paid for parking and their debit cards are accepted at the concession stands. They buy 50-50 tickets. They don't deserve to be showered with abuse or beer or worse. I know they sometimes are, as is the case for fans of all visiting teams at all sporting venues around the world, and that's wrong.
At the Pepsi Center, the Avalanche and Nuggets' ineptitude in recent seasons has made it much easier for those opposing team fans to get tickets. The marketplace rules. And it has ruled that the locals aren't a hot ticket. The Nuggets were last in NBA home attendance last season, the Avalanche 25th in the 30-team NHL. And without the visiting-team fan phenomenon, the home averages — and revenues — would have been even worse.  It's as if the Kroenkes should have treated all those visiting team fans to Uber round trips.
We understand the transient nature of the Denver market and know that loyalty to one "local" squad of athletic mercenaries playing another "visiting" squad of athletic mercenaries is not a litmus test of loyalty to and involvement in the Colorado community.
And, yes, the team allegiances forged in youth are resilient, remaining strong after time and even moves, and that's one of the beauties of sport.
I'm not a Colorado native, either, though I moved here with my family as a junior in high school.
I'll concede this happens the other way around, too.
Transplanted Broncos fans attend games around the NFL, not just in the Carson soccer stadium.
Both transplanted and tourist Avalanche fans will be noticeable in the T-Mobile Arena seats Friday night in Las Vegas, and as I traveled the NHL circuit in the franchise's glory years, I spotted many Colorado jerseys in other arenas. Even now, when Colorado scores in road arenas, Altitude has been known to show two fans in Avalanche jerseys high-fiving each other … as "home" fans around them glare.
Back in Denver, on NHL nights in the Pepsi Center, you can't miss the many fans of the Red Wings. Penguins. Stars. Rangers. Bruins. Flyers. Blues. Wild. The banter between the Avalanche and visiting team fans can actually be an entertaining part of the game-night experience. Yes, it can be fun.
I've just listed a whole bunch of concessions, of givens, of acknowledgments that I get how this happens, why this happens and how it's part of the sports dynamic.
But especially because of the extraordinary degree to which it happens here, it's still aggravating.
If those fans have come to Denver on an excursion, great, roll out the red carpet, thank them for the contributions to the economy and realize they might be on the way from the stop in Denver to Copper Mountain, Breckenridge or Vail.
I said that as if I believe it's common, didn't I?
Of course, it isn't. Not in the NBA or NHL, at least. That kind of tourism, while not even close to being the sole explanation for the support in Denver for visiting teams, is more common for Rockies or Broncos games.
Almost all these fans of visiting NBA and NHL teams in the Pepsi Center are at home. They live here.
I'll concede this one more time: It's an All-American phenomenon. There's nothing "wrong" with it.
But at what point do they deserve to get grief?
— When they  act as if they believe those with deep-rooted or even new-found affinity for Denver teams are a bunch of saps.
— When they seem to be the type of fans who just signed on and who might not even know who, say, Tony Amonte is as they cheer for the Blackhawks. It's easy to come up with equivalent scenarios for every team.
— When they come off as fans who might not even have cared as much about (Chicago, Detroit, Minneapolis ….) until they moved here and could flaunt their non-native status. I'm absolutely convinced that many of these folks became bigger fans of the teams in their former areas after they moved here, so they could make darned sure we knew they aren't from here. And it gets worse when those teams go through boom cycles.
— Most of all, when they don't even seem to be a bit self-conscious about any of it, even among Colorado natives.
That's when they deserve grief.
I'm not sure what percentage of local resident/visiting team fans fall into those categories. I'm sure the anecdotal evidence varies from team to team and from one personal situation to another. It even can be who you sit next to, whether in the arena or the office.
But I'll say this again: It sure can be aggravating.
Many baseball teams this season turned the tables on Cubs fans in "road" stadiums, showing them on the big screens with disparaging and funny captions. Of course, it wasn't fair to portray the Cubs fans as predominantly bandwagon riders showing up in the wake of the Cubs second World Series Championship in 108 years, in part because super-station WGN and Harry Caray helped create Cubs fans from coast to coast and they've been showing up in stadiums across the country for decades.
But that didn't make teasing Cubs fans any less fun.
The most notable example was the Cincinnati Reds with their "Bandwagon Cam," accompanying the shots of fans in Cubs colors with such things as :
"Life Long Cubs Fan Since 2016"
"Bought This Shirt Earlier Today"
"White Sox Fan in 2005"
"Never Been to Chicago Before"
"Thought David Ross Was Just A Dancing With The Stars Contestant"
"Thinks Old Style is Vintage Clothing."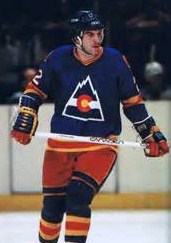 Maybe the Avalanche game-night crew could post this picture on the scoreboard screens and challenge Blackhawks fans to identify this former Colorado Rockies — hockey, not baseball — defenseman.
And say what he's doing today.
Some of them might even be able to do it.
POSTSCRIPT: I was in Fort Collins for CSU-Air Force football Saturday and wrote this, so I didn't attend the Avalanche's 6-3 win over the Blackhawks. I understand some of the Blackhawks fans in attendance, as expected, transferred the recent tradition of cheering, roaring and yelling through the national anthem to the Pepsi Center — and many Avalanche or neutral fans again didn't appreciate it.
I came around to accepting it in as something unique to Chicago, picking up steam during the Gulf War. My opinion evolved, most notably after the Blackhawks honored U.S. Army Staff Sgt. Salvatore Giunta, then 25, at a 2010 game against the Avalanche and he stood on the ice next to singer Jim Cornelison, saluting through the anthem as the crowd roared.
Giunta was the first living member of the armed services to be awarded the Medal of Honor since the Vietnam War, for his actions during a 2007 enemy ambush in Afghanistan. The previous seven Medal of Honor recipients for service in Iraq and Afghanistan had been killed in action.
Giunta was made available to the media after the first period, and I asked him what he thought of the roaring through the anthem.
"To be able to stand on the ice and hear the national anthem … and hear the reaction of the crowd and feel the rumble and see the American flag just waving in all of its glory at the top of the stadium was truly incredible," Giunta said. He added, "This is the only place that I've seen them cheer for the anthem. I didn't know how I'd feel about that. But standing down there on the ice, I thought it was great."
Giunta later attended CSU and the Avalanche also honored him at a 2012 game.
So I'm among those who are OK now with the Chicago anthem tradition — as long as it stays in Chicago. It's a subtle gray-area distinction, I know, and some Chicago fans in our midst might not get it.
Be proud if it as a unique Chicago tradition with meaningful historical roots. But forcing it anywhere else is — yes, including at the Pepsi Center — gauche, rude and disrespectful.
I'm not changing my mind about that.
*   *   *
Denver-based journalist Terry Frei writes commentaries about the Avalanche for Mile High Sports. He has been named a state's sports writer of the year seven times, four times in Colorado (including for 2016) and three times in Oregon. He's the author of seven books, including the fact-based novel "Olympic Affair" about Colorado's Glenn Morris, the 1936 Olympic decathlon champion; and "Third Down and a War to Go," about the 1942 football national champion Wisconsin Badgers and the players' subsequent World War II heroism. His web site is terryfrei.com and his additional "On the Colorado Scene" commentaries are at terryfrei/oncolorado.