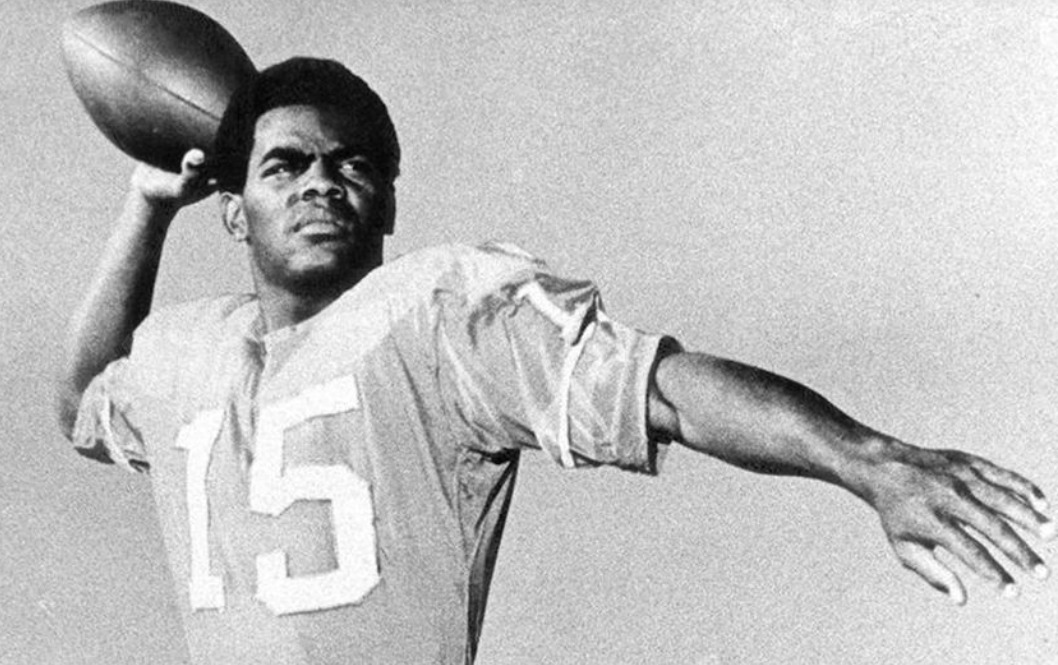 Black quarterbacks aren't likely associated with the Denver Broncos.
OK, Kendall Hinton — a practice squad wide receiver and double-emergency quarterback — played for Denver this year due to all of the team's QBs being forced to sit due to COVID-19 protocols. But, technically Phillip Lindsay was the starting quarterback for that game. In 2003, Jarious Jackson started one game.
The only other black starting quarterback in the Mile High City has been Marlin "The Magician" Briscoe, way back in 1968. And in the unrest of the Civil Rights movement, Briscoe getting to start for Denver was a big deal.
In 2020, many of the best quarterbacks in the NFL are of African American descent. Patrick Mahomes, Russell Wilson, Deshaun Watson, Dak Prescott, Kyler Murray and the list goes on. But even as recently as the 90s, the basically overt racism of the NFL persisted in believing black men weren't suited to play quarterback.
And that was 30 years after Briscoe with the Broncos.
"There were a few things that society didn't think a Black man could do, and [three were] think, throw and lead," Briscoe said on DenverBroncos.com. "They didn't know how the fan reaction, manager reaction, player and teammate reaction — they didn't know how that was going to be."
Back in Briscoe's day, while black quarterbacks enjoyed great success at the collegiate level, professional teams regularly forced the young men to transition to new positions. Even Briscoe himself started his professional career in the American Football Conference as a cornerback instead of his desired quarterback spot.
In fact, that's what the Broncos did. They drafted the 5'10" 177-pound Briscoe to play in the defensive backfield, and even though he was taken in the 14th round of the 1968 draft, Briscoe asked for a three-day trial at QB per Ben Swanson's great piece on DenverBroncos.com.
"I negotiated my contract, and I told the Broncos one thing," Briscoe explained. "I said, I'll play defensive back, but you've got to give me a three-day trial at quarterback. They thought I was crazy. How are you gonna be drafted that late and demand where you play? I said, Well, that's my desire. I believe I can play the position."
And thanks to some bad luck for the Broncos, which ended up being good luck for Briscoe, he found his way from cornerback to quarterback in '68.
The Broncos' should-be starter that year Steve Tensi injured his collarbone in a preseason game, then his two backups were highly ineffective, which led to then head coach Lou Saban inserting Briscoe in Week 3. In that first game, Briscoe nearly led the team to a comeback, but came up three points short.
Over the course of the 1968 season, Briscoe consistently out-played Tensi, who was in and out of games due to that injured collarbone. However, Saban kept turning to Tensi to many fans and media members dismay.
That year, in five starts and 11 games played, Briscoe led the team with 1,589 passing yards, 14 touchdowns and 13 interceptions. He also ran for 308 yards and three touchdowns, and that elusiveness helped earn him the nickname "The Magician."
Briscoe's 14 passing touchdowns remain a Broncos rookie record. And he also threw for 335 yards and 4 TDs against Buffalo, with only two others throwing for 300-plus as a rookie (Elway, Lock).
While Briscoe ended up moving to Buffalo and transitioning to playing receiver, he broke the color barrier at the position 53 years ago. "The Magician" led the way for the young stars we see today at the most important position in American sports. And if Broncos fans get their biggest wish of the offseason, they'll see Deshaun Watson lined up under center for Denver in 2021 and beyond.