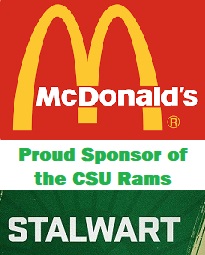 It's two days until the Rocky Mountain Showdown, and shots have already been fired by Colorado State's Jay Norvell in the direction of CU's Deion Sanders.
MORE SHOTS AT COACH PRIME: Colorado State Head Coach Jay Norvell Takes SHOTS at Deion Sanders and Colorado "When I talk to grownups, I take my hat and glasses off, that's what my mother taught me" #CUBuffs pic.twitter.com/IWFWkVKqsS

— Ice Cold Sports (@IceColdSprts) September 14, 2023
Well, if it wasn't personal before, it is now.
And that is likely a bad thing for Colorado State because Shedeur Sanders took what Nebraska head coach Matt Rhule said about his dad Deion in the offseason and then threw for 393 yards and 2 touchdowns last week:
"It was extremely personal… The coach said a lot of things about my Pops, about the program- but now he wanna act nice. I don't respect that."

Shedeur Sanders didn't hold back when asked about if the Nebraska rivalry was personal for him and Colorado ⬇️ pic.twitter.com/yZfQr2SzX9

— FOX College Football (@CFBONFOX) September 9, 2023
Even before Norvell's comments last night during his coach's show, Saturday night's game has been built up as possibly the biggest Rocky Mountain Showdown in history of the 91-game series.
FOX's Big Noon Kickoff will be in Boulder. So will ESPN's College GameDay. In fact, Colorado State has scheduled busses to take student fans to Boulder for GameDay to represent the green and gold on national television. And Pat McAfee's podcast, 60 Minutes, and First Take will be at the foot of the Flatirons on Friday, too.
Everyone wants a piece of Prime. Everyone wants to ride the wave that is the meteoric rise of Deion Sanders' coaching career.
When it comes to CSU and CU football, both Norvell and Sanders inherited programs with problems. CU went 1-11 last year, while CSU went 3-9 before Norvell's first year. That was a similarity. But in most every other way, the two coaches are opposites.
Norvell and Sanders don't just dress differently, they act differently too
Norvell called Deion "PRIME" Sanders out for wearing his cowboy hat and sunglasses during press conferences.
It doesn't end there, though. Sanders wears a customized sweatshirt that reads, "AIN'T HARD 2 FIND," one of his brand's slogans, with a gold chain. Norvell, conversely, has worn a blue-collared shirt that reads "Jay" on a patch, similar to one you'd see someone wearing at a car mechanic shop.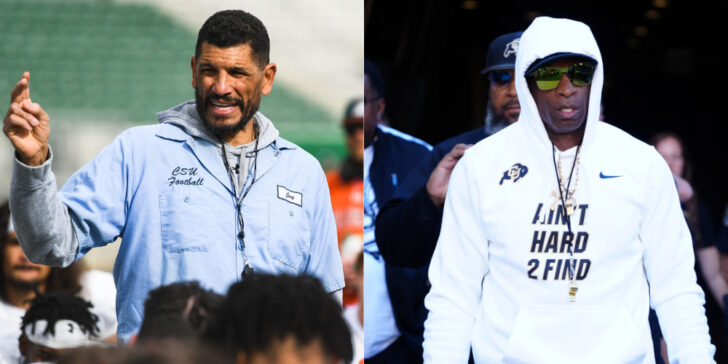 "We want to be a blue-collar outfit," Norvell said in 2022, his first year at CSU. "There's no easy way to be good in this game. You have to do certain things every day. So just like we're working in the car shop, we come every day and put a full day's work in at practice. (The shirt) is a reminder to me that every day we're going to work."
Honestly, the blue-collar shirt fits with not only Colorado State—a school with a strong agricultural background—and with his situation. Look, CSU has been down for many years, it's as simple as that. They've had a losing record in five straight seasons. And at a Group of 5 school, the resources aren't the same as a Power 5 school, and neither are the athletes that want to play there compared to a bigger program.
Norvell knew it would be a long, hard road to turn the Rams into a winner. And while he's recruited well, nothing compares to what Sanders has done at CU.
Prime brought over players from Jackson State—like Norvell did from Nevada—but because of Sanders' personal brand, Colorado was able to bring incredible transfers from all across the country. Players on a different planet compared to anyone at CSU.
Travis Hunter—the two-way superstar—and Sanders' son Shedeur are the most notable. Receiver Jimmy Horn and safety Miles Slusher are two more among a long list of stars at CU currently.
So, not only do they dress opposite of one another, Norvell and Sanders take different approaches to building a team, too. That's not to say Norvell wouldn't do it the same way as Prime if he could. There's just never been a coach who's won over every potential recruit in the country like Sanders has.
It's likely due to his constant brand building on social media and on TV, too.
Deion Sanders has been on The Rich Eisen Show, on FOX Sports with former CU quarterback Joel Klatt, and all the Denver news stations. Heck, Sanders even has his own documentary series on Amazon Prime. Prime on Prime? Now that's great branding!
And his social media presence is like one of those inspirational quote of the day calendars.
This one is in response to Norvell this morning:
Forget what they think or say about u because the only thing that matters is what u think & say about yourself. I need u to stay Positive & Persistent. Today will be better than yesterday but not as good as tomorrow. Believe that! #CoachPrime

— COACH PRIME (@DeionSanders) September 14, 2023
And another from earlier in the week:
Everything that you've gone thru has prepared u for what's next. I Believe that your Now will be so blessed that u will appreciate your yesterdays. Be prepared to experience the things u dreamt of & prayed for. Now is your time baby. #CoachPrime

— COACH PRIME (@DeionSanders) September 12, 2023
Why doesn't Prime just tell his team these inspirational musings in a meeting, behind closed doors? Unless they aren't for his team, but to build his personal brand.
Meanwhile, Norvell rarely tweets and mostly retweets official CSU-related posts.
Just the fact that Deion Sanders calls himself COACH PRIME, in all-caps, on social media is just another difference between the two.
Simply, Sanders is bigger than CU football. His brand comes first. For now, that's working perfectly for him and the Buffs as they've started a perfect 2-0 on the season. But it will be interesting to see what happens when Colorado loses a few games.
That likely won't happen this weekend.
Colorado State was already a 23.5-point underdog against No. 18 CU at Folsom Field.
Most years, the Buffs clearly have better athletes at basically every position than the Rams. This year, the differences could be even more glaring.
And now Norvell gave PRIME and his team even more reason to run over the Rams on their home turf.
It was an interesting 180-degree turn from the complimentary weekly press conference Norvell gave on Monday and calling out Sanders on Wednesday night for his sunglasses and hat wearing wasn't the smartest move from CSU's head man. It also doesn't seem to fit with his blue-collar, work hard every day mentality.
Why not let your play do the talking, coach?
On Saturday night, when the Rams and Buffs show down in Boulder, the two coaches on opposite sidelines are opposite in many ways.
And Colorado State has to hope the two programs won't be headed in opposite directions after the game.