It was a good day for the Denver Nuggets on Monday, setting up a press conference for local media to introduce themselves to the newest members of the Nuggets organization.
Rookies Julian Strawther, Jalen Pickett, and Hunter Tyson, all acquired via what became a four-team trade on draft night, spoke about their college experiences, careers, and expectations arriving on the scene of an NBA champion.
Calvin Booth also spoke to local media, sharing some insights on each of the Nuggets draft picks and how he made the decision to add each player:
"I like to utilize the draft to get archetypes that are hard to get in free agency or the trade market," Booth declared.
"I feel like all of these guys up here on this stage are unique."
Booth also emphasized that in drafting older college players, he feels that the Nuggets will be able to go to each of them during the season for some minutes if the situation calls for it.
"Just getting good basketball players, guys that impact winning," Booth shared. "Often times, those guys have to be in college a little bit longer. I think every single one of these guys, at some point during the season, coach may feel comfortable putting them into the game if we have injuries or if they play really well. I think that's important to have those kinds of guys on our roster when we're coming off of winning a championship."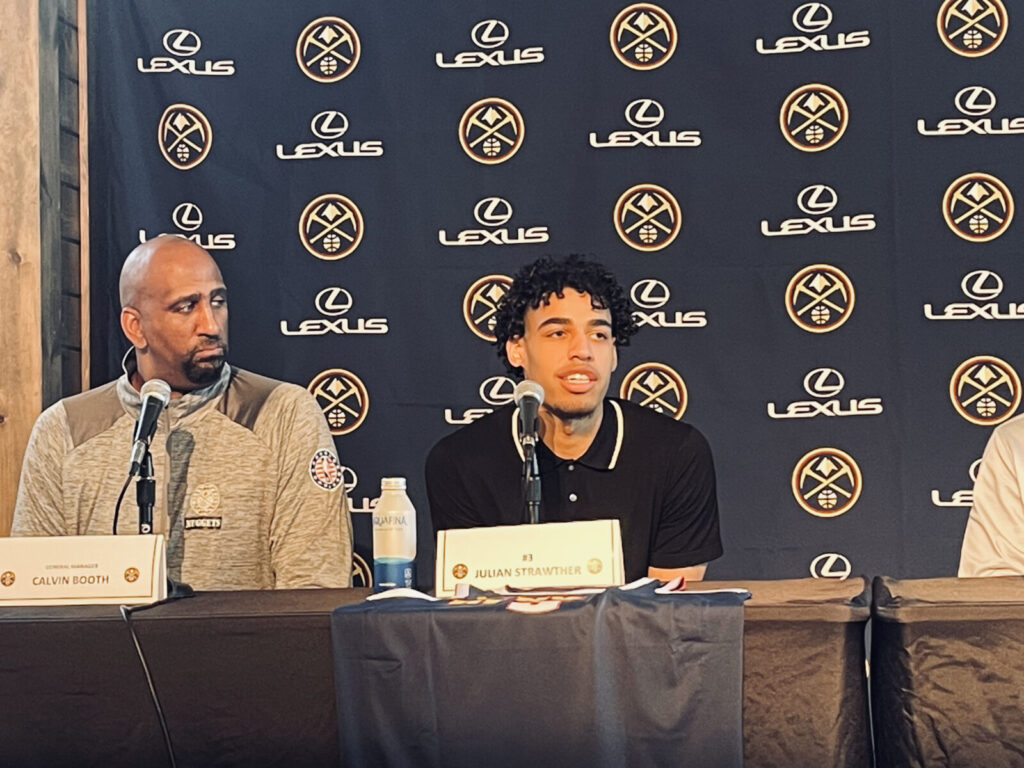 Strawther was the Nuggets pick at the end of the first round, and it was clear Denver hopes to add someone who could impact the game as a floor spacer.
"Draft night obviously was something I've been dreaming of my whole life," Strawther shared about his draft experience. "Just going through that day with my family and friends, having them there celebrating me, it meant the world to me."
"Julian's a great shooter, 6'7″ guard," Booth shared on the obvious fit between Strawther and the Nuggets. There are many tall shooting wings that the Nuggets can draw from to try and help Strawther succeed on their team. Michael Porter Jr. is one of them. Klay Thompson is another.
"Seeing tall shooters, guys like Klay have success in the league. Especially early on in [Klay's] career, what got him on the court was defending. So, being able to focus in on my ability on the defensive end and keep growing that."
Strawther is behind the eight-ball a bit on the defensive end but seems to have a willingness to work on that aspect of his game to get on the court for Denver. He shared his excitement for joining the Nuggets organization, emphasizing how the Nuggets play the right way by sharing the ball and playing for each other:
"I feel like in today's age of basketball, it's kind of getting lost playing for each other and playing to win, so being able to join an organization that's all about winning, all about each other, I mean, it's a blessing."
Strawther also laughed with the media about the photo he shared of Michael Malone flexing his diamond chain during the Nuggets championship parade.
"Obviously, a legendary photo."
— Julian Strawther ✞ (@JulianStrawther) June 23, 2023
Booth and Pickett share a connection via Penn State where both went to school, the only two players in program history to record a triple-double.
"Jalen's a great basketball player all-around and can make others better with his play," Booth emphasized.
"Penn State's a great place," Pickett stated plainly. "Just being able to be successful and follow in Calvin's footsteps and getting drafted is just really special. He's been great so far, and I can't wait to get started."
Pickett decided to pick 24 as his jersey number, something he did on a whim. Former Nuggets point guard Andre Miller sported the number 24 when he was on the roster, and Pickett's game has been compared to Miller's in some circles.
"I think that back down thing is very similar between me and him," Pickett shared of his unorthodox dribbling style to protect the basketball on drives to the basket. "Somebody just sent me a picture of Andre Miller, 24. So, I think that's also kind of funny."
Hunter Tyson hasn't had as strong of a reaction from the Nuggets fan base to his selection, but his answers during the media availability were impressive.
"I've been playing college basketball for five years, have a lot of experience playing high level basketball," Tyson emphasized to us. "Obviously, the NBA is a step up, but I think that experience will help me early on. Also, being at Clemson for five years, I had to accept a lot of different roles. I think that will prepare me for accepting a role here as well."
"Hunter's got an incredible motor, is a great shooter, surprisingly flexible for his game and can play on the wing," Booth shared.
Tyson understands that he probably won't play right away, but he appears ready to learn and soak up as much information as possible to help the team succeed.
"Obviously, they just won the championship, so we'll be in a winning culture," Tyson shared. "Just playing under a lot of high IQ guys. Really just going to learn as much as I can about the game, try to soak it all up, and go from there."
Booth also shared some interesting comments about Collin Gillespie, who's entering the second year of a two-way contract after breaking his leg last August and being forced out for the entire last season.
"We still even have Collin Gillespie who was out all of his last year, so, I almost look at him as part of this class. I know coach Malone values him, and I value him."
"It's hard to find true point guards, and we feel we have two of them in Jalen and Collin. That's going to help maximize the window when we get the guys that we can't have otherwise, and we can raise them."
Booth put together an impressive roster and rotation last season, allowing head coach Michael Malone the opportunity to mix and match lineups until he found the right combinations heading into the playoffs. That roster versatility helped the Nuggets win a championship, and Booth appears to be doubling down.
"I think they're all high character guys. They're all tough. They're all smart. They're all skilled, and I feel like they all bring something a little bit different than we currently have. I think having a balanced roster, a diverse roster, is going to be really important going forward in trying to have a really sustainable organization and team."
The next time Nuggets fans will see all of these rookies will be during Summer League. That will be the first of many steps within their NBA careers, but it will be a nice jumping off point.
"I feel like there's not one specific area I'd pinpoint. It's just improving overall as a player," Strawther said of his Summer League goals.
"For me, the biggest thing will be playing with more pace, and just trying to run the offense at a quicker pace," Pickett shared.
"Obviously, the style is very different than college in a lot of ways, so just being around the organization and the coaches, just really trying to learn the NBA style," said Tyson.
We will see how they do.
Denver Nuggets Summer League schedule:

7/7 vs Bucks at 3pm MT on ESPNU

7/9 vs Hawks at 7:30pm MT on NBA TV

7/12 vs Jazz at 7:30pm MT on NBA TV

7/14 vs Heat at 7pm on ESPN2

— Ryan Blackburn (@NBABlackburn) June 23, 2023