Daylen Kountz is the latest DPL product to bear the mantle of hopeful basketball star
The following article is from the February issue of Mile High Sports Magazine. Subscribe here!
The walk onto the CU Events Center basketball floor isn't anything overly historical from a national perspective. Boulder is not Tobacco Road, dotted with national titles and All-Americans. But when the basketball players exit the tunnel, it's hard not to see a familiar face plastered on the wall in the upper southeast corner of the arena.
Chauncey Billups, even today, remains the most historically relevant Buff of all time. Mr. Big Shot. The King of Park Hill. Billups is a Colorado Sports Hall of Famer. He'll probably end up in the NBA Hall of Fame. But the fact that Chauncey was a product of George Washington High School and the Denver Prep League might be source of more pride to those in the state of Colorado than all of those other accolades.
He's not the first DPL star to do big things — and odds are he won't be the last. But in today's generation of instant news and hot takes, the legend of Chauncey Billups echoes through CU, and those who come to play for the Buffs look to continue the tradition that he kicked off in the 1990's. But DPL stardom began way before then, and it helps to have a collegiate coach around that appreciates the history that the league has created on the hardwood.
"There have been some really good players if you go back to Joe Barry Carroll, Michael Ray Richardson and the guys from back in the 60's and 70's. The DPL has put out a lot of really good basketball players," Buffs coach Tad Boyle said. "I think there's a lot of pride, especially in the City of Denver, that goes into that league in terms of basketball players and basketball coaches."
Boyle hasn't been shy about dipping into the DPL to find talent for his team. Five years ago, a quick point guard from Denver East named Dom Collier became just another high-profile kid to make his way to Boulder.
And he did it in style. In the quarterfinals that year, he went on a run where he scored 26 straight points for East in a win over Highlands Ranch. Then, on the floor of his future home, he guided the Angels to the state title — the last team title for any DPL school in any sport.
"Dom's making it more special, because he'll have won it on his home floor and he's staying in Colorado," Boyle said, prior that championship game against Fossil Ridge.
Ronnie Harrell, one of Collier's teammates, also shined on that 2014 team that went on to win the Class 5A state tournament. Harrell went off to Creighton and is currently on the roster at the University of Denver. The head coach at DU? None other than Rodney Billups, Chauncey's younger brother — another product of GW and the DPL; he also served as Boyle's assistant at CU.
Collier finished his career with the Buffs a year ago. But there was never a void on the roster in terms of a DPL player. It's Daylen Kountz's turn to fill the role that Collier, and Chauncey before him, held as a standout city player who stayed home to play for the state's premier basketball program. Heading to college, Kountz was aware of what it means to come from one of the DPL schools, whether it was East, where he graduated, or GW, where he began his high school career.
"I'd say there's kind of a [reputation]," Kountz said. "For me and where I went to school, it's about being a name, and making sure that I'm representing East well and all Denver Public Schools, really."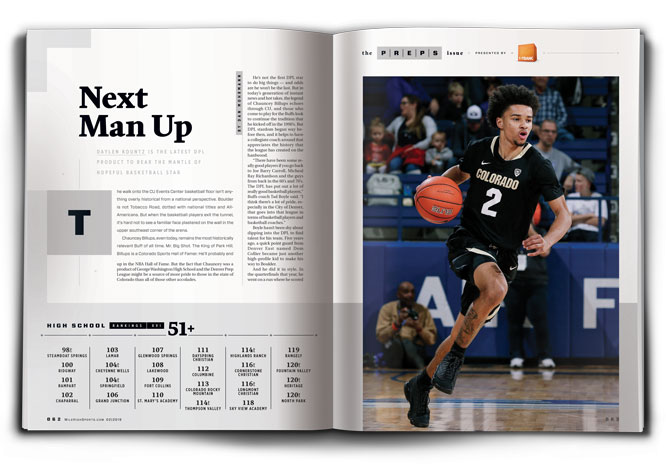 East has been friendly to Boyle and the Buffs. And part the reason for that is both Boyle and East coach Rudy Carey are Colorado guys. Boyle was born in Pueblo but graduated from Greeley Central. He played his college ball at Kansas. The only time he got close to the DPL guys was when he played against them.
"I was a little slow of foot, so there was that quickness factor and that speed factor was a challenge for me," Boyle said. "I always enjoyed that challenge and that opportunity to play because you knew those kids ran, played hard, were tough and loved to play basketball. I enjoyed the challenge, but looking back to some of those summertime battles and even pickup games, it was a lot of fun."
Carey, on the other hand, might be the living embodiment of Denver basketball. A Denver guy through and through, he played collegiately at Colorado State. With neither Boyle or Carey having spent time as a player at CU, it seems a little odd that their bond has been strengthened by Carey happily sending his top guys to play for Boyle in Boulder.
"I'm very appreciative of Rudy Carey, who is a Colorado guy," Boyle said. "He played in Fort Collins, so to have him support our program — and I have a great relationship with him and think the world of him — it's nice to have a couple of his players in this program over the last four years now."
Kountz has been a welcome addition to the Buffs this year. Through mid-January, he was averaging just 5.5 points per game, but with each game he had seen his playing minutes gradually increase. On Jan. 10, he joined the Buffs' starting lineup for the first time, and they went on to crush Washington State 92-60.
He started again two days later against Washington and scored a modest eight points in each game. It's a far cry from the 23 points a game he averaged in his senior season at East. But as a freshman at a 'Power 5' school in the NCAA, he has plenty of room to grow. And it helps to have that image of Chauncey looking down at him, not in judgment, but in a way to help Kountz see that the Denver neighborhoods can produce greatness at any time.
"It makes you want to work hard to reach that status or even pass it," Kountz said. "That's certainly the standard coming in there."
At least in the minds of the players, it is. Boyle isn't keen on the idea of kids thinking that just because they came from a DPL school and play for the Buffs that their career trajectory will match what Chauncey did.
"That's a double-edged sword," Boyle said. "Sometimes they come in here with unrealistic expectations. There's only one Chauncey Billups. When these kids come here, I don't want them to compare themselves to Chauncey; I want them to become the best player they can become. Whether it's Dom Collier or Daylen Kountz or whoever."
And that's certainly not limited to kids from the DPL. Boyle takes pride in going after all Colorado recruits, regardless of what city or league they play in. He's acquired in-state talent from Sterling, Arvada, Monument, Colorado Springs and so on.
That recruiting map fits into what Boyle has said ever since he has taken the job in Boulder. He routinely emphasizes that it is the University of Colorado, and that every kid within the borders of this state are subject to evaluation from the Buffs. He's just as likely to venture down to a place like Sand Creek High School and sit with his back against the wall as he is to post up at Manual High School's Thunderdome to watch whatever DPL game is on the docket.
But he knows the one thing those DPL kids have going for them is that the basketball is intense from start to finish. Simply playing for a Denver Public School doesn't warrant recruitment from CU, but when Boyle is evaluating a potential recruit from one of those schools, he cannot ignore the positive impact that playing in the DPL can have on that recruit.
"That helps," Boyle said. "There are tough kids in that league, and there's good basketball. The one thing a DPL kid isn't going to be is scared. He's not going to be scared of environments. Those are great environments if you get to go down to those games; they're very-well attended."
And it makes for a fun couple of hours. The rivalries that encompass the Denver Public School teams are unique to anything else across the state. Boyle isn't lying when he says that a kid will never be scared coming out of an environment like that.
When Kountz thinks back to his high-school days, the one thing that really jumps into his mind is what came with playing against a rival in a DPL environment. Kountz is no different from any other college player right now, in that all that remains from high school are memories. His time at GW and East had groomed him into a high-school basketball star. That's still a very different process than evolving into a college basketball player.
He certainly learned some things from a legendary coach and developed his game, but thinking back to his time in game situations, there is one thing that really jumps out at him.
"The atmosphere," he said. "I went to George my first year and playing East was intense. Then I went to East and played George. Those games were fun, they were once-in-a-lifetime type of games."
These games didn't happen in arenas where security barriers separate teams and workers from fans. At these DPL games, a blocked shot can easily end up in the hands of a spectator. If a player is inbounding the ball in front of the opposing student section, he's going to heckled, quite literally, within ear shot.
"I'd say it was intimate. In high school, everybody was right on top of you and that's not what it is here," Kountz said. "There's more overall people here, but more space too."
In a way, it makes these kids better and puts them through some pretty nerve-wracking situations. Every high school team has a rival. Every multi-high school district has district pride. Plenty of those can get rowdy, but the DPL games take on a new life on their own.
The recent success of players who come out of those schools adds to the folklore that comes with being a Denver city basketball player, not someone coming from the outskirts. And lately, it seems that the most notable or successful players end up in Boulder. Again, Boyle stresses that they don't get to go there just because they played in that league. But there's no denying that it's common to regularly see high-level talent at DPL schools, and it's thrilling when they decide to stay close to home.
"We're not going to recruit a kid just because he's from the DPL, but it is nice to have some tradition starting and to have those kids that we feel are good enough to come and compete for Pac-12 championships and get them on our campus," Boyle said.
It wasn't always that way. Larry Farmer (Manual) escaped to UCLA. Joe Barry Carroll (East) went to Purdue. Michael Ray Richardson (Manual) headed to Montana.
Even today, Chauncey Billups remains the biggest overall star from the DPL to play college basketball at the University of Colorado. He put the Buffs in the national spotlight even before starting his NBA journey.
He was the Colorado kid who went to the Colorado school and then went on to do great things on a worldwide basketball scale. He is a constant reminder that a city kid from Colorado can reach peaks higher than even the tallest mountain.
It doesn't feel like an accident that from the floor at the CU Events Center, players and fans alike have to look up to see Chauncey. For the players, he is an example of what can be created in that building.
Kountz is the latest DPL product to look up at Chauncey and find his success on his own path. He isn't the first to do it since Chauncey left. He won't be the last. But the King of Park Hill is has become living proof that one day, a fresh-faced college freshman who used to play his games in the crammed gym of a Denver city school can see a path to basketball immortality.
***
*For more from Mile High Sports Magazine, subscribe here!