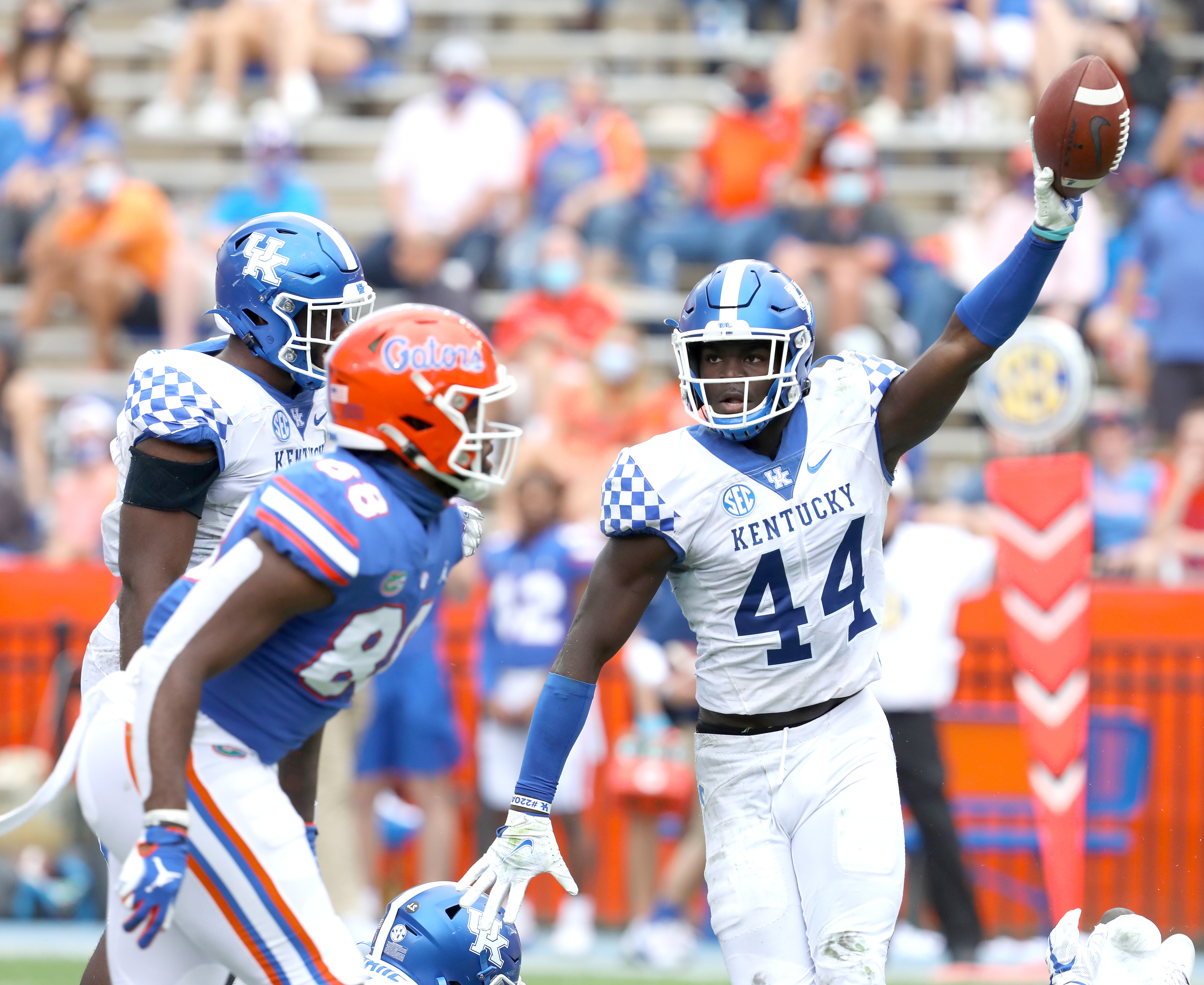 Whether it be through the draft, free agency, or trade, the Denver Broncos have actively been pursuing an off-ball linebacker ever since Vic Fangio took the Head Coaching job in 2019. As early as last year, the Broncos reportedly tried to move back into the first round to select linebacker, Patrick Queen — now with the Baltimore Ravens — but were unsuccessful in their efforts. 
With the draft quickly approaching, the Broncos will have every opportunity to finally fill that position of need but there might not be a better option than University of Kentucky linebacker, Jamin Davis. 
Davis, who was born in Honolulu, Hawaii, was a three-star recruit coming out of high school and was not highly recruited by the perceived football powerhouses. Because of this, Davis chose Kentucky, so he could still have the opportunity to play in the SEC and showcase his abilities against the best opposing talent.
Davis broke into the starting lineup at the beginning of the 2020 season, where he would finish the season with 89 tackles, 2 interceptions, and a sack in only 10 games. This level of production matched with his impressive physical profile makes him a very intriguing prospect in this upcoming draft.  
Positives
Listed at 6'3 and 234 pounds, Davis has the ideal physique for a modern-day linebacker. This blend of length and athleticism was put on display at the Kentucky pro-day where he was able to post some eye-popping numbers, giving him a Relative Athletic Score (a metric used to measure an athlete's overall athleticism using a composite of their pro day results)  of a 9.93 out of 10.
For reference, Broncos linebacker, Josey Jewell, posted a RAS of 5.67 coming out of the University of Iowa.
Davis undoubtedly would serve as a sizable athletic upgrade for the middle of the Broncos defense. Playing in the AFC West, a division that showcases a lot of speed, that athletic upgrade is a necessity and could be the missing piece from Denver's defense reaching the next level
This elite athleticism helped Davis greatly when he was tasked to cover some of college football's best offensive weapons in the SEC. Although not completely refined in his technique, Davis carries a long and wiry frame that made it difficult for opposing quarterbacks to throw over, effectively shrinking the throwing window in many cases. 
Davis also has flashed good awareness while in zone coverage, where he can easily identify wide receivers or tight ends entering his area of coverage, while his burst and lateral movement skills give him the opportunity to quickly close and make a play on the ball.
As a run defender, Davis has the potential to be a true sideline-to-sideline linebacker at the next level.
When he is able to diagnose the play quickly, his athleticism can shine. Scraping from one side to the other, Davis has the tools to make a play on a ball-carrier that the current Broncos linebackers simply cannot make, due to their athletic limitations. This is also an area where Davis' length comes in handy, giving him a massive tackling radius.
While taking on blocks, Davis is still improving but has flashed enough skill and athleticism, to show that this could turn into a strength with some good NFL coaching. His twitch can be used to elude opposing blockers while his length is an asset that can be used to shed the block and pursue the ball-carrier.
Negatives
The biggest concern with Davis is just how little we have seen him on the field.
Although impressive in his one year starting, scouts will be asking if this level of play is sustainable or just a flash in the pan. The limited sample size has also led to obvious inconsistencies in his game.
When it comes to the small things where seasoned vets thrive, Davis is still rough around the edges.
Specifically, diagnosing what the offense is doing at the speed the NFL will require. At this point in his career, he seems a bit slow reacting to the blockers in front of him, which can lead to him being taken advantage of in many cases. This can be a detriment to his chance of playing early on in his career if improvements aren't made.
Another area of concern is his hand usage while taking on blockers in the run. Although he has the tools to succeed, his placement is not always ideal. This means he often plugs gaps instead of engaging offensive lineman and shedding to penetrate the backfield, which can leave evaluators wanting more from Davis.
Verdict
Broncos fans recently witnessed the effect that the speed of the Tampa Bay Buccaneers linebackers, Lavonte David and Devin White, had on the Kansas City Chiefs in Super Bowl 55, effectively shutting down the edges and limiting big plays.
With the Broncos projected starters to be Alexander Johnson and Josey Jewell, they are severely lacking in this area and Jamin Davis may just be the fix they need.
Offering loads of potential as a modern, three-down linebacker, the Broncos would be wise to target Davis in a trade down from their first-round selection or, if available, with their second-round selection. 
Draft Projection: Top 40