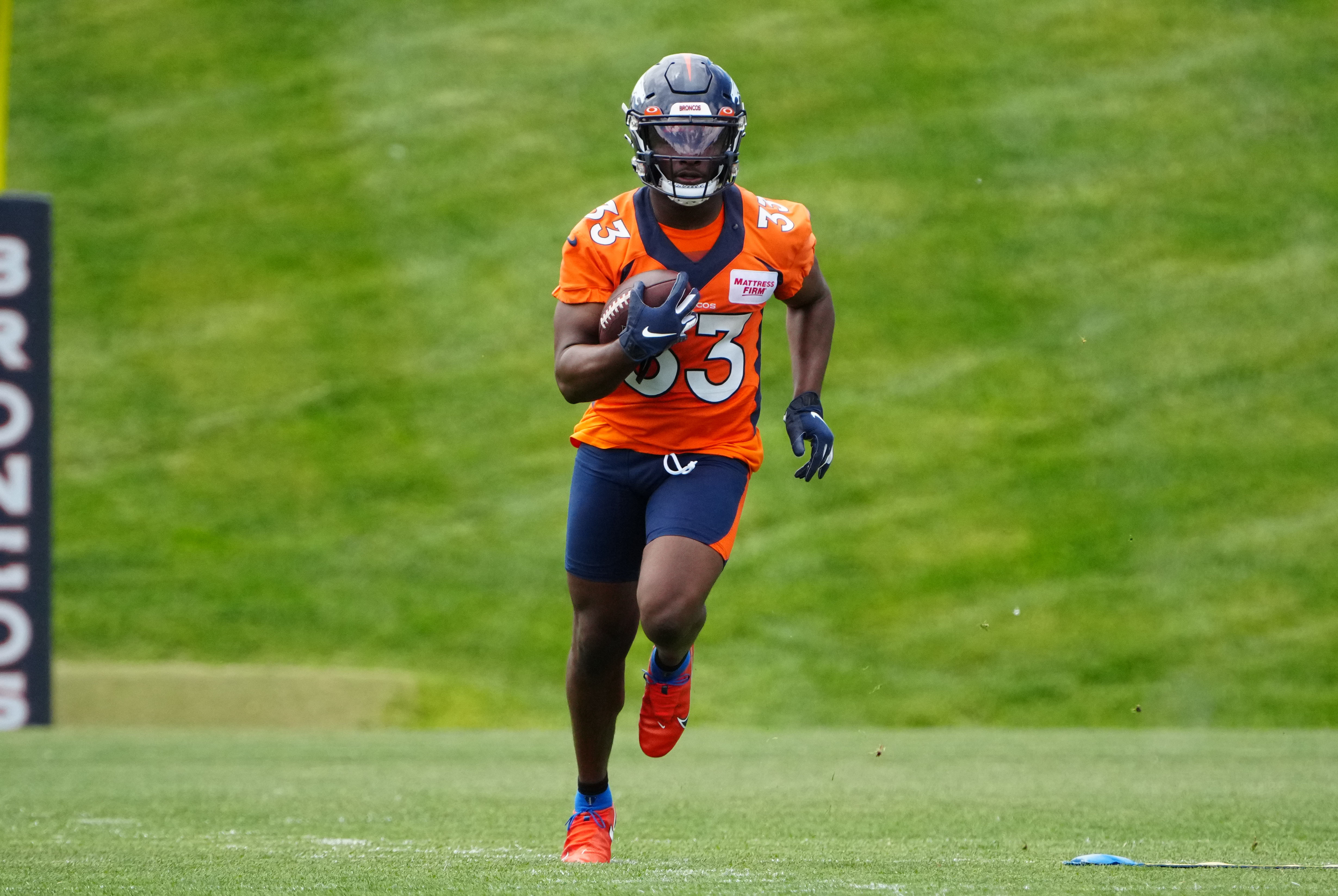 One of the biggest questions for the team this offseason is how much the offense will use Melvin Gordon.
After spending some time testing out free agency, the veteran back ultimately re-signed with the Broncos in late April.
In 2021, Williams and Gordon were arguably the best running back duo in the NFL. They had precisely 203 rushing attempts each, both finishing with over 900 rushing yards.
Going into training camp, the assumption was that the second-year stud Javonte Williams would be the No. 1 back despite Gordon having a better statistical year in 2021. Williams, or as some call him, "Pookie," became a fan favorite in Broncos Country during his rookie season. Fans fell in love with him for his ability to break tackles, a stat category in which he led the league. He undoubtedly brought excitement to what was otherwise an uninspiring season.
However, three days into camp, both backs are neck-and-neck in terms of usage.
Observations from Broncos camp the over two days w/ no pads…

1. If you thought Justin Simmons had hit his ceiling, think again.
2. WR Kaden Davis has some wheels.
3. Russ appears to have a connection with Sutton.
4. RB split looks like it's gonna be pretty even again.

— Benjamin Allbright (@AllbrightNFL) July 28, 2022
On how the team intends to split the carries, head coach Nathaniel Hackett said, "They all do a couple of things different, Javonte goes in there first or Melvin. We want to give them both the ball quite a bit because they're both very good football players. I love how both of those guys are coming along."
While having both backs gives fantasy players a headache, the team is ultimately better with the extra depth.
"Coach, why did you want Melvin Gordon back…"

Hackett interrupts the rest of the question:

"He's Melvin Gordon, man!"

— Sayre Bedinger (@SayreBedinger) July 29, 2022
Though Gordon has previously struggled with fumbles, he has thus far proven to be the more complete back. This is especially true for the passing game.
Last year, Gordon was better than Williams at finding the end zone, with 8 touchdowns compared to 4 for the rookie. Through the air, Williams actually out-performed Gordon, with 316 yards and 3 TDs vs. 213 and 2 TDs. Although, Gordon is heralded for his pass-catching abilities.
This bodes well for Gordon's playing time because Hackett made it clear in his recent press conference that he wants the Broncos' running backs involved in that area. He explained, "But when you add them into the pass game, they're so integral. A lot of people don't know how integral they are because they open up holes for other people, and when holes close, they're the ones that get the ball. When you get the ball to a back in space, we're very excited about that."
With still over a month left in the offseason, there's still plenty of time for a larger divide to develop between the backs. However, no matter how much fans may want it to turn into the "Javonte Williams Show," it seems likely that we're in for a similar split as last season.
Regardless of how the Broncos ultimately decides to use their backs, fans should get excited for what's to come from this dynamic duo.