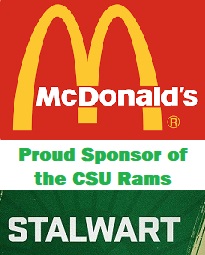 The Colorado State Rams men's and women's teams have the best point guards in the conference, as Isaiah Stevens was named Preseason Mountain West Player of the Year.
On the women's side, McKenna Hofschild was named Mountain West Preseason Player of the Year, too.
Stevens, who came back for his fifth season at Colorado State, is getting ready to lead a stacked roster with talented transfers as CSU looks to make a postseason run this year.
Isaiah Stevens is MW Preseason Player of the Year
Stevens is an elite point guard. Last year with Colorado State, he averaged 17.9 points, 6.7 assists and 3.4 rebounds per game. Stevens was the leading scorer of the team and his 6.7 assists per contest were fourth-best in the nation.
Also of note, his 3.07 assist-to-turnover ratio was sixth-best in the nation last year, and he also made a stellar 37.8% of his shots from downtown.
There's no doubt that Stevens isn't a one-trick pony; he can do a little of everything on the court. And that's why he's the Mountain West's Preseason POY, the first-ever Rams player to earn the honor.
#𝙈𝙒𝙈𝘽𝘽 𝙋𝙧𝙚𝙨𝙚𝙖𝙨𝙤𝙣 𝙋𝙡𝙖𝙮𝙚𝙧 𝙤𝙛 𝙩𝙝𝙚 𝙔𝙚𝙖𝙧

Isaiah Stevens, Colorado State#AtThePEAK | #Stalwart pic.twitter.com/wge89lgrYl

— Mountain West (@MountainWest) October 12, 2023
A quick highlight reel put together by Colorado State:
𝕀𝕟𝕥𝕣𝕠𝕕𝕦𝕔𝕚𝕟𝕘 the 𝗣𝗿𝗲𝘀𝗲𝗮𝘀𝗼𝗻 𝗠𝗼𝘂𝗻𝘁𝗮𝗶𝗻 𝗪𝗲𝘀𝘁 𝗣𝗹𝗮𝘆𝗲𝗿 𝗼𝗳 𝘁𝗵𝗲 𝗬𝗲𝗮𝗿 @IsaiahStevens7 #Stalwart x #TeamTogether pic.twitter.com/SxVu6hj2pY

— Colorado State Men's Basketball (@CSUMBasketball) October 12, 2023
As he is the best player in the conference, it only makes sense that Stevens also made All-Mountain West, too.
#𝙈𝙒𝙈𝘽𝘽 𝙋𝙧𝙚𝙨𝙚𝙖𝙨𝙤𝙣 𝘼𝙡𝙡-𝙈𝙤𝙪𝙣𝙩𝙖𝙞𝙣 𝙒𝙚𝙨𝙩 pic.twitter.com/wvpYycePS4

— Mountain West (@MountainWest) October 12, 2023
Rams picked to finish fifth in Mountain West
No matter how great Stevens is, he and the Rams will be going up against one of the toughest basketball conferences in the nation this year.
First, there's San Diego State. The Aztecs were the first MW team to make it to an NCAA National Championship Game last season. SDSU was rightly picked to win the conference.
In second is Boise State, just ahead of New Mexico. And then there's Nevada in fourth, with Colorado State in fifth.
Coming off its run to the NCAA Championship game last season, @Aztec_MBB is the preseason favorite to win the Mountain West 🔴⚫️⁠
⁠#AtThePEAK | #MWMBB | #GoAztecs pic.twitter.com/d2X1Ft4oz3

— Mountain West (@MountainWest) October 12, 2023
Last season, the Rams went 15-18 overall, and 6-12 in-conference.
This year, they'll be looking to reach that 20-win mark, which CSU did the three years prior under head coach Niko Medved. And in 2021-22, Colorado State made their way to the NCAA Tournament. That year, the 25-win Rams played on the strength of not only Stevens, but David Roddy, too.
In 2023-24, Stevens will be joined by transfers Nique Clifford, Javonte Johnson and Joel Scott. In all likelihood, those three, experienced players will make up the starting five with Stevens and forward Patrick Cartier.
As far as individual marks go, Stevens became the all-time assist leader in Colorado State hoops history last year, and he could become the all-time scoring leader this season. If he can score 672 points, or 21.6 points per game, Stevens would become the scoring leader and pass Pat Durham (1980 total points).
Colorado State's 2023-24 season begins on November 6 when the Rams welcome Louisiana Tech to Moby Arena for an 8 pm tip-off.