New owner, new stadium?
That's the hope, the feeling around Broncos Country. But, what if building that brand new stadium doesn't happen for another decade?
The Denver Broncos just underwent the most influential offseason in franchise history. General manager George Paton pulled off the biggest trade in National Football League history, landing superstar quarterback Russell Wilson to be the face of the franchise.
Denver also fired Vic Fangio and hired Nathaniel Hackett — a young, exciting mind — to lead the Broncos as the head coach.
And just as the preseason is about to kick off, the Broncos were sold to Robson Walton's ownership group for $4.65 billion.
From top-to-bottom, the Broncos are officially in a new era. Bittersweetly, past the Pat Bowlen era, but with great anticipation and hope for the future.
With the deep pockets of the Walton ownership group — who bought the Broncos for a world record price for a sports franchise — Broncos fans are clamoring for a new stadium to watch their team play.
Empower Field at Mile High Stadium isn't ancient, built 20 years ago, but it also isn't one of the state-of-the-art masterpieces we've seen go up across the country in recent years either.
Still, the Mile High City may be waiting for another 10 years before they see the construction of a new stadium.
Why? Let's dive in.
First and foremost, the Broncos have 10 more years on the lease for "New Mile High Stadium." At the Broncos' ownership press conference on Wednesday, Greg Penner spoke about the stadium calling it a "world class facility," which was a bit weird considering even Denver diehards don't think of it that way.
#Broncos Penner on philosophy on new stadium development. "At this point, Empower Field at Mile High is a world class facility. We have 10 years on our lease. We have time to consider our options." #Denver7

— Troy Renck (@TroyRenck) August 10, 2022
Penner, who will hire a team president, may have been laying the groundwork for the team staying in the stadium through 2032.
Beyond having the lease, why else would the super-rich group want to keep it there?
Walton and Stan Kroenke — the owner of the Denver Nuggets, Colorado Avalanche and the Pepsi Center — are brother-in-laws. In fact, Kroenke almost certainly advocated for Walton's group to own the Broncos, even if money talks more than a current NFL owner (Kroenke owns the LA Rams, and SoFi Stadium, too).
Kroenke paid for SoFi Stadium in LA, which is not only a top-notch football stadium, but features retail, commercial office space, a hotel, residential units, and outdoor park spaces. And Kroenke has long been known as a real estate developer, and in Denver he not only owns the Pepsi Center but the land surrounding it, as well as Elich Gardens.
Three months ago, Kroenke announced the plan to redevelop 55 acres of land surrounding "The Can" (Pepsi) which will become multi-use buildings with retail, office space and lofts for living spaces as well. It also includes 10 acres for a park space with bike trails and more.
But that's not all Kroenke is planning on doing.
He's also got a plan in the works for "The River Mile" which is a proposal to build 4.7 million square feet of commercial space, 520,000 square feet of retail space and 7,600 residences, including 937 affordable homes. There are even plans to create schools, recreation centers and to revitalize the South Platte River, too.
Simply, what Kroenke is proposing is a project so large it could expand downtown Denver by 40% with an arts, entertainment and residential district which would overshadow not only the 16th Street Mall but LoDo as well.
And here's the kicker in terms of how it works with the current Broncos stadium: Pepsi and Mile High are on opposite ends of the expansive, proposed project.
It would create a walkable space to go to games, and places to eat before and after games etc.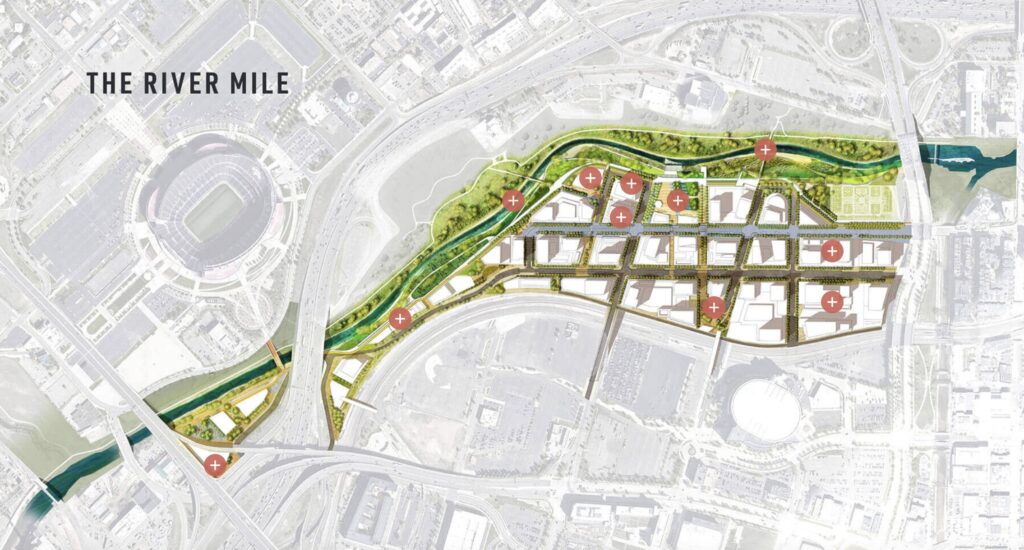 Remember, Kroenke and Walton are brother-in-laws and it seems likely the Walton/Penner group will invest into The River Mile. If/when they do, it would make more sense if their stadium is a short hop, skip and a jump from the new, exciting shopping district.
Look further into the future, and that giant space for the park next to Pepsi Center could actually be the home of the new football stadium. And when it comes to funding it, that has seemed likely to be privately funded by Walton's incredibly deep pockets since he first was interested in purchasing the Broncos.
Of course, all of this is fluid, but the main takeaway is: Don't expect a new Broncos stadium in the near future. It could happen before that 10-year lease is expired, sure, but considering these major development plans, Broncos fans will likely have to wait.
The good news is, if The River Mile and the rest of these plans go through, Broncos Country will have a wonderfully new district to enjoy before and after games. Plus, it's almost certain Walton will fund the stadium, just like Kroenke did in LA.
(Hat tip to Aaron Atencio who tweeted about The River Mile yesterday. We reached out to him about this piece but haven't heard back as of time of publishing.)