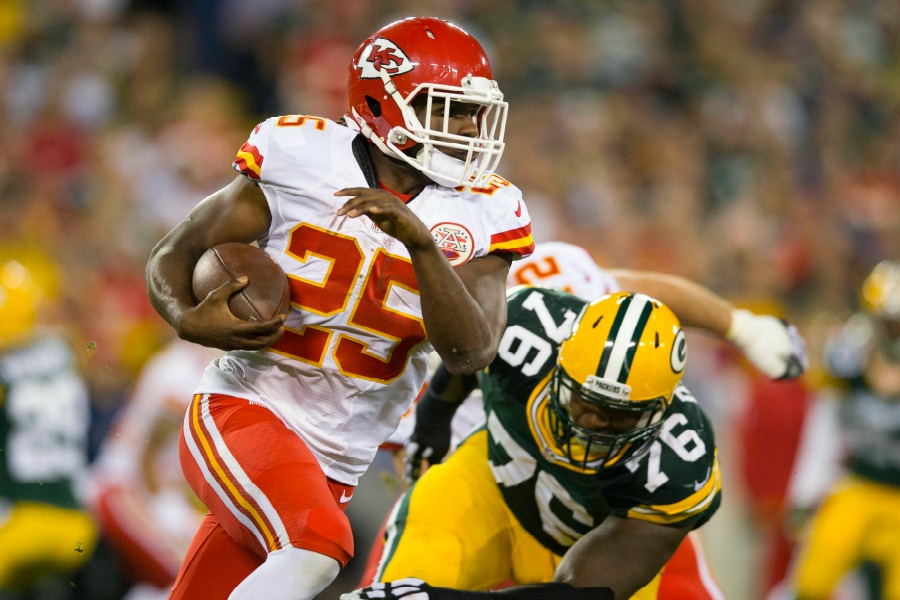 In a savvy, surprising move, the Denver Broncos have signed running back Jamaal Charles to a one-year contract, worth up to $3.75 million. A move that made his new teammate C.J. Anderson very excited.
Many fans will remember Charles as one of the best running backs in Kansas City Chiefs history, known for his electric running and receiving game. During his tenure with the Chiefs, Charles had received four Pro Bowl nominations and two All-Pro nominations.
Charles tore his ACL during the 2015 season and re-injured his knee while coming back to form during the 2016 season.
After heading to Injured Reserve two seasons in a row, the Chiefs parted ways with their longtime superstar. At the conclusion of a visit to Dove Valley, team general manager John Elway was confident enough in Charles' health to offer him a contract with the team.
Charles' presence in the Broncos' backfield could be exactly what they need to get back into the playoffs.
Looking forward to the 2017 season, the Broncos had a need for playmakers on the offensive side of the ball, namely at the running back position.
At times last season, the Broncos were forced to call upon their Nos. 3 and 4 running backs, Kapri Bibbs and Juwan Thompson, for the majority of carries when starters C.J. Anderson and Devontae Booker went down with injuries.
There was a greater emphasis to add depth at the running back position, when the Broncos traded Bibbs to San Francisco on Day 3 of the 2017 NFL Draft.
Regardless of who is made the starter, Charles' veteran presence and proven productivity will be invaluable to the success of the Broncos' running game this season.
Not only can Charles run between the tackles, but his ability to catch out of the backfield will be even more valuable to the Broncos, as both Trevor Siemian and Paxton Lynch continue to get comfortable in new offensive coordinator Mike McCoy's offense.
Having a reliable running back to check down to if a quarterback is in trouble could be the difference between a new set of downs and a third down sack.
The reason Charles has gone unsigned for so long is the same reason the Chiefs parted ways with him: His injury history.
When asked about missing most of last season during his introductory conference call with reporters on Tuesday, Charles answered:
"I just wasn't ready last year. I didn't tear my ACL. I just went in there and got it cleaned up on my meniscus. That's what it was. I wasn't ready last year. If you go to my website, I'll tell you the story of what happened. I just wasn't ready."
After two years to heal his injured knee and get himself healthy, Charles will push for playing time in the Broncos backfield, where he thinks he will fit in well. Specifically with the incumbent starter, Anderson.
"I just love C.J. Anderson's game," Charles said. "He's powerful and he's fast. He is physical and he breaks tackles. Just playing with a guy like that, I just want to come in here and help the team with my explosiveness. I want to come up and play for each other and push each other to get better. That's the goal at the end of the day. Now we're on the same team, so we're going to try and push each other to get to the one goal, and that's another Super Bowl."
Anderson was very clear that the feeling was mutual.
Welcome to the room @jcharles25 ?

— Cj Anderson (@cjandersonb22) May 2, 2017
His game is super amazing excited to have my big brother join us pushing each other every day to be great ? https://t.co/8WzAmi9NNB

— Cj Anderson (@cjandersonb22) May 2, 2017
Charles, Anderson and Booker figure to be a formidable trio out of the Denver backfield, and with a re-tooled offensive line and a year of experience under the belts of Siemian and Lynch, the Broncos look primed to reclaim their spot atop the AFC West.