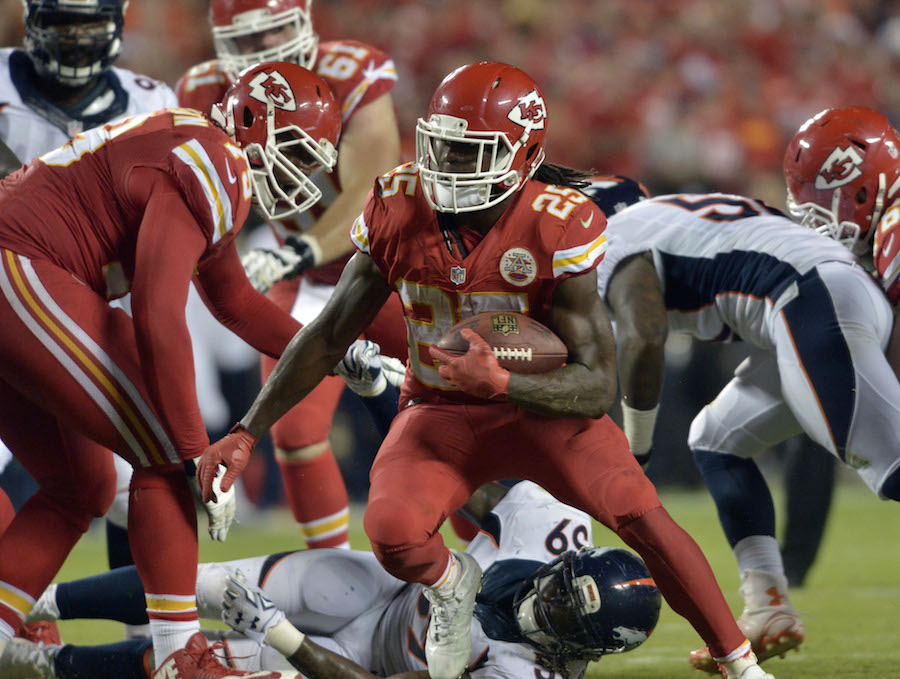 Speed, elusiveness and agility are all valuable characteristics of an NFL running back. Newly acquired Denver Broncos running back Jamaal Charles brings all of this to the table. However, some Broncos fans may be hesitant about the signing, seeing as Charles has had three-season ending knee injuries in his nine years in the NFL, including last season. In his introductory conference call, Charles discussed exactly what was wrong with his knee last year.
"I just wasn't ready last year," Charles told the Denver media. "I didn't tear my ACL. I just went in there and got it cleaned up on my meniscus," Charles said on the conference call. "That's what it was. I wasn't ready last year. If you go to my website, I'll tell you the story of what happened. I just wasn't ready."
In a self-authored post on his website in January, Charles said he doesn't feel the meniscus tear occurred because he came back too early. It was his determination to get back on the field as soon as possible that may have caused the injury.
"There's been speculation that I tried to come back too quick, or that I wasn't ready, but I honestly don't think me coming back to play is what caused this to happen," Charles wrote. "I think, if anything, I was doing too much extra work on top of what I was doing with the team and the trainers."
Charles returned from his 2015 ACL tear in Week 4 of the 2016 season, and things were going fine. Kansas City had a bye in Week 5, and he played relatively well against the Oakland Raiders in Week 6. It was the following week after a practice when Charles started to notice a problem.
"We were running through some drills, and when I went to make a cut, my leg just locked up. It wasn't painful—there was just something weird about it. It locked up, and I couldn't walk. I had to be carted off the field," Charles stated. "They did an MRI, but you couldn't tell what was going on or what was wrong with me. After you have a knee surgery like I had, it's hard to tell from an MRI what's going on. I just knew for myself that even after they worked on my leg, something wasn't right. I wasn't the same."
Despite the injury, Charles decided to test the knee out against the New Orleans Saints that week, and after one carry let his running backs coach know he couldn't finish the game. The following week, Charles realized that what he thought to be a minor issue was in fact quite serious.
"When it really got real was that next week. I was at home playing with my daughter. She grabbed my leg and it locked up, just like it had at practice," Charles wrote. "At that point, I started thinking, 'How am I going to go out on the field and play if I can't even play with my kids?' My daughter is four years old. If her grabbing my leg is going to cause it to lock up, imagine what would happen if a 300-pound dude fell on me."
After unsuccessfully trying to play against the Indianapolis Colts, Charles took a flight to Pensacola, Fla. to visit Dr. James Andrews to assess the issue. At first glance, Andrews couldn't quite figure out what the problem was, but as he put Charles through a variety of workouts, the problem became more and more clear. After performing an arthroscopy on Charles' knee, Andrews determined it was a torn meniscus, and provided Charles with two options: have it surgically repaired or to let it heal.
"I was given the option to let it heal or have surgery, and I made the decision to go ahead and get the surgery because it was already on my mind. I didn't want to be tentative on the field, wondering if my leg could lock up at any time. If I get hit, knowing that I'm not healthy, that puts doubt in your mind. I'm not about to play like that," Charles admitted.
Charles had a chance to return and play last season, but decided to have the other knee cleaned out as well so there would be no limitations. Fast forward to now, and Charles plans to join the Broncos on Monday for team workouts. With his injuries hopefully in the rearview mirror, Charles could have an immediate impact on a Broncos running game that ranked 27th in the NFL last year.
Fans looking for the full story in Charles' words can click HERE.