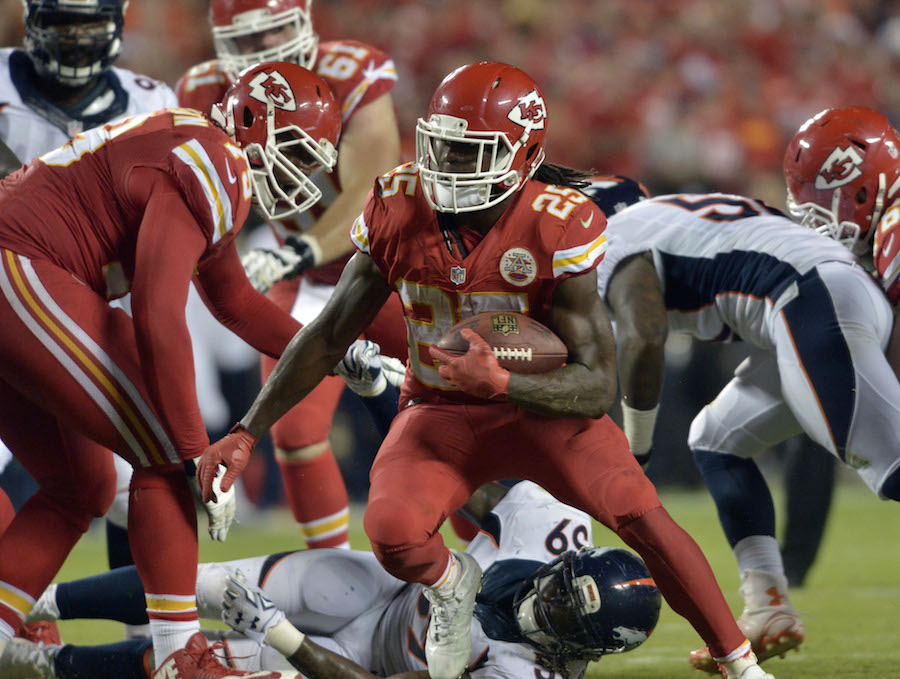 Everyone in Broncos Country kept a watchful eye on how many bench press reps Christian McCaffrey rattled off at the NFL Combine on Thursday, but the Stanford standout and son of Broncos great Ed McCaffrey may not be the best back available to bolster Denver's run game.
With NFL free agency beginning next week, the Broncos have their fair share of needs. The Broncos have to rebuild the offensive line, improve the defensive line and add a weapon on special teams. The one position flying under the radar where Denver could stand to improve is running back.
Rookie Devontae Booker led the team in rushing with 612 yards in 2016. C.J. Anderson was expected to be the bell cow back after signing a big offseason contract, but Anderson rushed for only 437 yards before a knee injury ended his season in Week 7. Justin Forsett and Kapri Bibbs added 155 yards and 129 yards respectively. Production from the entire unit was definitely down considering the expectations media and fans had going into the season.
As it stands right now, the Broncos are set to go into 2017 with Anderson, Booker, Bibbs and Andy Janovich as their backfield options. Juwan Thompson could get some run as well; however, Denver did decide to put him on the practice squad after the 2016 preseason and only called him back on the team because of injuries.
The reality is, there are a ton of options out there for the Broncos to improve at the running back position. The Kansas City Chiefs recently released two-time First-Team All-Pro Jamaal Charles. Adrian Peterson, a five-time First-Team All-Pro, will also test the market for the first time after the Minnesota Vikings declined to pick up his option for 2017.
The upcoming draft is also loaded at running back with the likes of Leonard Fournette, Dalvin Cook and McCaffrey. The opportunity will be there for the Broncos to possibly move up to draft one of these three running backs if they really wanted.
Let's break down all of Denver's options.
Adding a running back in free agency is a possibility. Peterson would not make much sense in Denver. He will be looking to be the No. 1 option and there is not that type of room in the Broncos' backfield. Peterson will also most likely be commanding a heavy price from any team looking to sign him. Eddie Lacy could be an option; however, he has really struggled in recent years. Denver could also look to Danny Woodhead or Latavius Murray in free agency.
As far as the draft goes, my opinion is that Fournette and Cook will be long gone before the Broncos pick or even consider moving up. There is a better chance for Denver to stay put or move up in order to draft McCaffrey. This would make a lot of sense for multiple reasons.
McCaffrey has obvious ties to the Broncos organization. Additionally, he could be the weapon Denver needs in the running game, passing game and as a threat on special teams. He also seems to be a great character guy and a pro's pro.
Other than drafting McCaffrey, the only other logical addition at running back would be to sign Charles in free agency.
When healthy, Charles is a nice change of pace back that has the ability to break big plays in both the passing and running game. It is likely that Charles can be signed at a reasonable price and would likely accept a secondary role where he only would touch the ball seven to nine times per game.
This is really what the Broncos need. Denver does not need a primary running back with the likes of Anderson and Booker on the roster. The Broncos do need a secondary running back that can serve as a play maker in the backfield and on short passes. Charles and McCaffrey fit that bill.
Both would present a potential risk though. We do not know how healthy Charles really is coming off his second torn ACL. We also do not know how much Charles has left on the field. McCaffrey would not pose a risk on the field; however, I believe he is a first-round pick, and that opens up the question what Denver would pass up as far as offensive and defensive line help.
When looking at both Charles and McCaffrey as logical options, the best choice in my opinion would be Charles. I have nothing at all against McCaffrey, it is just the fact that Denver must look to rebuild their offensive line or improve their defensive line in the first round of the draft. Perhaps the Broncos could get an additional first round pick by moving some of their other nine picks in the other rounds, but that opens up a completely different conversation.
So here it is: The Broncos should sign Charles in free agency. He should be cheap, team oriented and championship hungry. Most importantly, if healthy, Charles will give Denver the big play threat the team has been lacking. Lets make this happen.