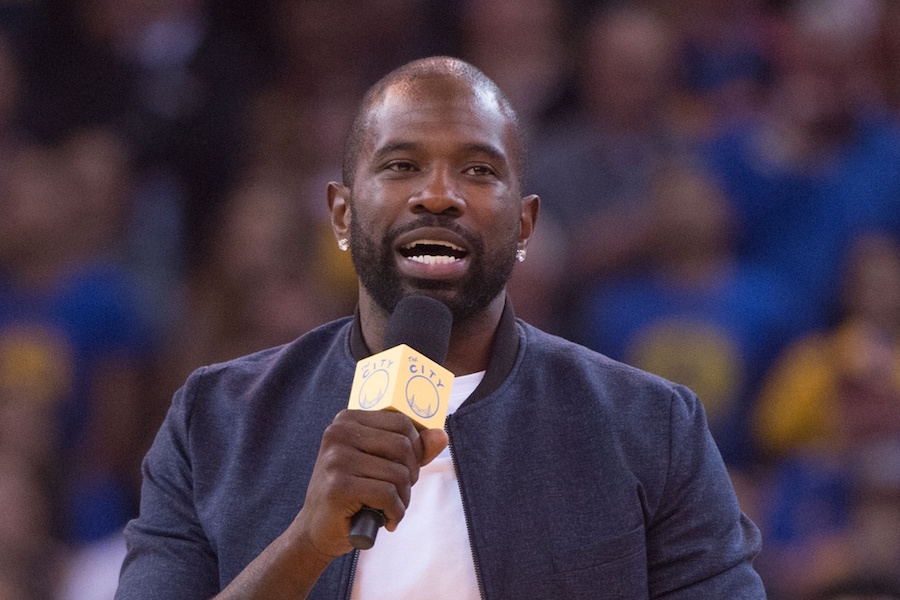 Luckily for Golden State Warriors fans (the ones before Steph Curry and KD) and Michigan State fans, eighth grade Jason Richardson's hockey skates didn't fit.
Home Grown Sports of Mile High Sports 1340 AM | 104.7 FM welcomed the two-time Slam Dunk Champion to talk about his journey in sports.
Richardson, born in Saginaw, Mich., was never into just one sport. Playing outside all day until the street lights turned on and they had to go home, he and his friends would go buy whatever cheap sporting equipment they could find to play together. From ice skates, to tennis rackets and golf clubs, they wanted it.
Of all the sports he played, Richardson liked hockey the most and wanted to play professionally one day. His favorite player to watch was Detroit Red Wings Hall of Famer Steve Yzerman. However, little did young Richardson know, his large feet would prevent him from trying to make that dream come true. Entering his last year of junior high, Richardson could no longer fit his  skates.
"By the time I got to the eighth grade my feet got too big for custom skates. I had to give the sport up and focus on basketball, football and track in high school."
By his junior year of high school, Richardson decided to focus on just basketball, and the rest was history.
Richardson went on to play for Coach Tom Izzo at Michigan State where he won a NCAA Championship his freshman year and was a key reserve for the Spartans. The following year Richardson was a 2001 second-team All-American, the team's leading scorer and named to the Big Ten First Team.
After his sophomore year, Richardson decided to enter the NBA Draft and was selected fifth overall by the Golden State Warriors. During his first two seasons Richardson was the two-time NBA Slam Dunk Contest champion, NBA Rookie Challenge MVP, and named to the NBA All-Rookie first team.
He logged more than 29,000 minutes for five NBA teams over 13 seasons. While he never called the Mile High City home, Richardson was plenty comfortable against the Nuggets. In 38 games he averaged 17.2 points, 5.5 rebounds and 3.2 assists.
Richardson was a fan favorite due to his natural scoring ability and crazy dunks. Fans have his big feet to thank for that.
Listen to the full Jason Richardson interview, including his thoughts on his time at Michigan State and with the Golden State Warriors, in the interview below.
Catch Home Grown Sports with the Home Grown Bros every Tuesday through Thursday from 10p-midnight on Mile High Sports AM 1340 | FM 104.7 or stream live any time for the best local coverage of Colorado sports from Denver's biggest sports talk lineup.