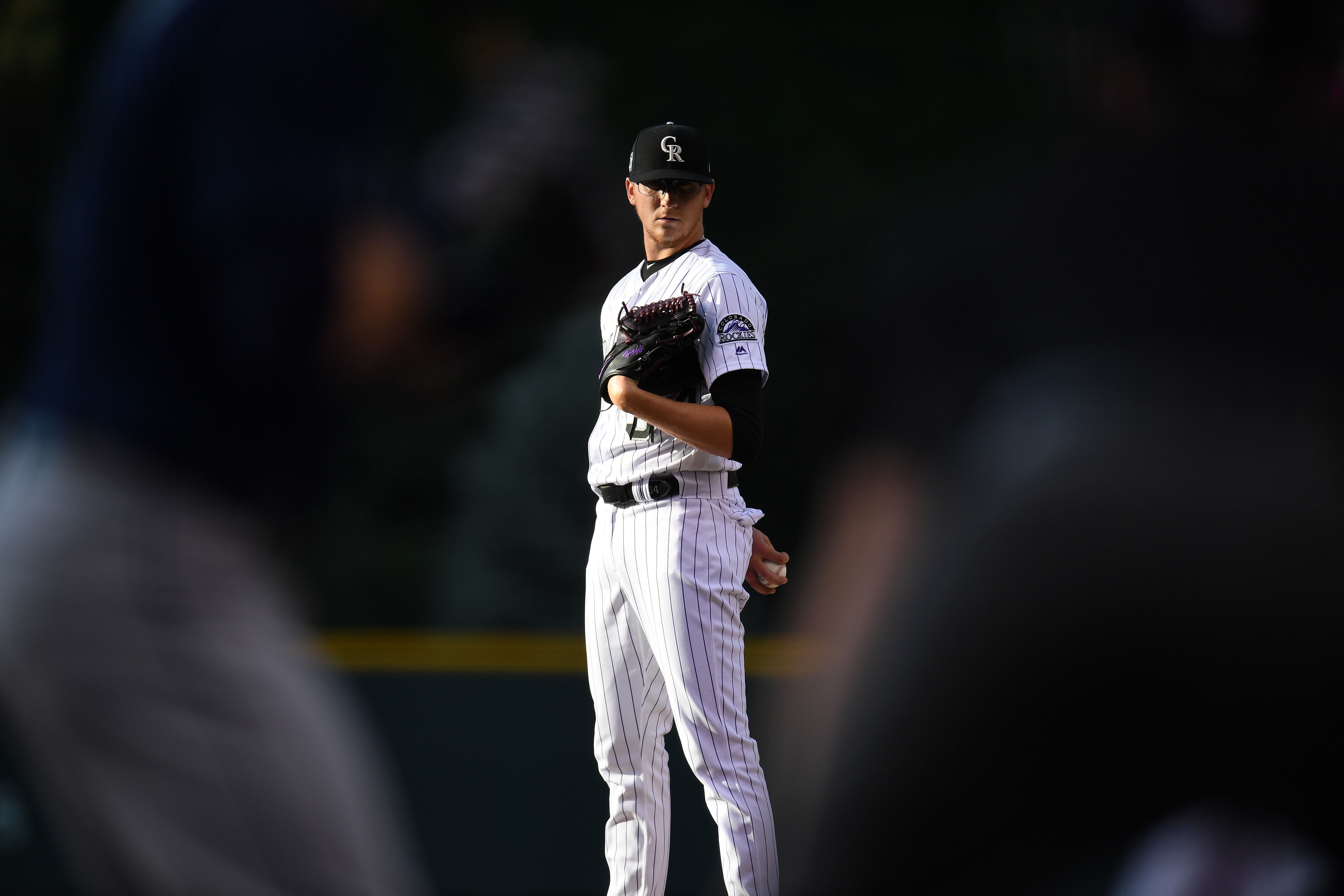 Giving someone multiple chances, specifically in sports, can often result in them rewarding a club's unwavering fate. For the Colorado Rockies' Jeff Hoffman, he is receiving another opportunity to prove his worth.
On Monday, Kyle Freeland was placed on the 10-day injured list, opening the door for the young Hoffman. Thus far, his 2019 has been a struggle.
For Triple-A Albuquerque, Hoffman has appeared in three separate contests, with two coming as a starter. In his 11.2 innings, the former top prospect has allowed 18 earned runs. His last start was a culmination of his woes, allowing a career-high 10 earned runs, 10 hits and another career-high, four home runs, in only four innings.
The back end of the Rockies rotation has been in shambles for much of the year, with Chad Bettis and Tyler Anderson failing to find their footing. Though Bettis is now in the bullpen, the Rockies have glaring question marks in each starter outside of their top three (Jon Gray, German Marquez and Freeland).
Hoffman represents an even bigger issue for the club.
The Rockies chose to take a chance in a blockbuster deal, featuring the pillar of the franchise for several years at shortstop. Troy Tulowitzki was deteriorating but still held value. The Toronto Blue Jays took the plunge, sending the Rockies their top pitching prospect at the time in Hoffman, along with a large salary in Jose Reyes and another pair of minor league arms.
For the Rockies, only Jesus Tinoco and Hoffman remain from the haul, with the former, at 24 years old, still without a major league appearance. The team also paid Reyes up until the end of last season, though he was no longer on the team.
Though bullpen help is always warranted, Tinoco's shift to a full-time reliever isn't ideal. The Rockies figured their haul was far greater, but hindsight proved them wrong.
The trade could be argued to be a lose-lose proposition, succumbing to the lack of success Hoffman has had in his many tenures with the club. Tulowitzki has bounced around between American League East teams, currently on the New York Yankees roster, proving the claim would be just.
Unless Hoffman can put it together.
During the offseason, the lanky right-hander went to Driveline, similar to his spring training teammate, Gray. The help was embraced and left Hoffman surprised at the number of tweaks that had never been proposed.
"First thing I did (this offseason), I went up to Driveline and met up with those guys," Hoffman said in spring training. "They assessed me in ways that I hadn't been previously (and) we determined there were a couple of areas I needed to get stronger."
That help has yet to pay off, with his aforementioned minor league numbers serving as an alarming downward trend.
The opportunity for Hoffman comes against a Washington Nationals squad that he has faced only once before. In that start, he hurled six innings and allowed three earned runs, striking out three, while walking four. He also surrendered a long ball to new teammate Daniel Murphy.
A lot has happened since Hoffman debuted against the Chicago Cubs in 2016. Tuesday night's start, his inaugural outing of 2019, looms large.  The rotation has lent itself to adding a new face, with Hoffman hoping to ensure his right to the vacancy.