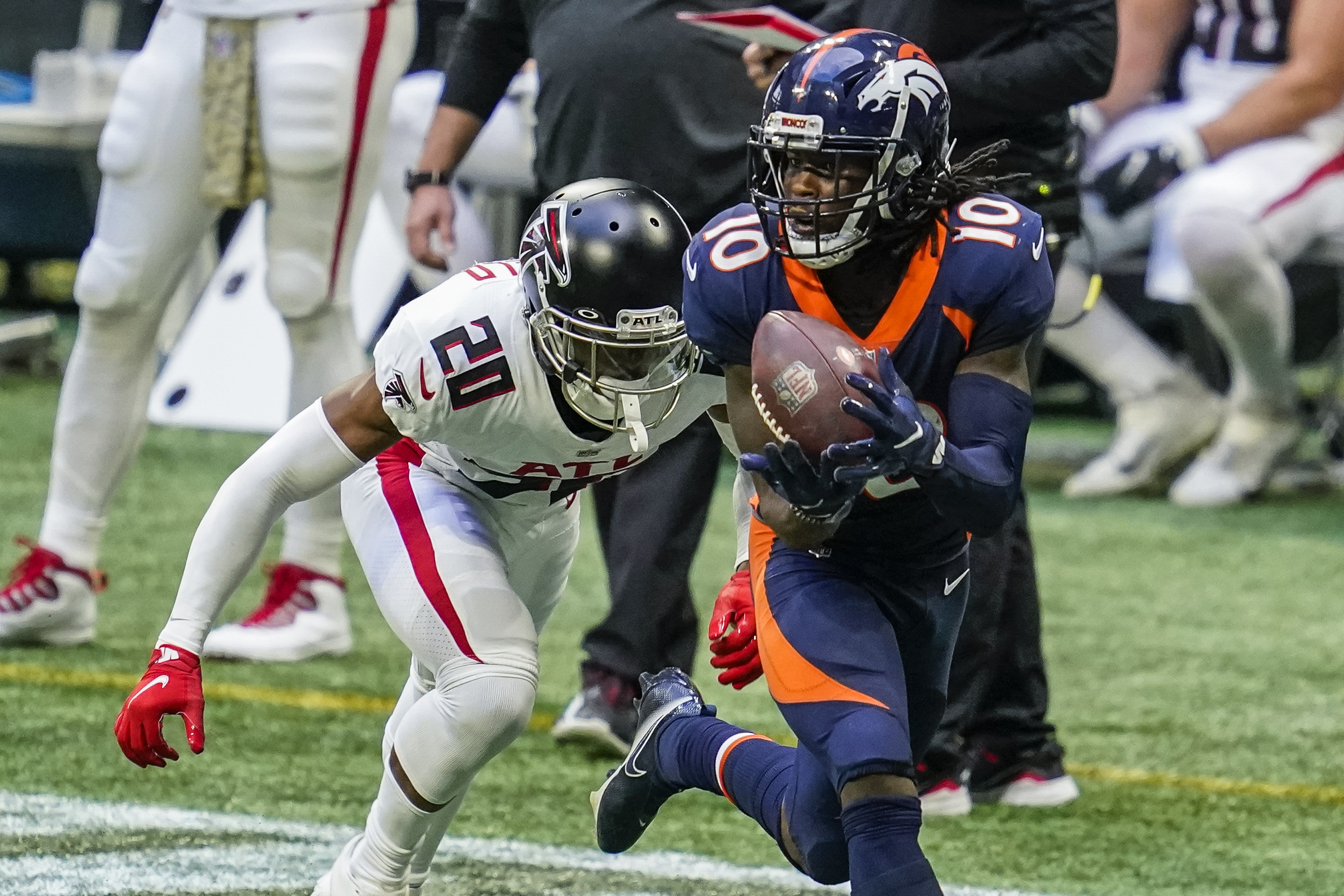 The first two seasons of Jerry Jeudy's NFL career have been relatively disappointing. The player once viewed as the best receiver in 2020's loaded wide receiver class has stumbled out of the gate and needs to right the ship in 2022.
Jeudy is expecting to do just that, now that he has a quarterback and offensive play-caller he can trust.
"[My expectation is] just doing better than I did last year," Jeudy told the press on Tuesday. "[I'm] just focused on the little things, the details, and just becoming a better player than I was the past two years. Russ [Wilson] coming in and [Head Coach Nathaniel] Hackett, and all the other guys coming in—I mean, our offense is a better offense. I'm excited for this year."
Although having a Hall of Fame quarterback installed in the offense is sure to motivate any pass-catcher, Jeudy says his greatest motivating factor is becoming the star he knows he can develop into.
"I motivate myself because I know the player that I could be and the potential that I have. Having Russell [Wilson], it's just going to make me a better player also. I'm just excited to see how this season goes."
Jeudy isn't the only one who believes 2022 could be a turning point though. Justin Simmons, who has been tasked with covering Jeudy during every practice over the past several months, thinks Jeudy is gonna be a nightmare for opposing defenders all season long.
"Jerry [Jeudy] is going to be dangerous," Simmons gushed to the media. "The way that they've been using him and the way we've had to really key in on him in just OTAs. Training camp is obviously going to be amped up more. Jerry is going to have a heck of a year; I can't wait to watch him play and just to be let go. Just run free and do what he does best. He's one of the best route runners I think I've consistently gone up against over and over. You have to lock in, know where your leverage is and know where your help is because if you don't, he can make you look silly in practice. I'm thankful for that, too, because we go up against a lot of guys that are talented, but Jerry is special, for sure. I think it's going to be a big and great year for him."
If Jeudy finally unlocks his potential, it would be a major development for the Denver Broncos offense.