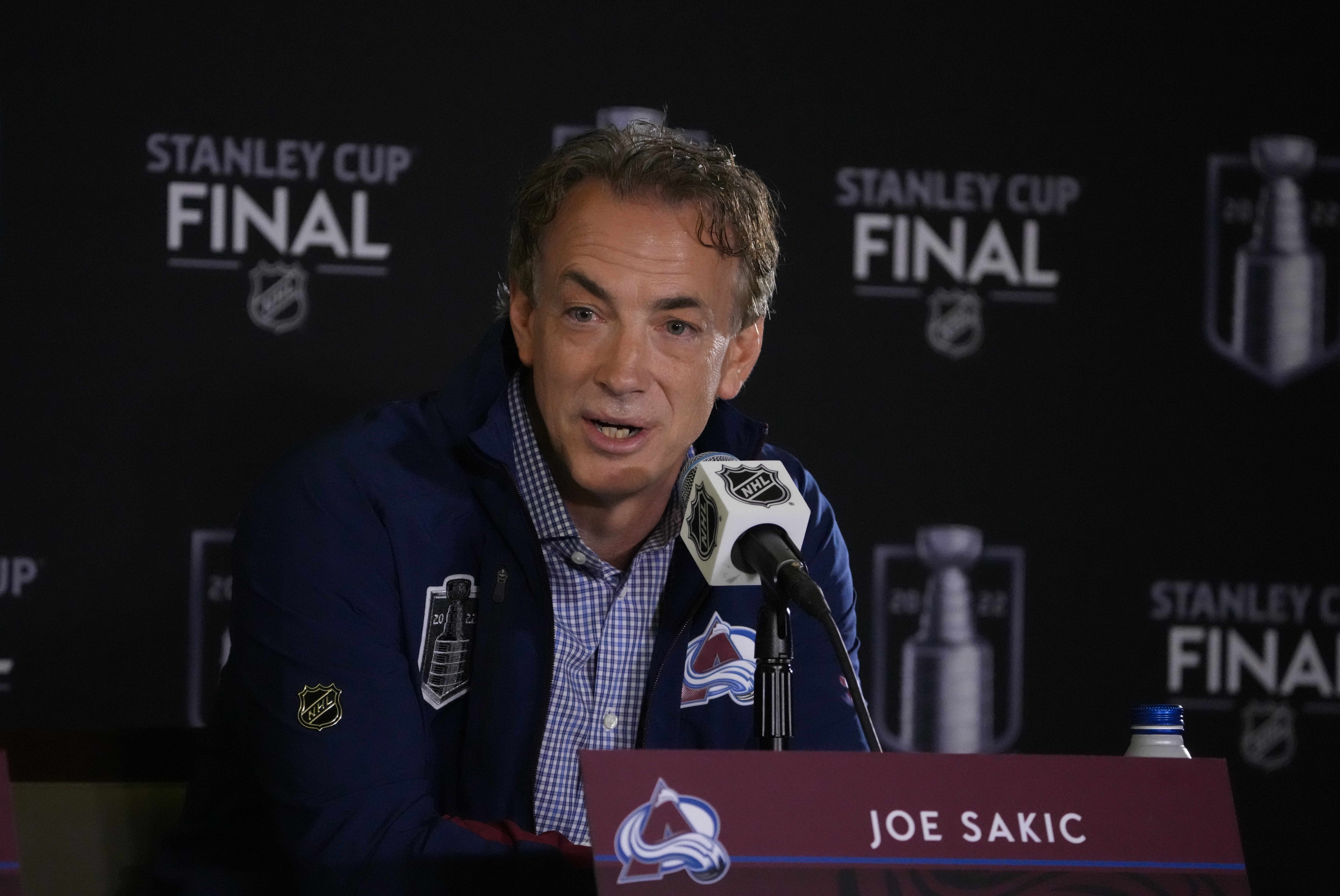 Calling for Joe Sakic to lose his job in the summer of 2017 —  shortly after the Avalanche's lowly 48-point season — was something most, if not everyone around the hockey world could agree on.
The general manager of the team he once captained was at a crossroads. They were one year removed from the sudden resignation of head coach Patrick Roy and replacing him with an AHL champion in Jared Bednar. The season unraveled pretty quickly and the team suddenly had more questions than answers among its core.
Listen to "Stanley Cup Final Preview" on Spreaker.

But at a time where the Avs could've fired Sakic, or Sakic could've relieved Bednar of his duties and traded a number of core pieces away — the Avs were patient. Sakic was patient.
And five years later, Sakic and Bednar are leading the charge as Colorado plays for the Stanley Cup, matching up against the two-time defending champion Tampa Bay Lightning.
"It's a belief. It's a belief in your core," Sakic said on Tuesday as members of the Avs and Lightning spoke on media day before Game 1 of the Stanley Cup Final at Ball Arena on Wednesday. "You have to learn, you have to grow and over time we kept getting a little bit better."
The #StanleyCup starts tomorrow 🏒@runwriteAarif and @JJoftheYear have a quick update from media day at Ball Arena 👇#GoAvsGo pic.twitter.com/Qv1BfMaRPA

— milehighsports (@MileHighSports) June 14, 2022
Sakic had opportunities to trade captain Gabriel Landeskog but stuck with him. He could've shaken up the locker room and sent veteran Erik Johnson on his way but stuck with him. Nathan MacKinnon was a star in the making, but not yet there. Sakic was patient with him as well.
"I've been with Gabe a long time. We were roommates his rookie year. We have a lot of good memories," Erik Johnson said.
Johnson was acquired just a few short months before Landeskog was drafted in 2011. He remained with the team through it all, eventually seeing MacKinnon get drafted two years later and Mikko Rantanen in 2016.
"Nate and Mikko, also good friends. We've been the guys that have kind of seen it all and stuck it through, and when we went through a really poor year in '16-17, some guys wanted out, some guys wanted a fresh start and that was their right. But we all wanted to stick together and try and get it done.
"That's an extra special feeling because we really put in the work and you want to see that work come to fruition."
Sakic only traded Matt Duchene — one of those players that openly expressed wanting out. The result of his patience and only the one big trade was an eighth-seed playoff appearance just 12 months later. Colorado battled the top-seeded and eventual Stanley Cup finalist Nashville Predators for six games before bowing out.
The next three years saw the Avs reach the second round before falling in seven games twice and then six games in 2021.
"Certainly a lot of lessons have been learned over the last five, six years from myself, from our team going through some heartbreak in the playoffs," Bednar said. "Even the last couple years I think have made us a stronger group, a more resilient group, a team that's been mentally tough for the bulk of the season."
Following last year's six-game series loss to Vegas, many were questioning Bednar's abilities to coach this team through the big moments. But in a summer that saw change among the depth and at the starting goalie position, Sakic once again stuck with his coach. And Bednar's lessons over the past three years culminated in what the 2022 Avalanche have been able to accomplish.
A team that swept two rounds, has just two losses and is appearing in the Stanley Cup Final for the first time in 21 years with a shiny 12-2 record.
"We had to focus on what it would take to win come playoff time right from Day 1 of training camp," Bednar said. "It's really helped our group in its consistency."
__
Aarif Deen is our Colorado Avalanche beat reporter. He covers Avs games live from Ball Arena and attends practices, media availabilities and other events pertaining to the Avs on the daily beat. He is also a co-host of Hockey Mountain High: Your go-to Avalanche Podcast. Deen joined Mile High Sports upon completion of his bachelor's degree in journalism and master's in business administration from the University of Michigan – Dearborn. Before Mile High Sports, Deen worked for the Michigan Wolverines Athletics Department as the assistant sports information director.
Listen to "Stanley Cup Final Preview" on Spreaker.