Joel Scott is looking to cement the legacy of Lewis-Palmer's first-family of basketball
The following article is from the March issue of Mile High Sports Magazine. Subscribe here!
When Josh Scott helped lead the Lewis-Palmer boys basketball program to its second-ever state championship, it was a big deal. As a senior, Josh got to share the experience with his younger brother Jordan.
Then there were three others. Joseph was a freshman at L-P but would make his athletic marks in football and wrestling. Jonathan sat in the stands as an eighth-grader, chomping at the bit to get his chance to celebrate a state title. He would get it just a year later as he and Jordan helped the Rangers win a second consecutive 4A crown.
Then there was the boy in the orange hat. Joel, the youngest. And arguably the most passionate Lewis-Palmer fan in the stands.
He always stood out because he would wear an orange hat; orange being the predominant color of the Rangers.
"He had this orange hat with an orange sweatshirt," Josh said. "And if you took his orange hat, he'd get angry about it."
Now, the boy in the hat is all grown up and he's still searching for something that his brothers were able to get. Four of the five Scott boys played basketball for the Rangers. Three of them have state championship hardware to their name.
Joel has fallen short in the state title game two years in a row and hopes that the third time will be the charm.
"I want to go get one," Joel said. "That's the ultimate goal. But if it doesn't happen, I'll be okay with it. It will just make me strive to be better."
His brothers aren't so sure. They've come to appreciate the competitor that Joel has become as he's grown up. And they don't mind taking partial credit. As a kid, Joel wanted to play ball with his brothers. In true sibling fashion, there was no taking it easy on him.
That was clear as he got older and it became clear when Joel officially stepped on the court for the Rangers. He had battled against bigger and stronger competition than most other kids is age. And it was because that competition just happened to share his DNA.
"He's been beat up by the other three of them," Rangers coach Bill Benton said. "That's what made him stronger and tougher."
Joel was a freshman on the Lewis-Palmer team that fell short of reaching the Class 4A Final 4 at the University of Colorado. The only Scott brother to score in the quarterfinal loss to Vista Ridge was Jonathan. He led the Rangers with 13 points.
Like Jordan, Jonathan played more like a guard than Josh did. Josh's legacy grew from the 2012 championship game as he became one of the best big man to ever play for Tad Boyle's CU Buffs.
No other brother was fortunate enough to have Josh's size. But they all excelled at the game regardless. Jonathan's high school career came to a disappointing end in that 2016 loss to Vista Ridge. He would go on to play at Otero Junior College before making his way to Chattanooga. Joel's career was just beginning. As a sophomore, he helped the Rangers return to the state championship game for the first time since 2013, but they fell just short of claiming gold.
Joel, however, had come into his own. As the No. 6 seed in the tournament that year, the Rangers weren't supposed to advance to the Final 4 which had just been moved to the Denver Coliseum. That honor was supposed to go to No. 3 D'Evelyn – if the tournament seedings held merit – but Lewis-Palmer pulled off the upset.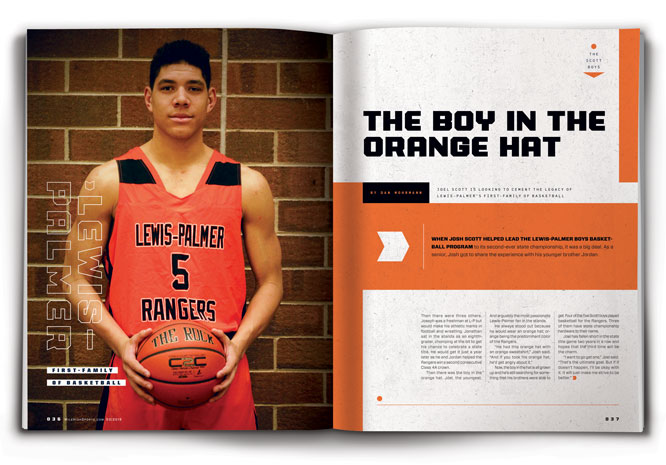 Joel scored 18 points in the 80-77 double-overtime win over the Jags. If there was ever a time where baby brother was no longer a baby, it was that game.
"When I have seen him play, and played against him, what stands out is how well-rounded he is," Jordan said. "He's a great shooter and he has a great feel for the game. We've all known that since he was little. He always understood the game and knew how to create shots for himself and for others. He also has this natural ease and feel when he plays. It doesn't look like he's exerting much, but he is. And it pays off in baskets."
That's the common theme for the older brothers. There came a point when the little brother who used to just tag along was able to hold his own against legitimate competition. Fair or not, observers could start sizing him up and comparing him to the Scotts of old.
The question then became, where did he fall in that comparison?
Joel is a forward for the Rangers. He plays the majority of his offensive game inside the 3-point line. By the time the 2018-19 regular season ended in mid-February, he had attempted just 37 3-pointers on the year. In their respective senior years, Jordan attempted 72 and Jonathan pulled the trigger 90 times.
One would think Joel plays like Josh. But when an opponent's best player is a guard, and is capable of scoring from anywhere on the floor, Joel is happy to step up and take the defensive assignment on the perimeter.
There were shades of Jordan and even Jonathan when he was matched up against another elite Colorado player, D'Shawn Schwartz.
"I see Josh in him," Benton said. "I see Jordan in him, and I see Jonny in him. There are even times where I've seen Joseph around the school that I see Joseph in him. Not necessarily on the basketball court, but he has a bit of all of them in him."
And there is not a single person who has watched Joel play that would argue that it has helped. From the time he was prowling the stands in his orange hat, to his fourth and final effort to claim a state title, being around his brothers has helped his basketball skills develop.
"When he was a freshman there was a big gap between us," Jonathan said. "We'd always play, and he could never win one-on-one back then. Now he's bigger and stronger than me and it's just really interesting to see these matchups. He's turned into a player."
Now that he's a player and now that he can hold his own against the big brothers, basketball has become a little more fun – and a little more intense – when they all get to play.
Jordan noted that he got to play a game of 21 with Jonathan and Joel over Christmas and was surprised at how well Joel held his own. When Josh enters the mix it naturally evolves into a game of two-on-two.
"They can end in brawls and things can get heated," Joel said. "But at the end we all love each other."
They got together a few years ago at Jordan's graduation at the University of Idaho. Like Josh, Jordan played Division I college basketball. When they stepped on the court they split in teams. Josh and Joel teamed up to take on Jordan and Jonathan.
"Me and Joel kicked butt," Josh said quickly. "We kept having to play because we kept winning. And it was fun for us as older brothers because it was the first time when he played with us that he wasn't viewed as the baby. He was holding his own."
Bragging rights go a long way with siblings. And for now, the other three can claim championship hardware. Joel is still in search of his. And he claims to not be bothered by it. Nor would be bothered by the fact that he would be the only one in his family to win a state championship without one of his brothers by his side.
He points to his friends, the guys that he's been playing with for the last four years, as the brothers that he wants to share that accomplishment with.
It's just one of many aspects of the game that he's learned from his older siblings. Not once was there pressure on Joel to accomplish what the others had. There was only encouragement to play the best he possibly could and as long as that happened, there would be no disappointment about the final result.
During the process, something happened that made Joel stand out in a way that was unique to him. It can probably be dated back to the days where he sat in the stands watching and rooting on his brothers. That boy in the orange hat learned some things. Those things helped him evolve as a player.
"He was around the game just from being in the gym," Josh said. "I would say his basketball IQ is very high and the fact that he can do anything on the court – dribble, pass, shoot a little bit – he's strong and he has post moves. Being in the gym at such a young age has just made him a strong overall player."
Does that mean he's better than the three Scott brothers that came before him?
"Better is not the right word," Benton says. "Different. All four of them brought different things to this program and he has been the beneficiary of watching the other three."
Watching as a kid, Joel knew what he was meant to do as a high school athlete. No one knows what's in store for him after he's done, but he knew from an early age that stepping on the same court as his brothers and contributing to the program was his calling as a teenager.
He watched one after another do it and knew that his time would come someday.
"I always wanted to play L-P basketball," Joel said. "I wanted a chance to play with my older brother Jonathan, and I did. It was something that I always wanted to do."
Benton mentioned that each of the four boys has contributed to the program. Three of the four have contributed the one thing that all basketball teams are in search of at the beginning of the year.
Three brothers brought home two championships. Joel feels like his team this year is ready. He showed that by scoring 20 points against Chaparral, a team that sat on top of the 5A rankings for most of the season. He has faced the best and stood tall when all was said and done.
Now the other three brothers – and even Joseph the wrestler – will get their chance to see Joel fight for his championship.
The boy in the orange hat is all grown up. And he's a heck of a hooper.
***
*For more from Mile High Sports Magazine, subscribe here!