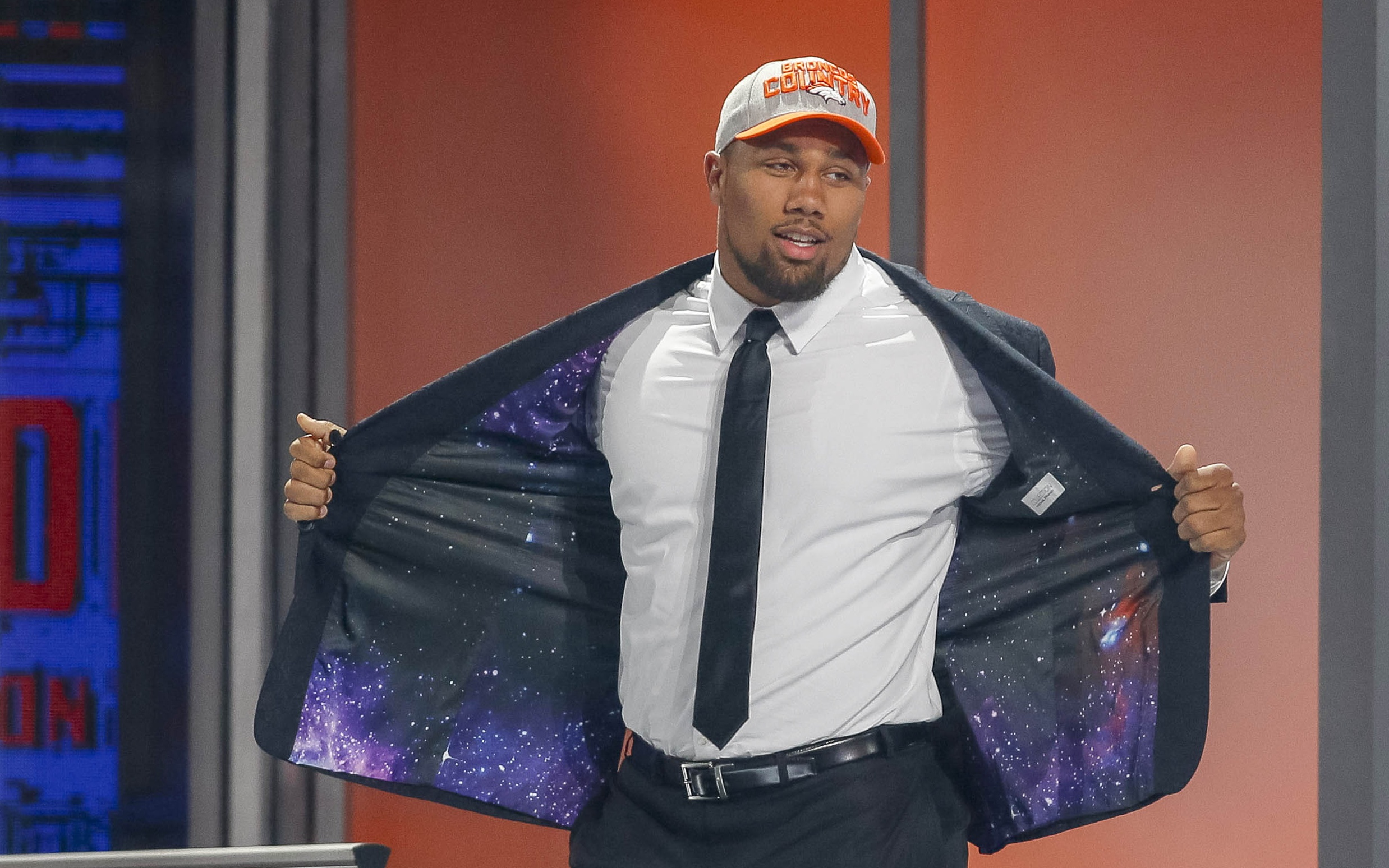 John Elway hates offense.
It's a crazy sentence, considering he was a Hall of Fame quarterback, the trigger man of the offense in the Mile High City for 16 seasons. Elway lit up defenses for 300 touchdowns through the air and another 33 scores on the ground; he was all about offense when he was a player.
But as an executive, Elway loathes offense.
How do we know? Since Elway has been in the Denver Broncos' front office, he's headed one of the most dominant defenses in the NFL. And that's all started with how well Elway's drafted on the defensive side of the ball. And, conversely, how terribly he's drafted on the offensive side.
His first-ever draft pick, in 2011, came at No. 2 overall — Von Miller. Elway has looked like a genius for taking Miller with that pick, arguably the greatest defender in the history of the Broncos, and he's still in his prime at 29 years old.
Tonight, Elway got a crack at the No. 5 pick, only the fifth time in the history of the franchise they've had a Top-five draft selection. Elway did what he's always done best — as GM, at least — he went defense and landed Bradley Chubb, who's widely considered the best defensive player in the draft.
In between Miller and Chubb, there have been a ton of busts — mostly on offense, though, a few on defense — but Chubb promises to be a longtime, sensational defender.
At North Carolina State, Chubb destroyed opponents with 26 tackles for a loss this year, second-most in the country, and finished his career with 26 sacks, a school record. This year, Chubb was an AP All-American and the Bronko Nagurski Trophy winner, awarded to the best defensive player in the country.
Could Chubb be a once-in-a-generation talent like Miller? It's unlikely, but it's possible. Miller and Chubb combining as a pass-rush duo are already drawing comparisons to Melvin Ingram and Joey Bosa of the LA Chargers. And don't forget about Shaq Barrett, Shane Ray and DeMarcus Walker, either.
Chubb was a solid pick at No. 5, and it's a further indication Elway loves defense; so much so he passed on two of the top four passers in this year's draft.
Lots of people were high on Josh Allen of the Wyoming Cowboys. Hey, the kid has a monster cannon, but he couldn't hit a lake with a rock from 25 yards away. (What do kids do in Wyoming?) His accuracy stinks, and completion percentage is one of the most important indicators of success in the NFL.
Passing on Allen was the smart move, but what about Josh Rosen? Some had Rosen as the top quarterback in the draft this year, a class with four could-be longtime starters. Rosen is the best pure passer in the draft, he's got the highest football IQ and is raved about because he played tennis, improving his footwork. Concerns about Rosen include that he left school a year early, and even more so about his durability, having shoulder surgery and missing games due to concussions.
If Baker Mayfield was there, maybe Elway pulls the trigger on a quarterback. Or, maybe he still goes Chubb at No. 5.
When it comes to quarterbacks, Elway just doesn't know how to pick 'em, though. He's taken five to this point in his tenure, and all of them look to be busts. They're Brock Osweiler (2nd round), Trevor Siemian (7th), Zac Dysert (7th), Paxton Lynch (1st) and Chad Kelly (7th). Plus, with Lynch coming in 2016, Elway couldn't go quarterback again in the first round, could he?
Clearly, no.
With Chubb, Elway went with the safe, smart and possibly spectacular pick. Chubb, at 6'4″ and 270 pounds, will play defensive end. Him, Domata Peko, Derek Wolfe, and Von Miller/Shaq Barrett on the line? Opposing offenses will be shaking in their cleats.
And, on obvious passing downs, the Broncos could move Chubb down further inside, to defensive tackle, giving their "NASCAR" set another speed racer.
Without a doubt, having more pass-rushers than the opposing offense can handle will only benefit the Broncos. To wit, in 2015, Denver's 52.0 sacks led the NFL. Last year, at 5-11 overall, the Broncos were 22nd in the NFL with 33 sacks.
Of course, teams' success can't be predicted by just one aspect, but rushing the passer has been correlated with success in recent years due to offenses being heavily dependent on timing.
Will Elway reach for a player or two over the next few days? Will he make a wild play here and there? It's possible — and usually happens with him in charge — but with Chubb, Elway made the superb, yet, safe play.